Featured Reviews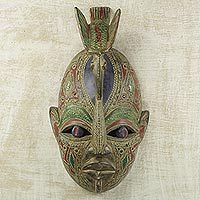 By REBECCA
Awesome Hand crafted Mask
This is a very nice sized mask that is gorgeous hand crafted work!! For sure a family heirloom to pass down.
By Grier
Gye Nyame II
Love it!!!! Have it beside my African Elephant Spirit II wood mask. We've been looking for something very unique for our living room....it's perfect!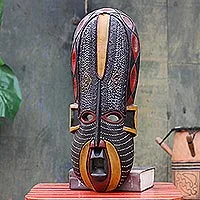 By Monica
Superb Artistry
This is pure art! The various woods and metals comprising the design are beautifully integrated to enhance the overall subject.
Featured Artist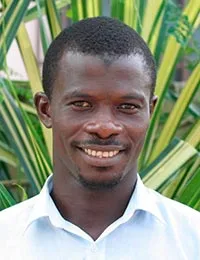 Video
"In 2000, I went into carving and since then I have never regretted it. But I haven't abandoned painting completely either."
"At a tender age, I used to draw pictures from magazines with a pencil. During my primary education, I painted with watercolors, to the admiration of my parents and their friends. This gave me confidence and inspired me to continue. I knew I'd be a painter in the future, as I realized that the flair for painting was in-born.

"When I was in senior high, I used to visit friends who were in college pursuing courses in painting. I'd practice with them using acrylics on canvas – I didn't find it difficult. In fact, I started to paint for people in my neighborhood upon request.

"When talking to people whose livelihood was painting and learning the challenges they encountered in selling a single canvas, it set me to thinking about whether to pursue this dream of becoming a painter. Perhaps I should turn to a different field altogether?

"When I completed senior high, I used to visit a man by name of Musa at his workshop. He was into carving masks and sculptures. I'd observe him with his workers and saw the joy with which they went about their work. At the time, I was deep in thought as to what would be next for me. My love for the art field was so strong.

"After careful observation of their carving over a period of time, one day I went to the workshop as usual, picked a log of wood and started carving out a mask as I had observed them doing. This surprised Musa and he was willing to help me perfect the skill. I developed a love for this new skill I'd acquired and decided to pursue it further.

"Because of my knowledge in painting, I was able to help Musa in creating very beautiful designs on the mask. In 2000, I went into carving and since then I have never regretted it. But I haven't abandoned painting completely either – I still paint for people upon request.

"I am now self employed and there are five assistants working with me. In addition, I have taught seven other people how to carve, and they are also on their own now and doing well. When I get large orders, I call on them for their assistance. I look forward to training more people in this craft and also to continuing with my paintings."

Abdul Aziz Mohamadu's work has been exhibited in Ghanaian venues as well as in Nigeria and Benin.
Related Articles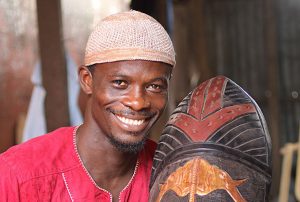 "When you dream, dream big…" that was the saying on my mind as I listened to Abdul Aziz Mohamadu talking about... read more
Ghanaian Masks
Since the early Paleolithic times, masks have been used throughout Africa as a symbol for the ideals and principles of the cultures which created them. The NOVICA collection of Ghanaian Masks gives artisans, such as Wilson Aboagye, the ability to share those morals with the world. Along with providing insight to the morals of the society, masks have long been used for spiritual and ceremonial use. Ghana tribes, in particular, are split into seven groups. Each of these tribes has unique stories and ethics which accompany their masks. The Ghanaian Mask collection displays work from the largest tribe of Akan to the smaller tribes of Ga-Adangbe. The masks are created through masterful work of materials such as leather, metals, fabrics and woods. The sturdiness and craftsmanship which goes into these masks provide them the ability to withstand tough conditions. Through the NOVICA collection of Ghanaian masks, customers are able to appreciate the long-standing tradition masks bring to the African culture. We hope you enjoy the collection!