Featured Reviews
By Melissa
Simply beautiful
I've had my eye on this series of paintings for awhile now. I finally bought this one for my best friend's birthday. Words don't do it justice; it has a simple elegance but is also detailed beautifully. Now I have to get one for myself!
By nksmith
A real centerpiece
I was looking for something as a centerpiece for our home, and this exceeds my expectations. The painting was delivered perfectly and well-protected. I can hardly wait to frame it!
Featured Artist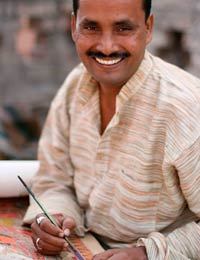 My mother, who is a state award winner in Madhubani, the painting style that I use, was my mentor."
Join us in congratulating to Devendra and Family for receiving the State Award for Excellence for their Madhubani paintings! This award is conveyed by the Government of Bihar for year 2012-2013. Along with the State Award, he has also received the National Award for his Madhubani painting in the year 2013 conveyed by the president on behalf of the Government of India.

"I was born in 1969 in Jitwarpur, Bihar - an eastern state in India. My mother, who is a state award winner in Madhubani, the painting style that I use, was my mentor. Under her supervision and guidance I have emerged as an artist capable of creating these paintings.

"In this school of art we do not make preliminary sketches, nor is our work planned. We simply pick up our brushes and create. A vivid and creative imagination is essential in this style of art, for while motifs may be similar, no two paintings will ever be found to be the same."

Mithila, (in Bihar) is a scholastic and cultural center in India that traces its lineage of arts from epic times. Mithila paintings – alternately called Madhubani paintings – are a folk tradition kept alive by women in northern Bihar. They depict events from epic, mythology and traditional designs on their floors and walls of their houses using crushed wet rice and natural colors. From this age old tradition stemmed the practice of drawing Mithila paintings on a canvas of hand-made paper or pure mulberry silk fabric using natural colors and fabric dyes. Brushes, sharpened reeds and pen nibs are used.
Popular Spiritual Paintings