Featured Artist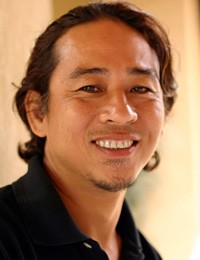 Video
Aricadia
Portraits and sensual paintings
"I don't have a favorite color. I believe colors reflect the variety of life."
Javanese artist Aricadia is largely a self-taught painter, though at first his brother Jun Hai taught him to paint about nature. In 1998, Aricadia went to Bali and, without any experience he became a photo painter - that is, he painted from photographs, which resulted in more than a thousand paintings.

One day in 1999, he made the decision to join Sanggar Senin Kamis and learn the hyperrealism style of painting from Chusin Setiadikara, who is regarded as one of Indonesia's masters. The following year, Aricadia joined Sanggar Bunga-Buinga Bali, an artists' community where he began to explore his skills and freedom, combining realist and impressionist techniques on canvas. This resulted in a style of painting featuring a contrast of colors that are sharp and wild.

Nowadays Aricadia does not really care for adopting a particular painting style or technique. He is most concerned about transferring his creativity through his eyes and soul.

"I don't have a favorite color. I believe colors reflect the variety of life," exclaims the confident artist. "I have fallen in love with the natural beauty of Ubud. The place is so inspiring that it always motivates me to develop my creativity and my painting.

"I want to keep on transferring colors onto the canvas for the rest of my life in Bali. At the moment I live happily with my wife and a daughter, near Ubud." Aricadia has been presenting his work through solo and collective exhibitions in Bali and Java.
Nude Paintings
It is a true artist who can achieve the sublime meeting of the nude and art, and in Novica's nude painting gallery we treasure the works of such artists from around the world. In nude
oil paintings
, artist and observer find a profound link with the pureness of being.
Artists exalt the beauty of the human form as sensuality stimulates their creativity. Whether their style is figurative or
abstract
, their artful depiction of nudity is admirable.
Novica's exclusive collection of artistic nude paintings includes
mixed media paintings
, where photography and acrylics contrive to create an esthetic harmony that honors the sensuality and beauty of the human body.