Featured artist, Balvina Huaytalla
There's one thing this Peruvian artist won't compromise. It's the very thing she didn't get when she was growing up.
Forced to drop out of school when she was just a child, this traditional arpillería artisan has made her son's schooling her highest priority. She teaches us what happens when art supports education.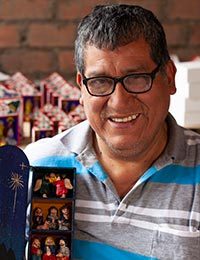 Alejando Chavez
From Peru

Enabling Education
One year away from his 50th birthday, Alejandro and his wife adopted a son, Jose, and a daughter, Carol, from their hometown. Today Alejandro continues to provide for the education of his children as well as his grandchild, who joined the family in 2018. Carol is studying accounting and Jose is at the police academy.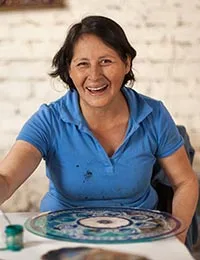 Asunta Pelaez
From Peru

Enabling Education
Asunta employs three single mothers in her workshop who support a total of six children, one with a disability. Asunta and the mothers rely on their sales for steady income to support themselves, their children and their children's education.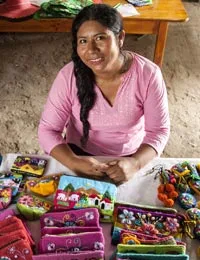 Balvina Huaytalla
From Peru

Enabling Education
Balvina has tried to have her son's father help with the cost of his education but he refuses. She struggles to cover the costs of her son's schooling. But she is deeply committed to paying for his education on her own through the sale of her handicrafts.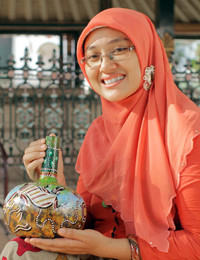 Diana Dewi
From Indonesia

Enabling Education
Before leaving her abusive marriage, Diana spent eight years as the sole provider for her family and also paid for her children's education through the sale of her wood crafts.

Tuniyaton
From Indonesia

Enabling Education
Tuniyaton's father passed away when she was born and her mother could only afford to send her to elementary school. As a single mother, Tuniyaton struggled to educate her own children and endured many hardships such as sleeping in an unused toilet as she journeyed by train to sell her leather goods. In spite of her difficulties, she succeeded in educating her children and giving them the opportunities she was denied.

Alexandre Costa
From Brazil

Enabling Education
Despite his financial difficulties, the education of his children is always a priority. He works extremely hard crafting gemstone sculptures to be able to provide the education for his three children.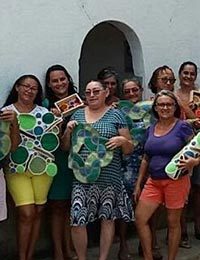 ArtFio Artisan Association
From Brazil

Enabling Education
Artfio is an association of 42 crochet artisans from a small town Northeastern Brazil. The Association supports and provides for the education of the children of each member.

Cristobal Ramirez
From Guatemala

Enabling Education
Cristobal financially supports the education of his two children. One is studying to become a lawyer and the other is studying pedagogy. He also supports the education of a child in his community. This child comes from a family that doesn't have the resources to pay for education so Cristobal pays for his schooling.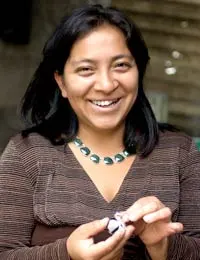 Zandra Sajbin
From Guatemala

Enabling Education
Zandra financially supports her three children's education and plans to send the three of them to university as well.

Chinni Swamy
From India

Enabling Education
Chinni runs a local school, the Purkal Youth Development Society, that provides free education, books, uniforms and daily meals for 500 students. Many of these children have been able to pursue higher education and find good jobs as a result of this early childhood education program.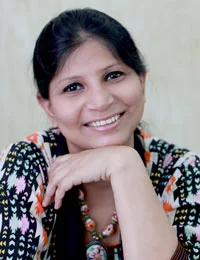 Harpreet Kaur
From India

Enabling Education
Harpreet and her husband believe in the importance of education. They provide not only for their own son's education but also for the education of their worker's children.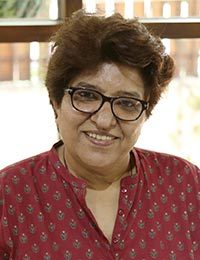 Shashi Sehgal
From India

Enabling Education
Shashi fought hard to escape the bonds of a patriarchal society and founded her own fashion workshop in the early nineties. To help other women achieve their goals she proudly finances the education of numerous girls through her support of NGOs.

Higinio Hernandez
From Mexico

Enabling Education
Higinio's income from his Huichol beadwork art supports his six children and provides for their education.

Gordon Adu
From Ghana

Enabling Education
Gordon's eldest child is in trade school, one is in high school and two are in primary school. When Gordon was a child, he was unable to attend school due to his family's financial situation. He took small, untrained jobs here and there, and was never fulfilled by them. His mother suggested he travel to see his brother where he was taught the craft of carving. Through hard work and perseverance, Gordon became a very talented carver and made a promise to himself that he would do everything to support his children's education so they would not have to go through the same experiences.

Kobina Asmah
From Ghana

Enabling Education
With the help of his income from NOVICA, Kobina was able to support his children and their education. They are now grown up and able to support themselves. Kobina sees education as something very important to him and his heart breaks when he sees children walking around or working instead of attending school. He currently helps support four children of single mothers and pays for their education. The oldest one is about to graduate high school and it has been his dream to attend university. Kobina is working hard to save and gather funds to help him achieve his dream and further his education.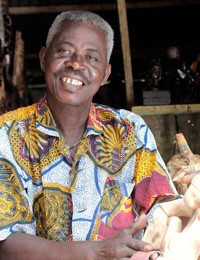 Samuel Okyere
From Ghana

Enabling Education
Samuel pays currently for the education of four children. Two are his children and two are not from his own family. Samuel is a gracious person with a big heart, which can be seen through his desire to help and enabling education for those outside of his family.


Bestsellers for this Cause