Featured Reviews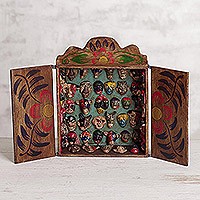 By Mary
A Perfect Gift
I got this for the birthday of a grandson who collects masks. I hope that he is as pleased with it as I am.
By Kathleen
Wonderful Example of Christian Folk Art
Erika Ulloa is my favorite retablo artist on the Novica website. I already have a nativity retablo by this artist that I will display through the holiday season. But this piece spoke to me the minute I saw it. The beauty of the ceramic figures, the fine detail in decoration, and the stunning vibrant colors all called to me as an artist. Ulloa's portrayal of Catholic symbolism in Christ's Passion is powerful and moving. Added to it is the overall charm of Andean flora and costume. It will have an important place in my religious art collection.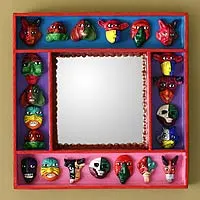 By Bette A
Adorable Piece and Well-Made!
Beautiful colors and expressions adorn all the interesting masks, and each time I look I see another magical delight! This is a work of precision artistry to be cherished by young and old!
Featured Artist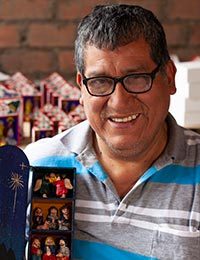 Video
"In every one of my creations I hope you will be able to recognize my great love for this art form."
Alejandro Chávez was born on January 30, 1956. He specializes in the creations of retablos, a kind of reverent diorama-altar typical of the Ayacucho region of Peru. He learned this technique as a boy in school, when he was 17 years old and living in Ayacucho, where his parents moved when he was just 2 years old.

When Chávez returned to his hometown, he began working in the studio of Angel Castro, a master artisan. Here he refined his techniques in the creation of retablos, eagerly learning the art from his teacher. Later, Chávez formed his own workshop after the death of his teacher, continuing to give shape to this art form. The customs and traditions of the Andean people emerge in every piece.

"In every one of my creations I hope you will be able to recognize my great love for this art form. You will also fine the contributions of my wife as well, for she molds the characters. I am currently teaching my nieces and nephews as well.

"I sincerely hope that you enjoy your retablo, which brings together the culture and traditions of the Andes."
Popular Peruvian Retablos