Featured Reviews
By Catherine
Beautiful elephant
I received my Bali hand-carved modern elephant yesterday. It is exactly as stated and beautiful. The carving is very smooth and perfectly done. The way it was carved with the wood grain enhances the beauty. Thank you for a perfect keepsake of a wonderful trip to Bali. The gift wrap is even a work of art.
By CatLady
Gorgeous!!!
I have looked for a large pyrite sphere to add to my collection for some time--this is what I wanted. It was a good price and is of very exceptional quality. The stand really isn't right for it, but I will use the nice stand for something else.
By JBL
Fascination sculpture
Heavy and awesome. Good finish, enjoy the patterns on the sphere I got more than the photo. Quite amazing looking. Was surprised to see pyrite in there
Featured Artist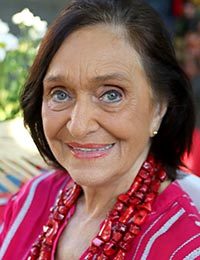 Goga
Original paintings and sculptures
"Knowing that someone else identifies with something I created gives me tremendous sense of satisfaction."
"I belong to a generation in which to be an artist, especially for women, was not considered a good thing. Art was always associated with the bohemian lifestyle and with environments where women were not held in high regard. I was accompanied by my father in my first experiences with drawing, and as a teenager I took a few classes. When I got married and had children, it created a gap in my learning process. I returned to the study of art in 1970, at the School of Visual Arts in Parque Lage in Rio de Janeiro. At first, my family was not too comfortable with me taking classes, and I was older than most all of the students. But it was an important and revealing experience. From then on I never stopped learning and pursuing my interest in art. I achieved a free form of personal expression in the classes of Professor Aluízio Carvão at the Museum of Modern Art in Rio de Janeiro.

"I define my style as Contemporary Figurativism and I like to focus on themes related to ecology in a romantic sort of way. I'm not accustomed to sketching out my works before painting; I just create the forms with the brush as I go. The colors I use are also unique; many times I mix the blue and yellow to create my own green instead of using the green from the tube.

"In 1975, after I recovered from a surgery, I discovered the pleasure of sculpting. To form a piece from clay is delicious; in just one week a work could be completed, much less time than the weeks or months it would take me to complete a canvas. When I paint a canvas, I know that I am creating a work for someone else. An artist never creates for him or herself. Knowing that someone else identifies with something I created gives me tremendous sense of satisfaction. I hope that through Novica I will be able to reach more people and that I will be recognized for my art."