Featured Reviews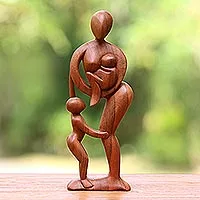 By Julie
Such a beautifully made piece.
This is for my daughter who lost her firstborn child when he was 5 days old. He would now be 15 months old if he had lived. My daughter also recently had a little girl who was born on April 1st. So I wanted to give her a Mothers Day gift that would include both of her children. And this piece is perfect for the ages of the children and of course for how beautiful and how well it is made. I know my daughter will love it when I give it to her on 5-12-2019. The meaning behind it will forever be cherished. Thank you Made Wirata for this exquisite piece that was so perfectly made and so wonderfully wrapped. I love it, thank you!!!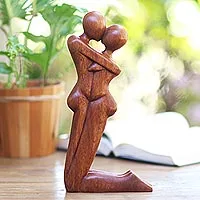 By Karen
A Much Appreciated Gift
Depicting the sheltering arms of a man enveloping his beloved nestling in and returning his passion this was a perfect wedding gift. My sister and her new husband were pleasantly surprised to receive it and were moved by it. This is truly masterfully crafted. A special piece of art to mark a memorable occasion.
By Nancy
Beautiful!
This is such a beautiful and stunning work of art. I am so pleased with all aspects of this, my first order. It was very well packaged and arrived in perfect condition. I will display this beauty in my home and treasure it for years to come. Thank you to the artist, Wayan Rendah!
Featured Artist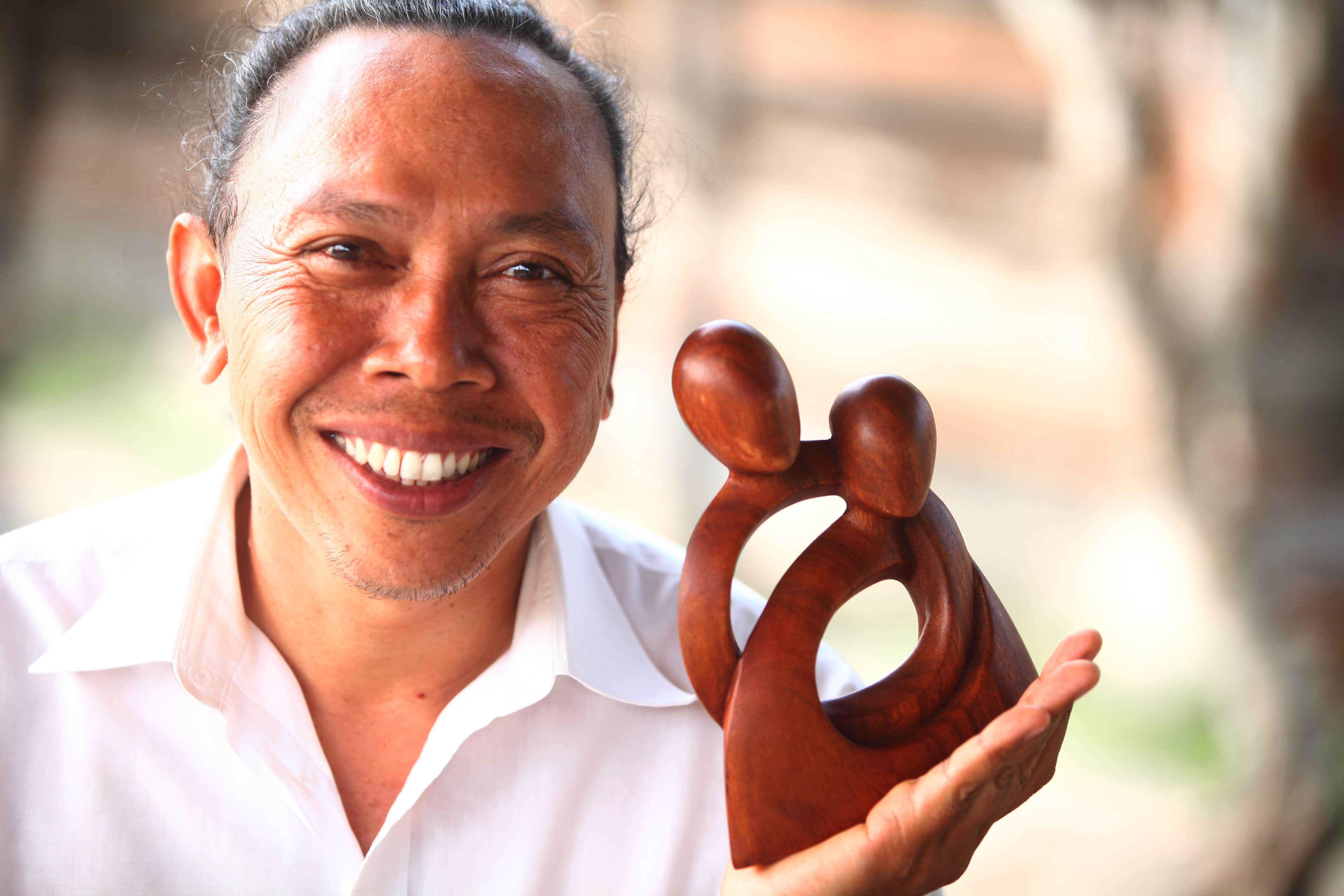 Video
The artistry of Wayan Rendah has been featured in numerous periodicals, including Sunset magazine. "It gives me great pleasure when one of my statues inspires somebody," the artist says.
Wayan Rendah's work has been featured in Home Maker's magazine.

"I was born in Bali on June 17, 1973. I am the oldest of seven children, in a family consisting of four brothers and three sisters. I started to learn to sculpt at the age of eight when I was still in primary school, learning from my father how to carve traditional statues from wood. Balinese woodcarving touches me very deeply. I have learned a variety of arts in Bali, such as gamelan dance, but carving a piece of wood gives me an incomparable sensation.

"At first, I sold my statues to the sellers in the art market and at small shops. After I finished school, I studied with Wayan Purna so as to have a stronger foundation to build upon, because even at a young age I knew that what I wanted was to be able to create the ideas I had in my head. But to do this I needed more experience, and the tools and material I needed were beyond my financial reach.

"My ideas were unconventional at the time - developing abstract figures inspired by the form and texture of the piece of wood I had selected, combining traditional themes with modern poses and more sensual shapes.

"As time went by I was able to bring out my ideas by selecting different types of wood and concentrating on the themes that could satisfy my creative desires. Exploring the abstract world refreshes my mind in creating new carvings. The mind and inspiration are two amazing things that encourage me to create special works of art. Wood has certain special characteristics that I would sacrifice if I worked with another medium like stone, which is not easily broken and produces very specific effects.

"I am married to a beautiful woman who helps me arrange my works to be exhibited in my small place and find new sources of inspiration.

"Since joining Novica, I have been able to continue to express my ideas and to support my family, and my work can be seen outside Bali. I am very grateful for this, because this is my strongest desire: to be able to create and share the ideas I have and support my family. I hope that the people who see my work enjoy it, as it gives me great pleasure when one of my statues inspires somebody - for this the foundation of my work.

"Times were so hard before I joined Novica. I couldn't afford to pay the hospital for my wife giving birth to our daughter. I had to give up my motorbike, the only thing we had left, to pay the hospital and take my wife and daughter back home.

"God answered my prayer, and here I am now living happily with my wife, a daughter, and a son. Regular income from Novica means so much to the life of my family, and the lives of other carvers in our village - I am now working with 20 carvers! We started with nothing. Now we have savings, and are building houses.

"My place is full of statues we're working on for Novica customers. Two or three times per week I visit Novica to deliver our finished sculptures, and to get paid for what has sold. It feels as though the Novica office is my own office, yet I don't have to pay for Novica, or Novica's employees, or any packaging or shipping expenses. I just get 24 hours of promotion every day, internationally.

"This is funny story that once happened to me. I had finished a statue and a tourist wanted to buy it, but after close inspection I noticed one finger was missing from its hand. I was mortified; I gave back the money for it and said I was sorry but that the statue was not for sale. I still have it as a reminder."