Featured Reviews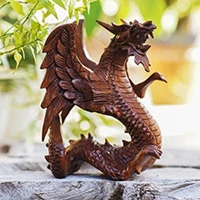 By Linda
Fierce and Ferocious
I had bought the baby dragon a while back, and wanted to add to the collection. This is an excellent piece of art.
By Elizabeth
Welcome Change Hatching Chick? No Make It Dragon!
I chose to purchase this "hatchling dragon" as a fun and funky Easter present for a friend who loves dragons. It is so atypical of all the chickens that one sees hatching out of an egg at this holiday. The wood carving is breathtaking in its minute details and my friend completely understood my motive for giving him this dragon at this time of year. Needless to say, he loved it and I was both pleased and proud to present it to him.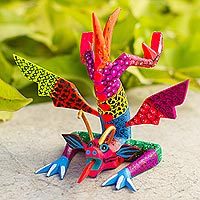 By Carolyn
Dragons vs Cats vs Squirrels vs Armadillos, etc.
Altho we collect almost any of the animals that Zeny and Reyna do, our favorites are dragons and cats. We rescue and recently lost the third of three cats we?ve had for 19 years! All of these wonderful carvings have a very special place in our hearts and we just got a new addition to our family, an orange tabby named Baby Boy, or BB for short. He?s quite the character and came to us with the name of Mouse which he immediately told us was not his name. Many friends sent ideas but he liked the first thing I said to him when they brought him into the room for us to meet which was ?oh there?s our handsome Baby Boy.? He loves the carvings and respects them, but won?t touch he looks at one, then looks at us and says ?erp?? Almost as if to say me? You see these carvings make not only people happy but also animals. Thanks for the joy you bring our entire family!
Featured Artist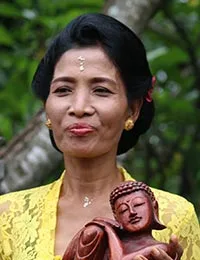 Seji Taram
Hand-carved sculptures
"I'll always remember what my husband said before died, he wanted me to carry on caring wisely for our children, and he also encouraged me to be a stronger woman for our children's sake."
It is with a very heavy heart that we mourn the death of Ketut Taram from lung cancer. "He was the best man I ever knew, and the best husband I could ever hope for. He always made me feel loved. He was always gentle and caring, especially with our children — he never got angry and always had a great capacity for understanding," Seji his wife told us. A Novica friend and artisan, he will be much missed by all of us.

"My name is Ketut Taram and I was born in the Gianyar regency, Bali, in 1967. I learned how to create my first sculpture from my older brother, Made Mudiawan. From 1975 until 1990 I worked primarily in suar wood. Then, from 1990 until 2000, I made the sculptures from sandalwood. Lately, I enjoy sculpturing with both.

"I began carving on my own in 1992; before I'd worked together with my older brother, saving until I had enough money to open my own workshop. There are five people working with me now.

"Balinese culture and tradition inspire my artwork. As the son of Wayan Kicen, a wood carver, it is easy and enjoyable for me to transfer my imagination into my work.

"I have participated in several exhibitions around Bali. Thank you Novica for promoting my artwork to the whole world. Through my art I do hope to provide a good life and a better future for my family, especially for my children."

Always happy and smiling, Taram's carving legacy will be continued by Seji, who says,

"I met Ketut Taram when I was 19, and we were married three years later. He was a very quiet man, very kind, didn't talk much, and cared very much for me and our children. He didn't tell us he was serious ill because he didn't want to make us sad or worry us. He only told me three months before he passed away.

"We have a young son and an older daughter. They inspire me and motivate me to make sure I can give them a better life until they graduate from university. But it has been difficult since my husband passed away – I try to fill my day with different activities, working hard.

"I'll always remember what my husband said before died, he wanted me to carry on caring wisely for our children, and he also encouraged me to be a stronger woman for our children's sake.

"Being associated with Novica has really made our situation easier, before and after my husband passed away, because we only focus on orders from Novica customers. We sell most of our products via Novica and from that we can pay for food and also our children's school fees.

"I learned this art from my husband, and now I continue to craft his designs, sometimes with Novica's advice on how to improve and create new designs from my own ideas. I hope my hard work will make our products sell more, and that Novica customers like my new designs."