Video


Curate
Details
"The red undertones of this poncho are inspired by the traditional costumes of San Juan de la Laguna," say the women of K'amolon K'i K'ojonel who boast their pride in their classic weaving techniques. Working on a back strap loom, the design of this poncho is at once classic and contemporary. A rich blend of cotton and rayon made from bamboo assures the soft warmth of this trendy poncho.
Since the threads are dyed by the women, please expect slight differences in the color tone and arrangement.
Poncho: 76.2 cm L x 101.6 cm W
Poncho: 30" L x 40" W
Fringe: 7 cm L
Fringe: 2.8" L

01/05/2018
Verified Buyer
Share
"BEAUTIFUL ARRAY OF REDS"
This poncho is beautiful - a work of art in red, orange, gold with the red colors predominating but not overwhelming. It is flattering yet easy to wear - looks wonderful with black! Very comfortable and wonderful to wear - high recommend!
Was This Review Helpful?
Yes(0) No(0)

12/03/2018
Verified Buyer
Share
Poncho fulfilled all my expectations. I do not know if I would be watching or caressing him. Just perfect. The shades of red, orange and chocolate are so beautifully complemented. And the material, so soft. The artist is in every sense an artist. I recommend it to all future customers. And the artists want lots, lots, lots of work.
Was This Review Helpful?
Yes(0) No(0)

02/12/2019
Verified Buyer
Share
"the most beautiful poncho ever"
I love this poncho. It is absolutely gorgeous. In fact it is stunning! It is soft as can be, warm, cozy and the most beautiful piece of clothing I have ever had. It is truly magnificent.
Was This Review Helpful?
Yes(0) No(0)
Meet the Artist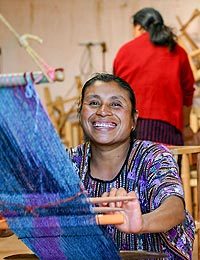 They regard as their major achievement the stability of a women's organization and so offer hope to the survivors of the 1980s massacres.
In the Maya language, K'amolon K'i K'ojonel means "let's get together" and it is the name of an association founded in 1987 with a mission to provide assistance and support to women in Sololá who were left widowed during Guatemala's armed conflict.

Many children were orphaned too, and people were left in extreme poverty due to the massacres in the highlands during the oppressive civil war. K'amolon K'i K'ojonel is the brainchild of leaders from the Triunfo community in Pujujil. It began as an arts and crafts project with the financial aid provided by Ronald Spector. The money was used to buy materials and pay the 17 women would weave scarves and rebozo shawls to sell.

Mr. Spector helped in the search of a fair price for the women who wove on back strap looms. Soon after, married women from the community joined the program, followed by a group of widows from El Adelanto, a neighboring community. By the end of the first year, there were 100 women weavers in the project.

In 1987, IDEX – based in San Francisco, California – built a workshop for the weavers in three months. The following year, K'amolon K'i K'ojonel was legally constituted as an Association fully recognized by the government of the region. Formal elections were carried out to form a seven-woman board of directors. Since then, elections are carried out every two years through a secret ballot in a democratic way.

In 1993 we received the support from PADEL (Canadian Embassy), which allowed for 60 more women to join the association. That year, there 200 women weavers from El Triunfo, El Progreso, El Adelanto, La Fé from Pujujil II and Sacbochol, and Los Encuentros. Half of them are widows. With the support we received from PADEL we managed to start training courses in sewing, reading and writing, and community organization. They were also able to buy domestic as well as industrial machinery, which allowed for a better quality in the apparel. Thanks to this support, we were able to achieve legal status.

Their mission is to create work for women weavers who specialize in back strap loom. Unfortunately it is a well-known fact that they are exploited by national and international markets, which is why they became founding members of the Fair Trade Federation of Barre, Massachusetts. Through them they've been in contact with many Fair Trade organizations.

At first they used rayon chenille but now, as an effort to promote ecological preservation, they use bamboo chenille. It is a better option because bamboo grows faster and does not lead to deforestation. They have also received training in dyeing techniques and the colors they use are inspired by traditional Guatemala costumes and the natural highland flora, especially that which grows around Lake Atitlán, which they regard as the most beautiful lake in the world.

Since its foundation, K'amolon K'i K'ojonel has grown as a successful association for women run by women with 200 active members. The association has managed to work almost constantly. They regard as their major achievement the stability of a women's organization and so offer hope to the survivors of the 1980s massacres.

Women artisans are faced with many obstacles, most of which derived by the fact that they cannot read or write, or speak Spanish. They master the back strap loom just like their mothers and grandmothers did. It is arguably the oldest method of weaving.

The weaves are usually thinner and heavier than commercial textiles and since they require more personalized work, they cost more. That's why the work the association does is so important: they have achieved what others have not been able to, which is to market back strap loom weaves, thus improving the economic development of the women from Pujujil.

K'amolon K'i K'ojonel has also encouraged women to play a more decisive role in the economic development. It has not been an easy task for several reasons, including lack of education and low self-esteem. However, through it all the women have managed to venture out of their community in order to coordinate and manage their work. The association also pays for the travel that this implies, as well as the food and diets.

The association has also sent women to other countries to share their stories and promote their work. The women have been to the University of Oregon and to Yale, as well as to Rhode Island School of Design, to Massachusetts, Alaska and to Wellesley College. They've also been to Norway and since then, they are constantly invited to U.S.A. and Canada to attend fairs and congresses on Central American arts and crafts.

They are proud of their motto, "Weaving a Better World" because if reflects their philosophy on life. They are proud to be rescuing such a legendary art on the back strap loom and to be able to offer their children with a better education.
20 Testimonials for K'amolon K'i K'ojonel

The colors are fabulous, but the touch and feel of this scarf had me sold as soon as I opened the beautiful box it was packaged in! Love, love, love!

I am very pleased with the beautifully woven fall colour scarf. Tightly woven, soft and gorgeous. I just wish there wasn't duty payable between Guatemala and Canada.

I bought scarf and Poncho. Unimaginable fabric, gorgeous and meticulous, I am happy that the creations with artistic merit belong to me.