Featured Reviews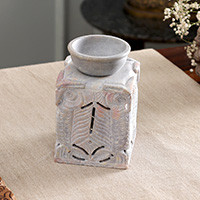 By Lori
What a Beautiful Piece of Work!
When I first saw Agra Owls by Gulam Rasool on Novica, I was fascinated with his artistic work but when I opened the package I was stunned with Mr. Rasool's unique and intense work of art. I love owls but the Agra Owls bring you to a higher level of appreciation . Not only is this an outstanding piece, but the natural soapstone heats the oil quickly and allows the oil to provide an outstanding fragrance. The Agra Owls makes a perfect gift to others or to yourself. Thank you Mr. Rasool for your awesome talent!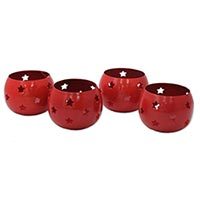 By Patrizia
Really Nice!
These tea light holders are well made, attractive, and very useful. I'm so happy to have purchased 8 of them. Thank you, Mr. Madan, for your skill and creativity. I wish you and your family the very best and I'm so glad you stuck with your passion!
Featured Artist
"Each of one our ceramics has its own personality, as each requires many hours of work to bring it into being."
"Hello, I'm Israel García Ochoa. Our work was born of the desire to create something different in clay. It was my mother who began this project and who designs the majority of our pieces. We set up our workshop with the idea of offering a dignified job to people with physical handicaps. At the same time, we want to rescue the traditional technique known as barro bruñido, or burnished clay.

"We first shape the piece, either on a potter's wheel or using molds. Once dry, we prepare it so the surface will be glossy, working while the clay is still slightly damp. Then, with a compass, we mark the areas to be incised. Once the design is perfectly laid out, we add colors derived from different earth oxides. To finish it, we burnish it, forcing the color into the piece. For a shiny finish, we polish the clay with stone, while metal gives it a matte finish. The piece is allowed to thoroughly dry, and then fired. Our work of integrating the color with the clay and firing a piece only once results in a very resistant item.

"This kind of work requires a great deal of time and patience, as the pieces are generally small and include motifs such as the Virgin Mary, or crosses. Our designs are derived from the Mexican baroque tradition as well as contemporary styles. By combining a time-honored technique with our own passion for art, we achieve decorative pieces that are innovative and original. Each of one our ceramics has its own personality, as each requires many hours of work to bring it into being."