Wall Sconces
Welcome to the Wall Sconce Collection at NOVICA! Please enjoy discovering our unique wall sconces below:
Featured Reviews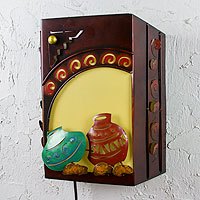 By Joyce
Beautiful lighting source
I received this lamp yesterday. Coming from Mexico it was pretty fast shipping. The item is exactly as pictured on the internet, and it's beautifully made. I have yet to hang it and plug it in, but it's clear that it will provide a lovely glow. This is perfect for the small space I have that won't accommodate a floor lamp or table lamp, yet it doesn't require hard wiring, and can be plugged in. This is a very good buy. It came well-packaged, and it's just beautiful.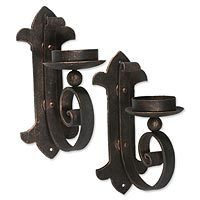 By Adam
Nice and Heavy With an Antiqued Appearance!
I bought these for decorative purposes to use in my home theater. The candle holders arrived in perfect condition, I was very pleased with the weight. These are not thin and cheaply made, but rather are heavy and substantive. Very pleased. I was actually coming online to buy a second pair when asked to leave a review on the first. I guess you could say that I liked the first enough to come back for more. A little on the expensive side but worth every penny!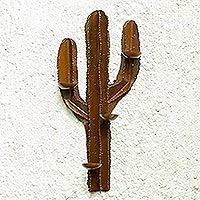 By Eada
Love this piece!
We have this hung next to the front door so it's the first thing people see when they visit. Lovely lit and welcoming! Strong sturdy piece of art to show our appreciation for desert environments. Thank you!
Featured Artist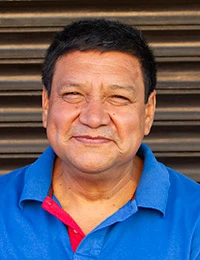 The artistry of J. Blas has been featured in Family magazine and Kentucky Monthly.

"Every piece crafted at my workshop goes hand in hand with originality, design and quality."
"Hello. My name is J. Blas. From the time I was small I have enjoyed arts and crafts. I loved to dig and prepare clay to make my own pieces and from that time on I began to experiment with ceramics. When I was 17, I started my own ceramic workshop because I hate to ask anyone for work – I feel shy and ashamed. Due to my lack of experience, I had to shut it down and went to work in other studios as well as in a ceramics museum, where I learned everything – from how to look for clay to crafting techniques.

"Over time, I learned more and more and became aware of the critical stages that clay has, and where it is good to depend on other people to work it perfectly. And so I changed directions and began to work in wrought iron and blown glass. When things began to get better, I started to experiment with sheets of iron of different weights to give my works more movement.

"Currently I again have my own workshop where we craft a variety of products, mostly decorative. We cut the metal sheets and hammer them into shape. Then we weld them and add the details. For a clean appearance, we submerge them in an acid bath to remove grease and carbon. After that, they are treated to retard rust before we paint them with a special, lead-free paint.

"We are the first workshop in the area to utilize molds as a work tool and to give more originality to our products. Every piece from my shop goes hand in hand with originality, design and quality. We are always developing new designs and products.

"I became acquainted with Novica in the early days and you could say I've watched their grand evolution and transformation.

"Over the past 20 years, Novica has let me work hand in hand with them with a series of designs that has grown in ways we never imagined.

"In the beginning, my greatest challenge was organizing the work and assuring its quality. My workshop has grown to occupy a larger property that has let us improve the crafting process.

"At first, I found it difficult to work in a different way but, without it, this would be chaos. Organizing our work has been the trampoline for a great leap forward in improving the quality of our work and letting us place a special focus on each design.

"I believe the Novica team's suggestions from the very beginning helped us polish our passions and achieve a better result. They helped me see the importance of good training for each of the people who assist me.

"We learned to consolidate out assistants and invite them to participate in all the projects where we take part. They have brought their passion, responsibility, happiness and commitment to all we do.

"We're very grateful to Novica for being what they are. For their support, their suggestions and the very personalized attention they have for every one of their artisans."
Wall Sconces
Bring light into your home with NOVICA's Wall Sconce collection. Each piece is delicately handcrafted by some of the most talented artisans worldwide. Please enjoy! Sconces are arguably the easiest and most inexpensive way to spruce up a wall. Our Wall Sconce collection features pieces made in Mexico, West Africa and India. Featured artist Marco Polo Serrano was born in a small town and comes from a family of artisans. By the age of 13, he got a job at a workshop that designed intricate ironwork. Sconce artist Byron Toscano became passionate about wrought ironwork at a young age. At 16, he began working for a well known Antigua forge for seven years. There he learned techniques, designs, and finishes for wall sconces and other pieces. After all these years Toscano has held onto the first piece he made, a miniature lamp.