Featured Reviews
By Judy
Angel of Hope - give me HOPE!
Beautiful painted details. Our angel protects the entry way into our house. I liked this so much that I bought one for a friend. Such an amazing value, too.
By Sheila
The Name Fits it Perfectly!
Gave this as a gift to someone who collects angels. It came carefully wrapped in a beautiful box and brightened her face as soon as it was opened. Details are just as they appear in the photo, with a small hook attached on back for hanging. Both of us just loved it!
By Rochelle
Charming, Handmade Angel
This is an adorable angel and so well made. She will brighten any room where she is hung with her colorful fabric. This is my second purchase from Marybel Gonzalez and I love her work. Thanks Novica for connecting us with such a talented artisan. Rochelle 3-26-18
Featured Artist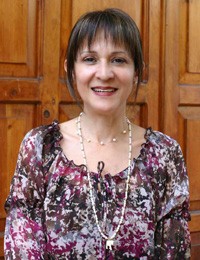 "The beauty and color of each traditional dress inspire me. The regional differences are amazing."
"I was born in 1960 in Guatemala City. My parents weren't artists, but they had a great appreciation for everything related with art. They shared their interest in art with my brothers and me, and taught us to enjoy painting, music and dance.

"In 2000, I was in the airport and saw a shop with terracotta angels, each hand painted with different designs. I liked them very much, but they were too expensive for me to buy. One day, my mother gave me an angel like those I'd seen in the airport, but it wasn't painted. To my surprise, she also gave me some photographs with all the traditional weavings worn by Maya women and told me, 'You can paint those angels and I'm sure they're going to be beautiful.'

"And so I began to experiment. I liked my angels very much and many of the people who visited my home liked them, too. That's when I decided to paint angels and sell them. I so enjoy painting them and, each time I finish one, I remember my mother. I still have the angels she gave me years ago, displayed on a table in my living room.

"I became interested in painting Maya clothing because their textile arts have always fascinated me – their weaving and embroidery designs are works of art. No one taught me to paint, but I'm grateful to my mother for giving me that little push.

"Up to now, I have worked by myself and it's practice that has let me perfect my technique. I've always believed that everything can be made better. It's so exciting to see a finished piece! I put it on the table and look at it… and I feel very happy.

"The beauty and color of traditional dress inspires me. The regional differences are amazing. Although Guatemala is a small country, we have so much culture, folklore, languages, flavors and colors.

"My dream is for my angels to become known throughout the world because my art is related to my country's history, traditions and customs. And so people in different parts of the world can appreciate the color of Guatemala.

"Apart from my art, I enjoy helping others through volunteer work with orphans. I am also teaching some adults to read and write. One of them is a 24-year-old girl.

"Thank you, Novica, for this opportunity."