Featured Reviews
By Linda
Delicate little wooden box
Received this little delicate wooden box and I like it. It is a small box with different wood at the bottom and it sets it apart from some of the other small boxes. The flower design is carved on the lid which also makes the box a very nice delicate item. Thank you.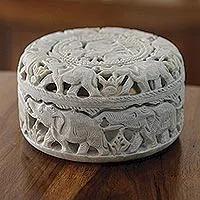 By Elfriede
Exquisitely Beautiful
This piece is beautifully crafted. The carved design is so intricate and every design component is perfectly rendered. It is a thing of beauty.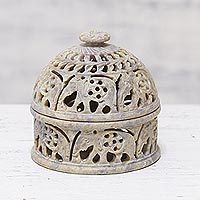 By Linda
Exquisite jar
Mr. Rasool's decorative workmanship is so exquisite! His work is so finely carved and the elephants on his soapstone jars are very delicately etched. Thank you, Mr. Rasool.
Featured Artist
Raj Kumari and Raja Ram
Gemstone inlay on marble and soapstone carvings
"The Taj Mahal, one of the Seven Wonders of the World, is a great source inspiration to many marble artisans. We try to replicate its beauty through our work and our personal touch."
"Hi friends, I am Raj Kumari, which means "A Queen!" I come from Uttar Pradesh. We are three siblings, all girls, and we had great fun growing up together. Except for few friends in school, we did not have any friends at home because our father was a very conservative and strict man, but he was never short of love for us. Not having a son did not dishearten my father as it would other traditional Hindu families. In the olden days in small towns and villages, a family was looked down if they were without a son.

"My father had a grocery store and I remember spending much time with him. After completing my 12th standard, I was married off to my husband, Raja Ram Singh. It was an arranged marriage because in those days, that was the only way to marry, and we couldn't go against our parents' wishes. But my parents chose the right life partner for me. I love my husband and I hope we live happily like this for the rest of our lives.

"Since my husband is from Agra, I had to move there. This was the first time I was venturing out of our town! Seeing the Taj Mahal was such a delight. My husband used to work in a marble art workshop and at the time, I never felt the need to learn the craft since I was busy looking after our two children. They have now grown up and our daughter is married. Our son is working.

"When our children grew up and no longer needed me constantly by their side, I began to feel the need to do something that would help me pass the time. That's when I started to learn the art of marble carving and inlay from my husband. About a couple of years before, my husband had ventured into starting his own workshop, along with other artisans.

"The Taj Mahal, one of the Seven Wonders of the World, is a great source inspiration to many marble artisans. We try to replicate its beauty through our work and our personal touch.

"The original inlay work at the Taj Mahal was crafted of real gemstones of considerable size, however it is very difficult to work with gems on smaller scale pieces and given the stones' natural properties they tend to break while shaping miniscule details such as leaves, petals and vines. So we are forced to use synthetic stones but we make every effort to match the same color tone of a real gemstones.

"I would like to state that the beauty of this craft lies in the handcrafted technique, which demands a lot of dexterity and concentration each stone is inlaid one at a time.

"We craft a wide range of decorative and utilitarian marble items, such as sculptures, jewelry boxes, coasters, trays etc., as well as traditional jali pieces, also inspired by the architecture of the Taj Mahal. We exhibit our work throughout India, including Agra, Bombay and Delhi. I hope that being introduced to Novica will bring us closer to many art appreciators across the globe."