Featured Reviews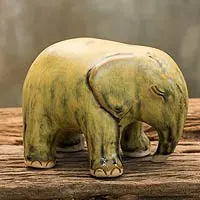 By Angela
Exquisite!
Once again, this figurine is beyond expectations! Having recently bought the blue figurine, I knew that I had to have the yellow one. I was not disappointed. It's beautiful beyond words! I would recommend this artist quite highly.
Whimsical, yet elegant
I am in love with my flying pig! He sits on the counter in my bathroom where I see him all the time. As whimsical as it is to say "When pigs fly," and actually have a pig with wings, the fact that he is so perfectly crafted in celadon makes him a beautiful little figurine as well. Have I mentioned that I love him?
Featured Artist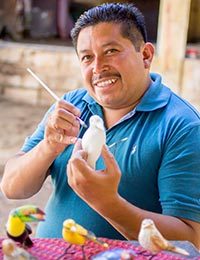 Mauricio Morales
Handcrafted and painted ceramic bird sculptures
"I feel so very fortunate to have the family that God has given me. They are my strength."
His name is Mauricio Morales. He was born in the beautiful city of Antigua, Guatemala. From the time he was a child, he suffered life's adversities. His mother abandoned the boy, leaving him with his grandmother.

"She was like my guardian angel," the artisan says. "She took care of me from the first moment I was with her. She wrapped me in her arms. Thanks to her, each day filled me with fortitude. No matter how tough things were, she always knew the right words to say."

His grandmother was young Mauricio's source of inspiration. He admired her hardworking and perseverant lifestyle. She taught him many skills, from carpentry to cooking. They lived in a humble little house that she built with great effort. Today, this is Mauricio's home.

In school, he divided his time between work and study, and this was when he began to work with a well-known ceramic artisan in the city. As time went by, Mauricio gained experience.

In the ceramic workshop, he met his wife and their love began to blossom when they were both quite young. "Meeting Mauricio is the best that has happened in my life. I had always lived well. My parents gave me whatever I wanted. It's been a blessing to know someone who could teach me to appreciate the good things in life. My husband is a loving father who gives his all for his children. He is demanding but a fighter and tenacious. Thanks to him, I learned to do many things I didn't know how to do," she says.

"I know I can be very demanding with my children sometimes," the artisan says. "But I want them to know the real meaning of life, that life is made up of moments. That we must struggle to achieve our dreams. That we shouldn't expect things to come to us. I feel so very fortunate to have the family that God has given me. They are my strength," Mauricio says, with tears in his eyes.

Little by little, he has perfected his work, which has been recognized in many parts of the world. His realistic ceramic bird sculptures form a part of many collections.

Mauricio's greatest dream is that his children learn this art. He wants to be able to give them a college education. Above all, he wants them to become good people."
Popular Yellow Ceramic Sculpture