Details
Coca Cola bottles stand in front of an ancient temple wall in a clear example of acculturation. Balinese dragons cap the bottles, which have been refilled with arak, a drink elaborated from palm sap. "Coca Cola as an American pop icon has influenced many aspects of Balinese life," says artist Ketut Teler. "Empty bottles of Coca Cola are filled with arak, then some of it is spilled in a sacred ceremony as metabuh, which pays respect to the Buta Kala or negative energy from the earth. This is just one example of how the collaboration of two cultures has occurred, an effect of globalism."
80 cm W x 60 cm H
31.5" W x 23.5" H
Gift Info
Free Gift Wrap? No
Premium Gift Wrap? No
Meet the Artist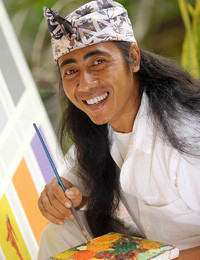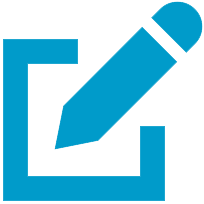 Write a review
"Based on my experience and contemplation, I realize my life with my wife and children – a daughter born in 1999 and a son born in 2002 – who both show artistic talent, is a colorful life."
"I am a painter, who was born in a Balinese farming village on October 24, 1971. We used to play in the rice fields that spread out around us; the playful water in a river nearby was like dancers and its sound like natural singing. The plants that spoke to our feet, the mud that cleansed our body, and the joyful games that can be stopped only by the amazing sunset….

"My father worked in government and my mother worked in the fields.

"For a child, it is common to make graffiti or drawings on the wall or the ground. I was so excited and got more interested in art when I was seven years old and saw my uncle painting puppets with details on glass. Sometimes, he painted a Rerajahan on pieces of fabric to complement the ceremony. Rerajahan is a mystical symbol believed to have certain powers to avoid bad things. That excitement continued without his knowing as I'd make a sketch or simple drawing.

"During elementary school, the drawing lesson became my favorite moment, and I eagerly awaited the day. It was taught only once a week. My favorite figure that I love to draw is Bima, a super hero from the Hindu epic Mahabharata. I always drew it with happiness and, full of joy, I was always the first student who sent the drawing to our teacher. But when the subject was math or science, my feet would get too heavy to move. It was so difficult to go to school.

"After graduating from junior high, I wanted to go on to the senior high school of fine arts at Gianyar but, since I didn't have enough information, I finally went to a craft school that was nearby, on the same campus. I was slightly disappointed, but was still excited and kept up my drawing exercises. After school, I took private lessons with Made Widia, a traditional painter. Ubud is an art center for the traditional art of painting. A lot of famous painters have been inspired in this place, like Bonet, Mario Blanco, Walter Spice, Ida Bagus Made, and many others. Learning from their experience and history, I realized that the process and the struggle of an artist are not easy, but I have faith that with a great spirit and hard work, it will show a result.

"In mid-July, 1992, I went to college at the art university in Indonesia, which is now the Indonesia Art Institute, and my major was painting. On this campus, I was introduced to the theory of modern art. One of them was menyeket. Menyeket means how to set the color, lines, and space. It became a new task that I had to learn.

"In my sixth semester, I had the opportunity to become a resident artist in Boston U.S.A. Waiting for my departure, I was so nervous because – as someone who loves painting – this was like a dream come true. I finally took off from the Ngurah Rai Denpasar international airport and arrived at the John F. Kennedy airport for a connecting flight to Boston. I was a little worried awaiting my departure. Since I forgot to wear a watch, I didn't know the exact time and this almost made me miss the plane. Even so, I still don't wear a watch.

"During my three months in Boston, I visited the Solomon Museum in New York and participated in workshops with students at Massachusetts University. What an amazing opportunity and great experience! It was unforgettable.

"Based on my experience and contemplation, I realize my life with my wife and children – a daughter born in 1999 and a son born in 2002 – who both show artistic talent, is a colorful life. This has inspired my 'Power of Color' collection."