Featured Reviews
By Eben
Beautiful, Functional Bowls
These bowls are striking. They are made with a high degree of skill; designed to last through the years. Each individual bowl has unique characteristics in its patina that make it special from the other three. The only piece of criticism I have is that these bowls are very small. They are most likely suited for dipping sauces, appetizers, desserts, etc. This shouldn't be a problem if you are buying them for this purpose, but do not expect to be able to use these as soup bowls. Still, even if you are disappointed by their stature, you will likely be won over by the quality and attention to detail that was invested in these bowls!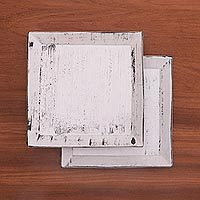 By Derek
Just one wish
I bought and love this set. Purchased both bowls as well. I just wish they had the smaller plates as well, not the ones with the coffee cups, just a little bigger. That would complete this set.
By Dennis
Useful
These attractive pieces are useful for serving bowls, although not quite large enough to be cereal or soup bowls. They don't appear to be fragile.
Featured Artist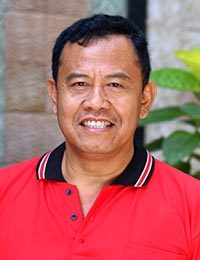 Oka Mahendra opened a showroom in memory of his mother... She was a woman full of energy and highly self-confident.
Putu Oka Mahendra was born in the Tabanan regency of Bali on June 12, 1966. His mother, Made Tantri, pioneered ceramic artistry in 1980. She was a woman full of energy and highly self-confident. When she first started she undertook the entire crafting procedure by herself - from creating the design until finishing the product. She gradually developed a reputation for fine design and high quality and people started placing so many orders that she saw the need to hire assistants. In 1990, when Tantri passed away, Oka Mahendra took-over her work, and eventually opened a showroom in her memory.

To create his designs, Oka Mahendra finds inspiration in the luscious flora and fauna of Bali. In 1993, he was the third place winner for his ceramic designs in the Lomba Ceramic Design contest. Oka Mahendra has exhibited his handcrafted items at the Asian Trade Fair (ATF) at Jakarta in 1993 and participated in exhibits in Jakarta (1995 and 2000), Bali (1997-1998) and recently at the Korean and Hong Kong Embassies in Jakarta (2001).