Featured Reviews
By KariLynn
Beautiful craftsmanship!
I have this cosmetic case in black/white and when i saw the colors in this one i had to have it! So well made! The double zippered top is great...lots of room inside...use it all the time
By Becky
Holiday Money (cont...)
The other part of my Holiday Money from my mom; I decided to purchase this lovely bag. The uniqueness of design, the sleekness and what definitely sold me was the Artist's use of a chain strap. I am more than please with my purchase (BUT) I haven't figured out how to cram everything from my backpack into it! :P I jest and self admitting: tried! Thank you Novica and most importantly the Artist's themselves.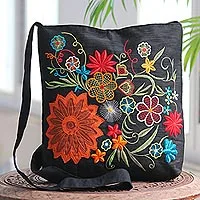 By Velma
So proud to carry this shoulder bag.
Was so thrilled to receive this shoulder bag. It arrived promptly, was well packaged and it is so comfortable to take shopping and I LOVE IT. I am elderly and this type of handbag is practical. My friends have commented on it too. The embroidery is JUST BEAUTIFUL. Thank you so much.
Featured Artist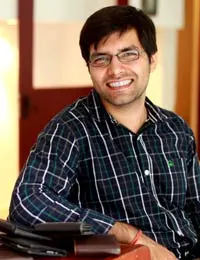 Sanchit
Leather wallets and accessories
"I always had an affinity for leatherwork, as my family has been associated with this craft for many years but my interest grew when I actually learned hands-on."
"I come from the beautiful city of Delhi where I was born and raised. Our family has worked with leather for more than five decades now and I am the third generation. I'm really keen to build on the collection of treasures my family has nurtured so far. The grace and elegance of leatherwork and the appreciation of quality designs are what attracted me. And, for sure, I would love to build a successful brand which is recognized globally.

"I always had an affinity for leatherwork, as my family has been associated with this craft for many years but my interest grew when I actually learned hands-on. I underwent thorough training as to how each design is made. During my training, I crafted many of them myself and this was the most exciting part. Naturally, I ended up designing a lot of pieces and now I look after the design part while my brother takes care of crafting. Of course my father is there to guide us — he always shares his invaluable knowledge.

"I have also learned a lot from older experienced artisans who have been associated with the leather field for many years and happened to be known to my family.

"I love the fact that you can use your own imagination to make something that can be appreciated by a lot of people around the world. To successfully do that after all the hard work that is put in the designing and the execution of each piece is something that gives utmost satisfaction. But at the same time, that is also one of the greatest challenges — to successfully develop a product that appeals to shoppers — along with executing the design with the same finesse and quality you expect.

"My family works mostly in leather, faux leather, rubber sheets and fabric, using metal accessories, etc. Every material has its own way of taking to a design and finishes, although this doesn't really pose a difficulty per se. However, figuring out how a particular design has to be crafted to achieve the desired shape, etc. needs a lot of skill and attention to detail.

"We have four or five artisans working permanently with us and we offer work to more depending on the work load. Almost all these artisans have been with my family for many years. For us, the most important thing is the quality of work because, even with an excellent design, if the end product isn't excellent as well, then it doesn't work. Each piece must come out looking neat and attractive. We look into every little detail because the slightest miscalculation could affect the quality.

"We welcome feedback on design and quality, which is so important for us. It is always heartwarming to know our work is appreciated. This motivates us to continually create more and more designs in leather."