Central American Laptop Bags and Tablet Cases
Featured Review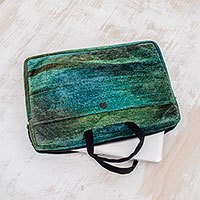 By Carolyn
Beautiful Case
This shows all of the beautiful colors and workmanship of Guatemala. My daughter visited there with her boyfriend, in April. They donated to a foundation that educates ninos in the schools. They learned, among other things, how intricate it was to weave fabric and relate to the beautiful people and culture. I never go wrong when I buy something from these crafted artisans.
Featured Artist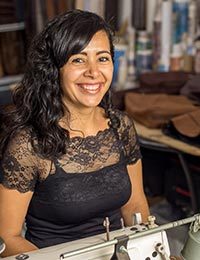 Isabel Treminio
Handcrafted handbags and accessories
"With perseverance and hard work, you can go far. But with God's help, you can achieve your dreams…."
"I come from a family of restaurateurs, but found myself drawn to handicrafts. I decided to create handbags.

"One day, I thought I'd design clothing with fabric remnants and apparel I didn't wear anymore. After many attempts, I ended up with a beautiful handbag. Very few people saw it but one of those people was the owner of a shop. She loved it! And she ordered several of this design.

"I was afraid I'd fail but, at the same time, I was thrilled and felt hopeful about this opportunity. It was rewarding to know that someone liked my work and that all my effort was worth it.

"As I created other novel and utilitarian designs, I gained experience and improved my technique. I hope to earn the admiration of many more shoppers who appreciate quality work crafted with dedication and love.

"I was born in Costa Rica. I've liked handicrafts from the time I was a girl and creating handcrafted designs was a dream I had worked toward day by day.

"But art isn't valued much in this country and it's been a long struggle to create designs that are unique and stand out from the others. Today, designing and crafting handbags and accessories has become my passion. I want others to know that with perseverance and hard work, you can go far. But with God's help, you can achieve your dreams of quality and excellence.

"I achieved my dream in 2002, setting up a formal workshop of my own. I had the support of my loved ones and, above all, God's blessings. He has been my main source of strength from the very beginning. Today, we're doing very well and I hope to reach more shoppers than ever, to make my country's art known around the world.

"When the opportunity arises, you must seize it."
Popular Central American Laptop Bags and Tablet Cases