Thai Purple Cotton Handbags
Featured Reviews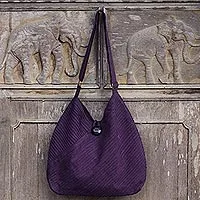 By Lynn
Well constructed bag with many compartments
Love this bag! It is soft so it will fold to fit into any spot, but has many roomy pockets - some with zippers, so things stay where you put them. The shoulder strap is very long and works well as a cross body strap.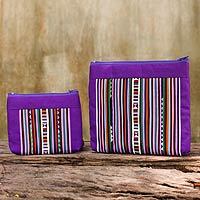 By Kristine
Beautiful and Useful
These bags are sturdy, well-made and are perfect for keeping your purse organized--and they are so colorful they are easy to find inside.
By Joy
Lovely handbag
The colors in this handbag are beautiful and it is well made. The elephant design is unique and lovely. I'm really satisfied with the bag and it was delivered very promptly. I love that it is made in Thailand as my niece visited elephants there and I think she will be excited to receive this gift.
Featured Artist
"This is our unique tradition that shows we are true Lisu tribe. The sewing work is the duty of all Lisu women, and the skill has been handed down from generation to generation. "
"My name is Kittiya Chinmee. I was born in 1963 in Chiang Rai, Thailand's northernmost province. Our family is of the Lisu tribe, and originally lived in Tibet. Later they evacuated to Chiang Rai.

"When I was about 10 years old, my parents both died. So my younger sisters and I were adopted by a Finnish missionary couple in northeast Thailand. They took very good care of us, just like we were their own children. When they came to know us, they realized that there were still many Thai children who lacked educational opportunities. So they started to adopt some more children to give them better lives and the opportunity to study. After graduating from school, I went to work as a volunteer to aid in the development of hill tribe youth who have fewer opportunities.

"Later on, I had an opportunity to meet with Lisu relatives who had moved to the city. One of them was a university professor; the other was studying for a PhD. Everyone can access modern technology, but we strive to maintain the traditions of the Lisu tribe.

I traveled with them to Tibet. I wanted to visit all of the places and to absorb and exchange experiences with the native Lisu tribal people there. What impressed me most was that the Lisu there still sew their own clothes. They take pieces of multicolored fabric and sew them together. Then they make zigzag patterns with it. This is very detailed work. They use the completed pieces to decorate collars or sleeves. In particular, the sets that are worn in important ceremonies are even more beautiful and require more attention and neatness. This is our unique tradition that shows we are true Lisu tribe. The sewing work is the duty of all Lisu women, and the skill has been handed down from generation to generation.

"When I came back to Chiang Mai, I began to notice that the modern Lisu suit here had fewer details and was not as beautiful as the fabric strips I saw in Tibet. I therefore tried to look for a Lisu woman locally who had skill in sewing to help make prototypes of more detailed and beautiful pieces. I brought the photos from my childhood. I was also in Lisu dress which I had decorated with strips that were made very neatly to show her an example. When I got the completed strips back, I designed bags and some other textile products. I used the strips to decorate those products to maintain the craft and heritage of the tribe. I want to also help to generate revenue for the tribe.

"This is the first time I have sold my Lisu items, because I just started and have never displayed by items in any store. I sincerely hope that all of you will support my work and the traditions of the Lisu tribe."