Featured Reviews
By Laurie
Absolutely beautiful hat!!! Very soft!
I ordered this hat for a niece and another in a different color for her sister. I was absolutely blown away by the quality of the hat as well as the fantastic packaging it came in. I carefully unwrapped it to inspect the hat, and then wrapped it right back up in the packaging it came in. I will gift them as is to the girls. Everything about the hat and the packaging screams heirloom quality. I plan to send the information about the artisan to them as well. I am so impressed with the entire experience. I hope the girls will use these hats well into the future. Thank you for a beautiful product Idelsa!!!
Featured Artist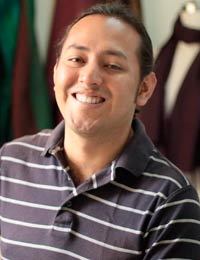 Alberto Caceres
Alpaca apparel and accessories
"For my projects, I have the wonderful support of my mother, Julia Maria, who is 60 years old and is a true artist. She has so much creativity and good taste in creating new designs."
"I was born in Lima, but my grandparents were from Andahuaylas in the southern sierra. From the time I was very young, they taught me to love my homeland.

"In 2006, I met new friends from Apurimac, Huancavelica and Ayacucho. Some of the poorest people in Peru live in these towns. The terrorists were strongest there, and many residents left their lands to find refuge in other parts of the country.

"I feel very proud to be able to contribute to the development of my country as I work with more than 20 artisan associations whose work is crafted by hand or woven on traditional handlooms. Their craftsmanship is impeccable, and of the quality required by the international market. We produce apparel and fashion accessories created on the four heddle loom as well as on smaller looms of different kinds.

"What we look for is to preserve the traditions that began hundreds of years ago during the days of the Inca Empire. We use natural fibers such as alpaca wool, baby alpaca, and others, like silk.

"What I've learned about textile arts comes from my mother, who learned from my grandmother, and in this way, the knowledge has been handed down from generation to generation in our family.

"For my projects, I have the wonderful support of my mother, Julia Maria, who is 60 years old and is a true artist. She has so much creativity and good taste in combining colors and creating new designs. She is very skilled at crochet and knitting, both of which require much time and patience. She is always knitting and creating new designs, each one more ingenious than the other, and all with beautiful colors.

"I've been privileged to show our designs throughout Peru and South America. I've also been able to give craft classes to the men, women and young people who want to learn all the beautiful techniques we use. Today, our people are master artisans recognized throughout Peru, and we share our knowledge with everyone who has a real desire to learn and progress.

"We're very happy to show you the weavings and accessories produced by more than 100 Peruvian artisans. Please know that we will always give 100% of ourselves so that you receive a design of excellent quality, crafted by Peruvian artisans who want a better future for themselves and their families."