A few years ago, I bought a lovely pearl necklace from NOVICA from one their Thai artisans, Sasina. From the first time I browsed NOVICA's beautiful selection of jewelry, particularly the necklaces, Sasina's pretty designs have always caught my eye. While looking through the necklaces, once again one of Sasina's beautiful creations won my heart, the Delightful Brown freshwater pearl necklace.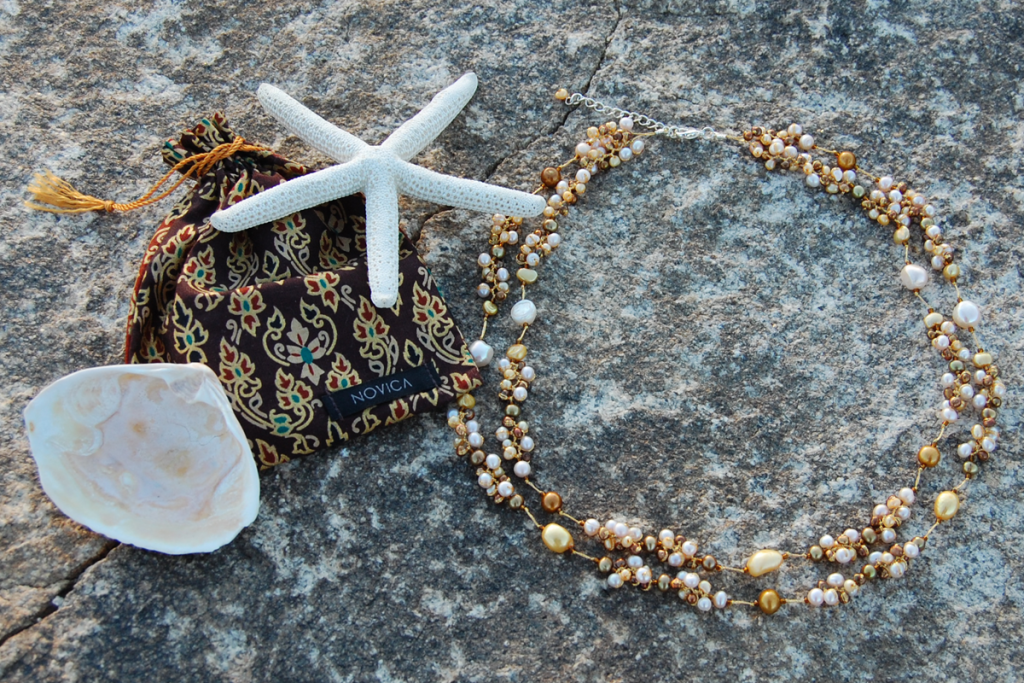 I think I am just naturally drawn to pearls as pearls seem to resonate with me. The Delightful Brown Pearl Necklace, made of freshwater pearls, both dyed and natural, some glass beads, tied together with silk strands, just stirs my soul. The freshwater pearls are hand knotted on golden silk strands with the larger freshwater pearls set off by the diminutive brown glass beads. The larger pearls are set a distance away from groups of about 20 smaller pearls. These are in no way perfect pearls and the larger ones are baroque shaped pearls. The imperfections and swirls on the pearls adds to the timeless beauty of this necklace.
The colors of the dyed pearls range from a light brown to a very golden color. The natural pearls are rich in overtones of pink and gold. Both the natural and the dyed pearls just catch the light beautifully to highlight their bountiful colors.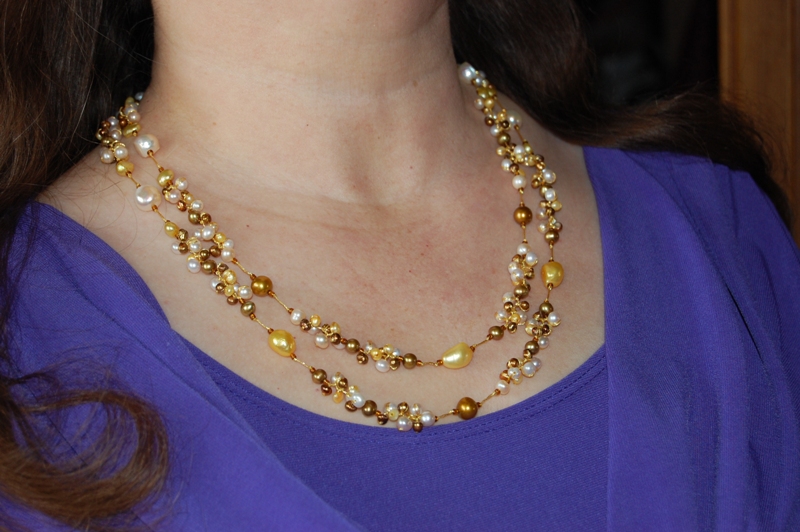 I am so delighted with this necklace and love wearing Delightful Brown to church and on special occasions. I just know that this special party that my husband and I will be going to will be the perfect place to show off my Delightful Brown freshwater pearl necklace. It is a very elegant and stylish necklace and I have received quite a few favorable compliments about it whenever I wear it.
For me, Sasina's work and her story of coming from northern Thailand, is one of inspiration. After reading her story, I can see where she gets her motivation to design such fine-looking jewelry from her parents lush garden of fruits and flowers. It's the flowers that she truly cherished, and I can see from her artistry that flowers are a main incentive for her creations as she has named many of her items after the names of flowers – like my daughter's lovely necklace, Sweet Crocus. Both Sasina and I do share one common trait, we both like to wear earrings wherever we go.
Novica has done much to help artisans, many of them women like Sasina, all over the world maintain a sustainable living. I truly love to help empower women all over the world, and when I do purchase jewelry from NOVICA, I try to find something that I like from a woman. In my opinion, NOVICA does offer the best selection of unique women's jewelry from all over the world. When I look for jewelry, I don't go to my nearest nationwide chain store in my town, I head to NOVICA.
Rate this post:
[Total:

0

Average:

0

]