No need to pack your bag and dig out your passport! Join us as we explore some of the unique treasures of Thailand, handcrafted by local artisans.  ​​Handmade treasures can transport us around the globe and reveal ancient cultures and traditions that have been passed down for generations.
Jewelry
Thai jewelry artisans offer a glimpse into age-old techniques that continue to inspire. We appreciate the hill tribe silversmiths who stamp their works by hand and the gemstone artisans who search far and wide for the perfect piece of tiger's eye or turquoise. We are fascinated by the macrame masters who create patterns of delicate knots, and the leather workers who craft works of wonder for the world to enjoy. The world is filled with beauty to share!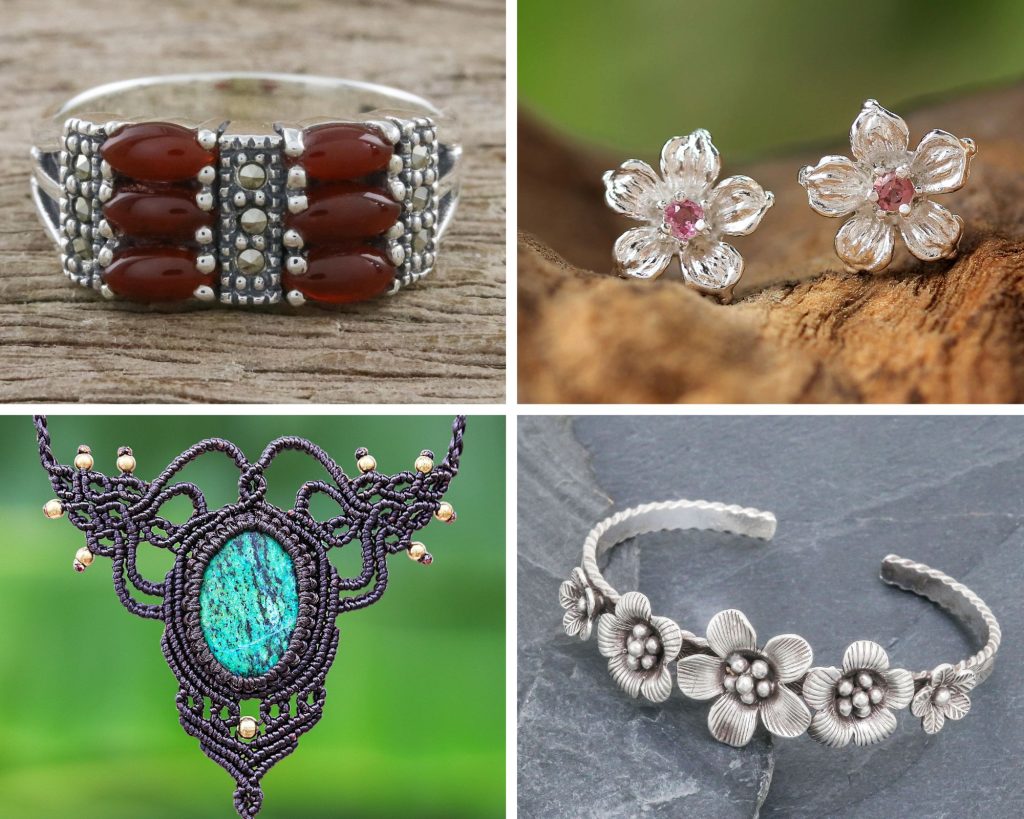 Spotlight on Sasina
Sasina Leerasawatdiampon remembers the day perfectly. She had a party to go to that evening and was uninspired by her outfit. So, she wandered into the garden that her parents had built — and whose fruit and produce were the family's livelihood.
Standing in the middle of those abundant blooms, Sasina plucked some flowers and used them to embellish her look. She recalls it with good-natured humor. "I also wore some flowers on my hair, to the point where I thought I had overdone it, but I didn't have time to change." On the contrary, everyone at the party loved her unique creations — a kind of floral "jewelry" unlike anything they had seen. At the time, Sasina didn't realize that jewelry design would become her lifelong passion. All she knew was that she deeply enjoyed the process of artistic creation.
Today, when Sasina talks about jewelry, her words have a reverential quality to them. "I believe in the power of stones," she says. "Before leaving home, I wear an accessory — preferably earrings — that features at least one type of lucky stone."
There is something refreshing about Sasina's open appraisal of beauty, particularly the natural world. Today, all of her works are infused with that unabashed love and appreciation.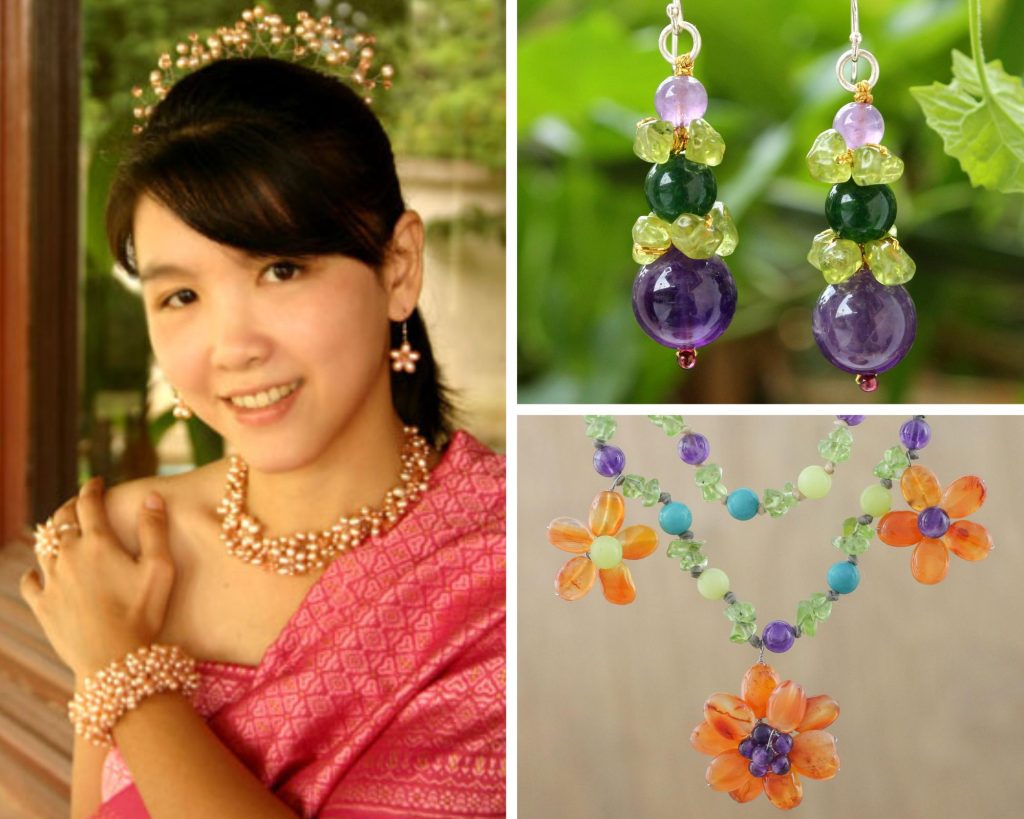 Home Decor
Thai home decor includes hand-embroidered textiles, celadon ceramics, benjarong porcelain, teak carvings, lacquerware and so much more. Introduce a touch of the exotic to your home or office with an artisan-crafted selection from NOVICA Thailand.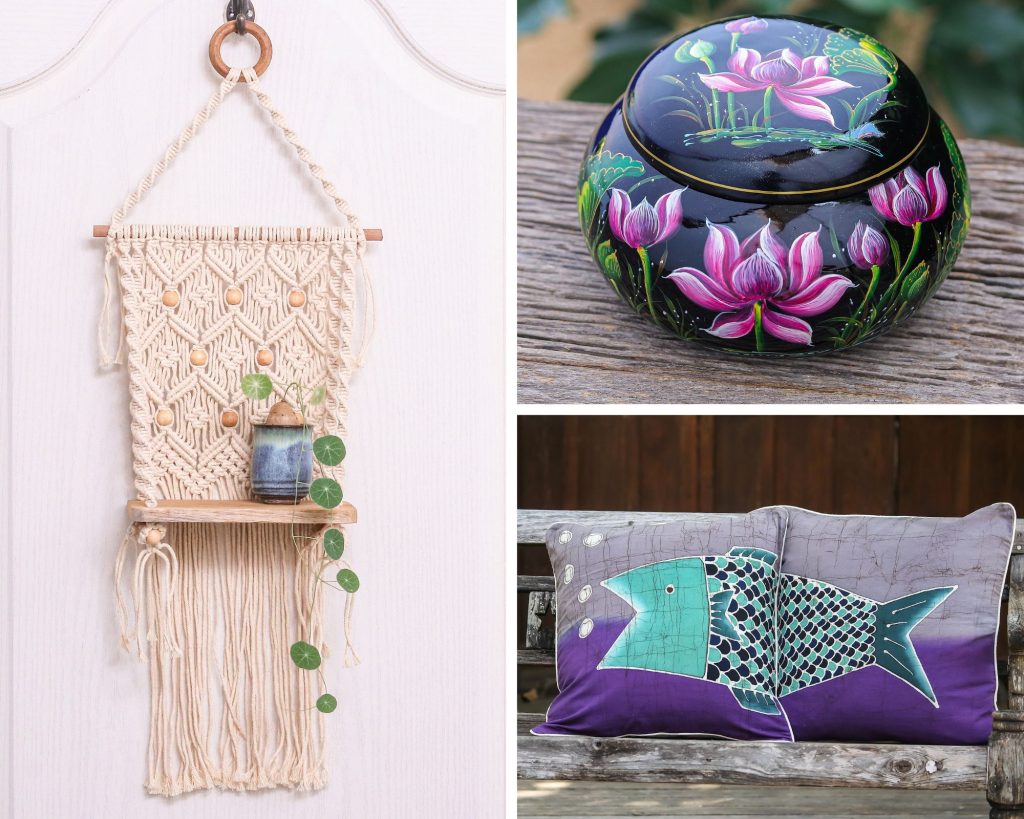 Spotlight on Thatsanee and Ramphan
We asked Thatsanee and Ramphan what it was about celadon that drew them in so intensely. The answer was as beautiful as the works they create: "I always think celadon is a living art form that needs love and attention in every detail." For these artisans, the work of crafting a ceramic piece is deeply reverential and tied to profound questions of place and identity. "To create it is to express the beauty of Thai art and culture." Watch as these talented artisans create a celadon ceramic tea set.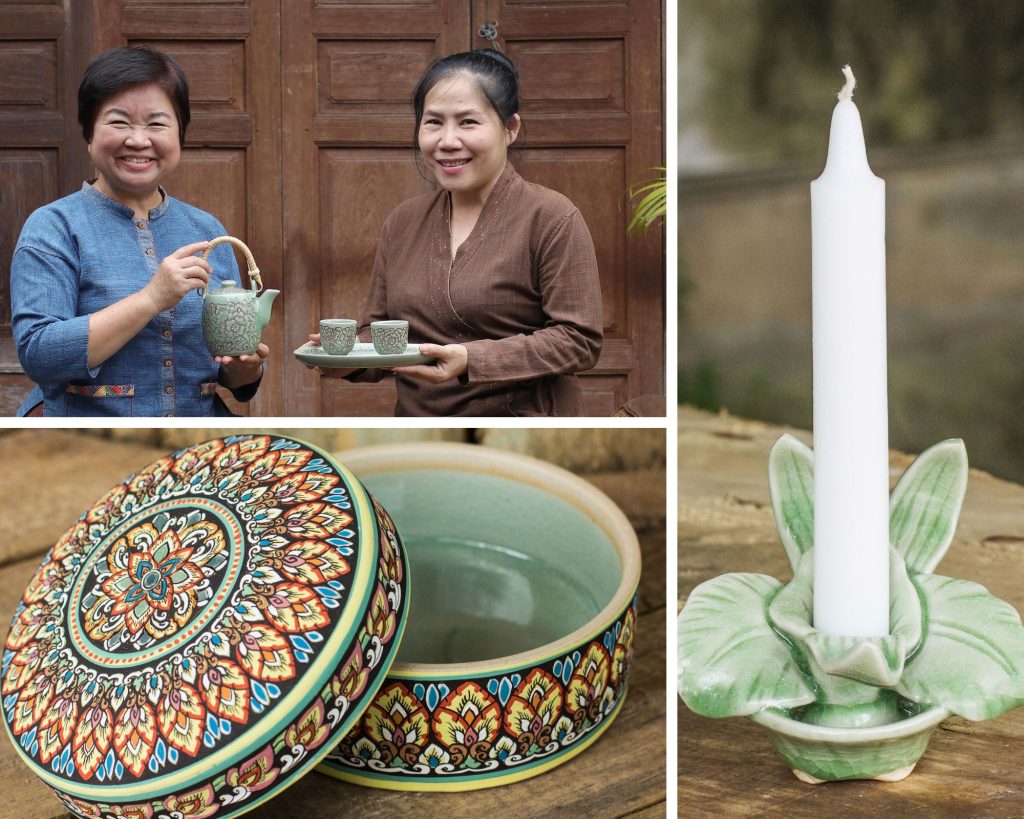 Rate this post:
[Total:

0

Average:

0

]