Mother's Day is just around the corner, so it's time to get the perfect present for Mom – something unforgettable.  As a mom myself, what do I like for a Mother's Day gift? I love getting framed photos of my children and grandchildren. In this age of digital photography, most of the photos my children give me come from emails. Sometimes, I want to see these photos displayed throughout my home in beautiful frames and not just on the computer.
My children know that mom doesn't want just any ordinary plain frame. During my lifetime, I have searched high and low for unique one-of-a-kind frames, and that's what I hope for when gifted with a new photo. My kids have said to me, "Mom, we have been everywhere, but we can't find those unique frames in the stores anymore." I simply tell them that they are not looking in the right place!  They need to go to NOVICA.
At NOVICA, there is an extensive variety of unique frames from around the world. These frames are uncommon to the selections that are found in department stores. You will find frames featuring mosaics, decoupage, carved wood, and more.  These frames are all unique and handcrafted from around the world.  I've highlighted below just a few of the frames I have found at NOVICA that are my favorites.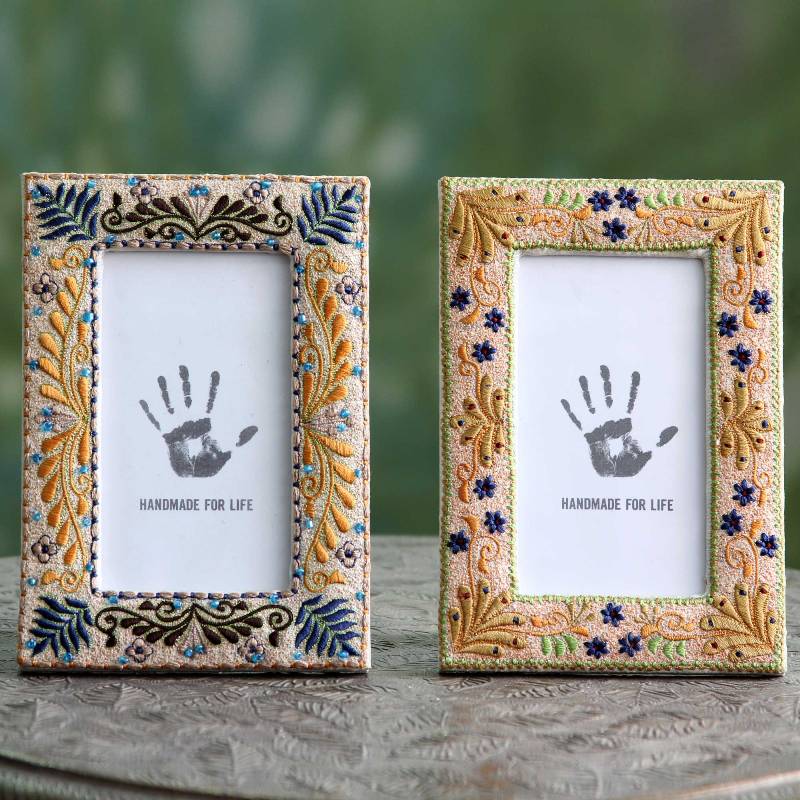 What could be more unique than a pair of frames from India which have been covered in a cloth sweetly embroidered and highlighted with beads?  This feminine pair of photo frames, Precious Memories, are one of my favorites.  Their delicate embroidered flowers and ferns with little glass beads catch and sparkle in the light. One frame features brown, blue and orange while the other is designed with earthy tones of mustard, blue and light green. They are perfect to show off 3 x 5 photos.  These frames were designed and handcrafted by Seema in India.  Seema loves to play with fabrics and embroidery, and you see her beautiful craft highlighted perfectly in this pair of frames.
From Thailand's craftsman, Nikom, a beautiful trio of frames are made to hang on the wall.  These delightful frames, Snow Roses, are perfect for your 5 x 7 photos.  These frames are covered in saa paper that has been crafted by hand and decorated with natural dried petals which shape flowers surrounded by leaves.  Saa paper is exclusive to northern Thailand as it is made from the bark of the mulberry tree that is native to that area.  Saa paper is a very eco-friendly, sustainable material as this tree replaces itself faster than it can be used.  Dried flower petals and leaves are added, then accented with rain tree wood beads. The trio of frames is suspended from a saa cord.  With my grandchildren's photos, what a darling display this would make on my wall!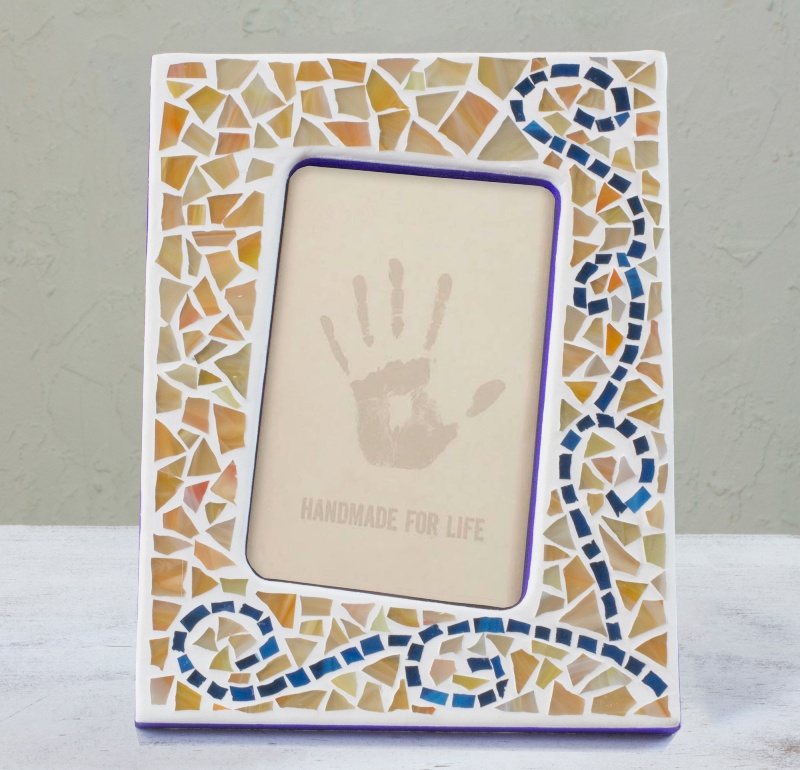 From Mexico, a dashing glass mosaic frame from artisan Fabiola Martínez.  Winds play and dance in this fanciful  work of art called Westerly Winds.  Each and every one of the beige, orange, brown, and blue shards of glass have been inlaid by hand on a wood board, then grouted.  To bring this piece to its picture perfect completeness, a fine, hand-painted purple border is added.  This frame would be absolutely ideal for my little whirlwind of a granddaughter!
Wood frames have been used for years for portraits and pictures, but one as distinctive as the lacquered photo frame, Golden Bluebells, would set this mother's heart afire.  Of all of Novica's exceptional line of frames, this one is truly my favorite.  India's Nantana Sompamitre, has produced this beautiful piece by adding golden details which illuminate gleaming black lacquer. This elegant design uses traditional techniques on rain tree wood.  To set off the design, Nan adds beautiful bluebells, delicately painted by hand.  In this frame, I can envision the family portrait we took on Christmas morning.
Giving mom or grandmother pictures of her treasured family is a great way to show her how much you care for her.  As a mom and grandmother myself, I love to gaze upon my family photos daily to remember and cherish our moments together.  There are quite a collection of frames for my children to choose from right in my wish list here at Novica.  I have made sure to share it with them.  Having  family photos in a unique, beautiful photo frame that could only have come from NOVICA would make my prized memories all the better.
Photo frames are just one of the unique gifts for mom that you can find at NOVICA.
Rate this post:
[Total:

0

Average:

0

]