Corporate gifts are those which are specifically given in the professional world. It may be an employee giving a gift to their boss, though, more often, it is a company or employer presenting gifts to their employees. A very important aspect of corporate gifts is the establishment or improvement of the relationship between two businesses. For example, an insurance company who often contracts jobs with a service provider for home restoration might buy a gift for the owner of that company, or the management, or even the employees, and vice versa.  It might be that the owners or employees of different businesses want to purchase a gift for each other. Corporate gifts can be given casually, or for occasions such as birthdays, anniversaries, Christmas, etc.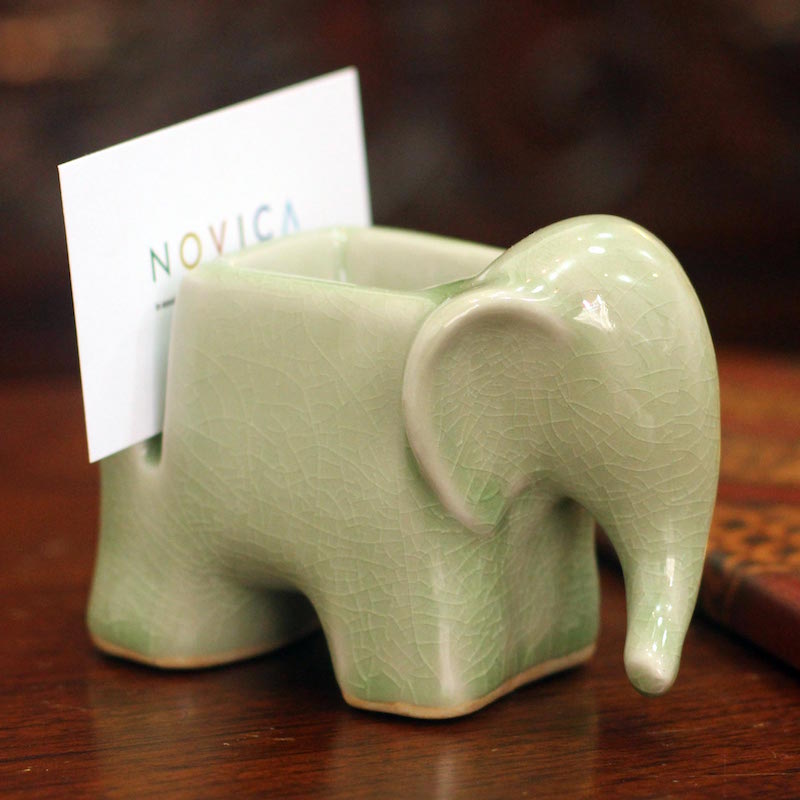 There is etiquette involved in giving corporate gifts.  Generally, to ensure the gift is appropriate, it is usually something a person can use in their daily life or something related to their work.  A few examples of corporate gifts would be a fine pen, stationary, or a briefcase. A nice corporate gift could be something to display in one's office or lobby. A vase is always a nice gift to give in a professional setting because it can be used not only to hold flowers but can also serve as decoration by itself. This unique Murano inspired glass vase from the Seguso Family in Brazil is vibrant and colorful in addition to being crafted by hand.
If there is familiarity with the colors in a person's office or if their personal taste and style are known, one could pick out a sculpture to give as a corporate gift. The handcrafted Peruvian sculpture below was crafted by the Andean artist, Cesar Gonzales. In the shape of a pyramid, with a bold pattern and color scheme created by semiprecious gems, the sculpture represents empowerment.
If the business has a waiting area or a space for entertaining, a chess set might be an appropriate gift. The 11 inch hand carved marble chess set from the Sierra Family in Mexico is sophisticated and stunning, so it would serve nicely as decoration when not in use.
Pens are always useful at work, even in this age of technological advancement. They also make great corporate gifts, especially if the pen is high quality and uniquely crafted. The fair trade sterling silver and amethyst ballpoint pen created by the artisan, Dewi Putera, from Bali and Java would make a sophisticated impression in any professional relationship. The pen is gorgeous and ornate with Balinese motifs set in sterling silver and an amethyst on the clip attached to the cap of the pen. Conveniently, the ink cartridges are replaceable and the cap screws on.
As mentioned earlier, a briefcase is a good corporate gift, but another type of business bag or satchel would also work nicely, especially if it is big enough to carry a laptop and has plenty of pockets for storage. This stylish distressed leather messenger bag is handmade by designer Ricardo Hinojosa in Mexico. He was clever enough to implement pockets specifically for pencils/pens, business cards, and a cell phone, as well as an additional accordion folder pocket. The main pocket is large enough to hold a laptop or tablet. One of the most interesting features of the bag are the detachable straps that can convert the bag into a backpack.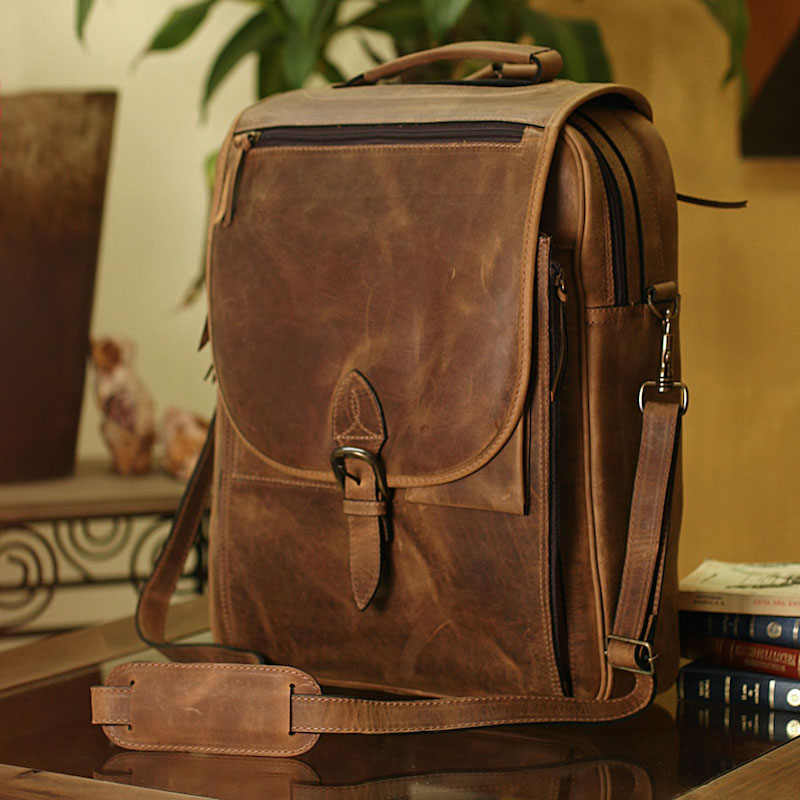 Bookends make a charming gift for any office. The hand carved wood bookends made by Francis Agbete in West Africa feature elephants facing in opposite directions. Wood replicas of books are cleverly used as the book props. The grain of the wood is visible in the smooth, hand carved sese wood, creating a pleasing affect.
There are many executive and corporate gifts to choose from on the NOVICA site. The selection is tasteful and appropriate for a professional setting. Whether an employer or employee, anyone will find the perfect gift for a business associate.