A choker necklace is a necklace that is worn at the base of the neck or in the middle of the neck. Most of the necklaces featured in this article are the type of choker that is worn at the base of the neck. This is a matter of opinion, but the necklines that typically look best with choker necklaces worn at the base of the neck, for either shirts or dresses, are; sweetheart, semi-sweetheart, straight across (strapless), V-neck, off-shoulder, and scoop. The necklines one should avoid pairing with a choker necklace worn at the base of the neck, are: asymmetric, Queen Anne, high neck (turtle neck), halter, halter strap, Bateua/boat neck, jewel, illusion, square, and some shirts that have collars.
Of course, in fashion, there are no set rules, so the best way to decide is to try the necklace on with an outfit no matter what the neckline may be. If you like it, wear it!  Below are some styles you might like to try. It is important to choose a neckline that accentuates and showcases the choker rather than conflicts with it.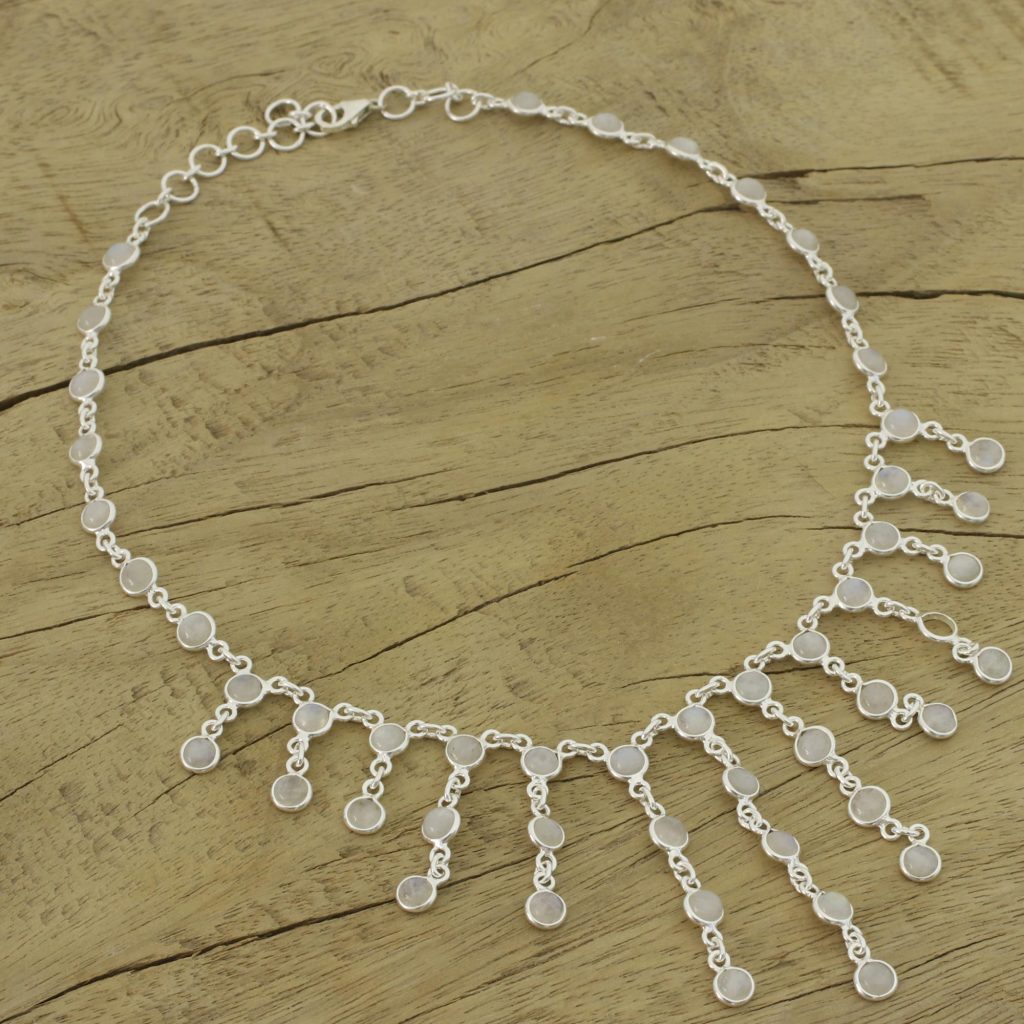 This elegant moonstone waterfall choker necklace would look lovely for a dressy occasion. This could be worn with a sweetheart or semi-sweetheart neckline dress of any color. Given the V appearance of the tiers of the necklace, it would probably be best to choose a neckline in keeping with this shape, avoiding straight across, off-shoulder, and scoop necklines. The necklace is made with moonstones set in sterling silver and was designed by Neeru Goel of India.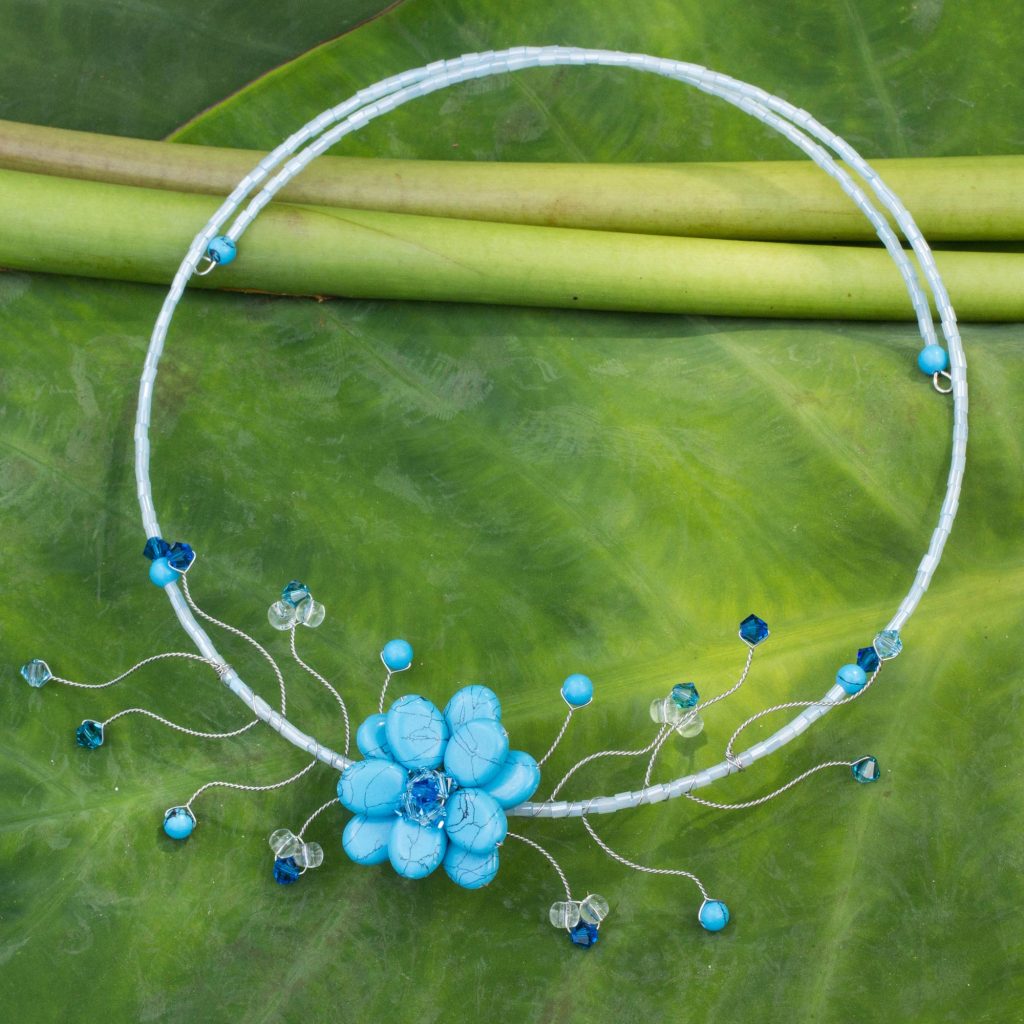 This vibrant handmade floral necklace will look beautiful worn in the spring or summer. Pair it with a tube top and skirt or a strapless straight across neckline dress for a casual look. This necklace does not have a clasp but rather wraps around the base of the neck to stay in place. The choker is made of quartz, calcite, and glass crystal beads by the artist Busarin of Thailand.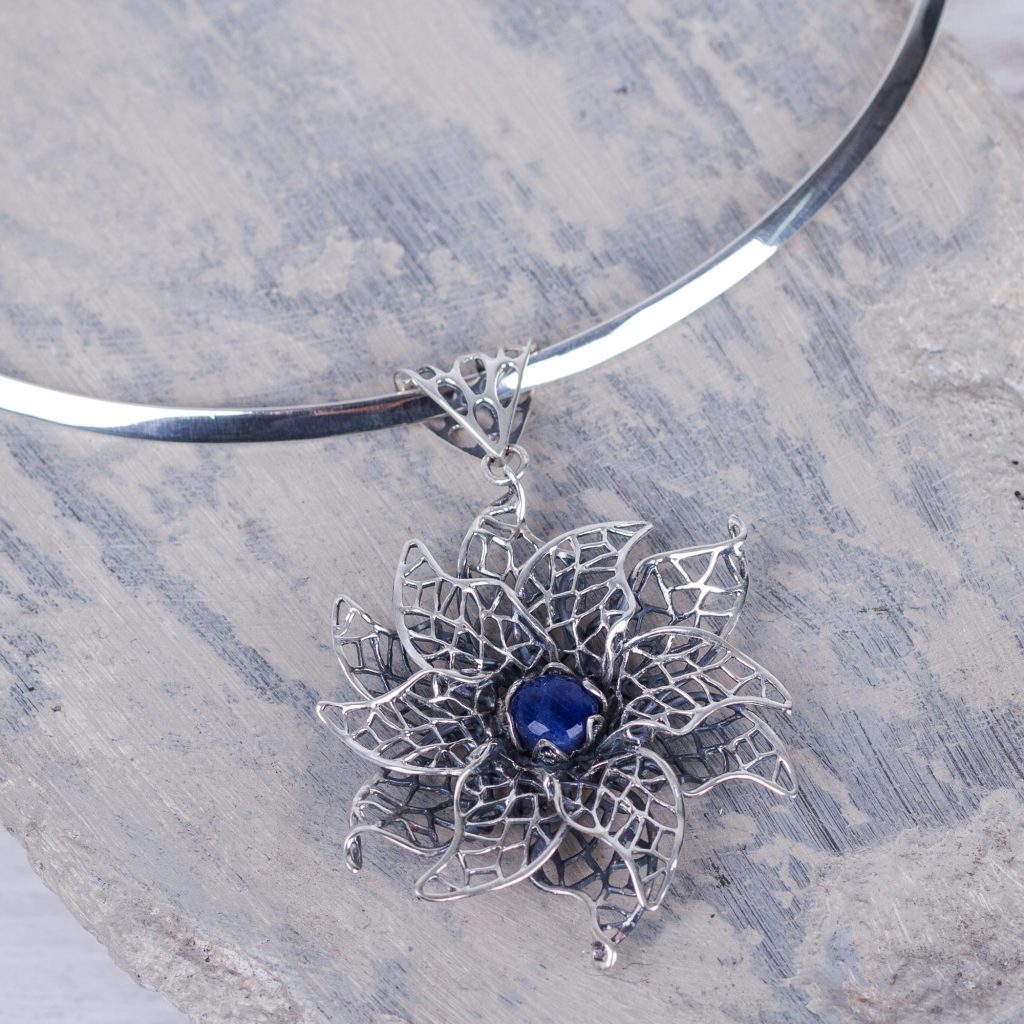 This stunningly beautiful jasmine flower choker in sterling silver and sodalite would look wonderful in any season. It is dazzling enough for a special occasion and could dress up a casual outfit. The circular form of this choker necklace would look nice paired with any of the necklines described above. For a dressy look, match this with a blue dress. For a casual '90s grunge" look, which has come back into fashion in a modern way, you could pair this with light jeans, a tee, and a flannel shirt. This lovely and delicate piece was created by the artisan Rider Fernandez from Peru.
This simple yet stunning handcrafted Taxco silver rigid choker, entitled 'Ruffles', could be worn to the office with a nice blouse and jacket; paired with slacks or a pencil skirt. A rounded neckline would look lovely with this necklace, as well as any blouse that shows off this unique piece of jewelry. This necklace does not have a clasp, and simply wraps around the neck. Oscar Figueroa from Mexico creates an eye catching design that gleams when the light catches it.
This elegant and gorgeous garnet Y-necklace, entitled 'Gujarat Princess', would be perfect for a special occasion. Wear it with a simple black dress, and your hair up, so the garnet stones in the choker can be the star of the show – aside from you, of course. This exquisite necklace will be sure to catch everyone's eye. The artist Alok Jain from India creates a dazzling floral design by setting the garnet stones in sterling silver.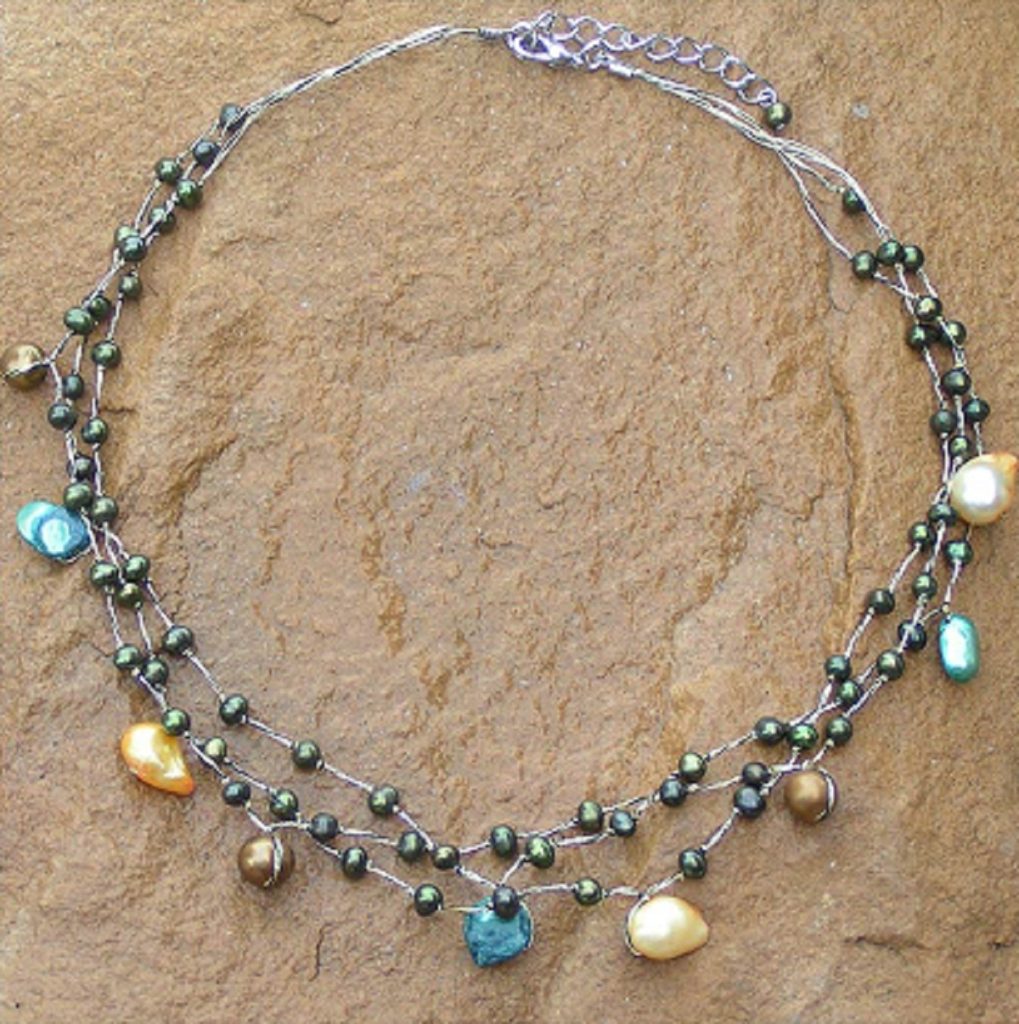 This beaded pearl necklace, entitled 'Summer Glow', has a trendy boho look. In keeping with the boho style, pair this choker with a flowy, summer sundress above the knee and ankle boots. Sundresses usually have spaghetti straps or are strapless but any of the recommended necklines will be beautiful with this choker. The artisan Anusura of Thailand incorporated the colors of summer while handcrafting the knotted yellow, green, and brown pearls on gossamer stands of silk.
No matter what style you are looking for, or for what occasion or outfit, NOVICA has many beautiful and versatile choker necklaces to choose from, and you can feel good knowing you are helping to support artisans all over the world.