When it comes to décor for the home, many people immediately think of art. Emotions are evoked, imaginations are captured, and a space is changed with even a small addition. Although there are many styles and subject matters well known throughout art history, the one that tends to be seen as most curious is an offshoot of the abstract style. Cubist paintings are almost instantly recognizable, even if you don't know much about art.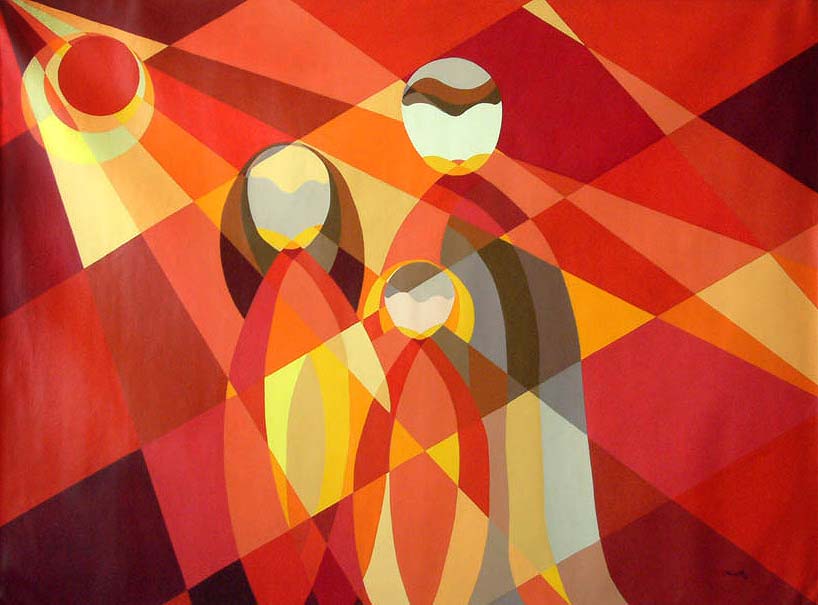 In the art world, cubism is a relatively new artistic style. Brought about during the early 20th century (1910 to 1920s,) it was considered a revolution at the time. In fact, many art critics rejected it, which led to the formation of the avant-garde community. Cubism was unorthodox and confusing to eyes that had been trained to admire peaceful still lifes, beautiful portraits, and landscape paintings. Looking at "Andrean Family at Dawn" by Edgardo Crovetto makes the contrast between regular portraiture and cubist portraiture very clear! The art style is marked by broken images, sharp angles, and bold lines.  If you've ever heard of the artist Pablo Picasso, you know more about cubist art than you might have expected!
Although considered outside the realm of "normal," cubism has a lot to offer in terms of home décor. The style, being part of the abstract realm, isn't limited by color. In fact, NOVICA offers a HUGE selection of abstract paintings. This style can be coordinated with virtually any color scheme! Neutral color schemes are both classic and trendy and are popular for both home and office. The piece "The Search for Music" by Tete Lacerda features a cubist depiction of a violin. The warm browns, oranges and tans allow a lot of "wiggle room" when it comes to coordinating furniture, throw pillows, and rugs.
If you're looking to coordinate with jewel tones, Sunli Jaiswal's "Shiva, the Giver" is a beautiful example of cubist work. Although a little more detailed than previous examples, the piece falls into the category of "cubist" because of its hard lines, sharp angles, and unusual color scheme. This piece is a definite conversation starter and at 2'x2′, it's easy to find wall space for its display.
For something a little bit "wilder" and with less recognizable subject matter, "Road to Xibalba" by Laura del Carmen Contreras is a great selection. This work is extremely unique. Although more abstract, the artist has still incorporated cubist artistic elements into the work. Featuring large bodies of green, violet, black, and white, the artwork is well balanced in contrasting colors.
Artisans around the world have been captured by this artistic style. No matter the space, NOVICA has a cubist painting to meet your need, and artists around the world receive the support they need to enhance their lives.
Rate this post:
[Total:

0

Average:

0

]