Valentines Day! Ahhh one of my favorite days of the year.  The day where you show your sweetheart how much you love them. You shower your spouse and kids with love and kisses and little trinkets of love. But, how many times do you remember to shower your parents with Valentines Day Love?!?!
NOVICA is always my first stop looking for a unique gift. I'm never disappointed. Check out my top picks!!  Some of my picks would be perfect for a new parent and some for my Mom. Of course, if my children are reading this This MaMa would love each and every single pick!!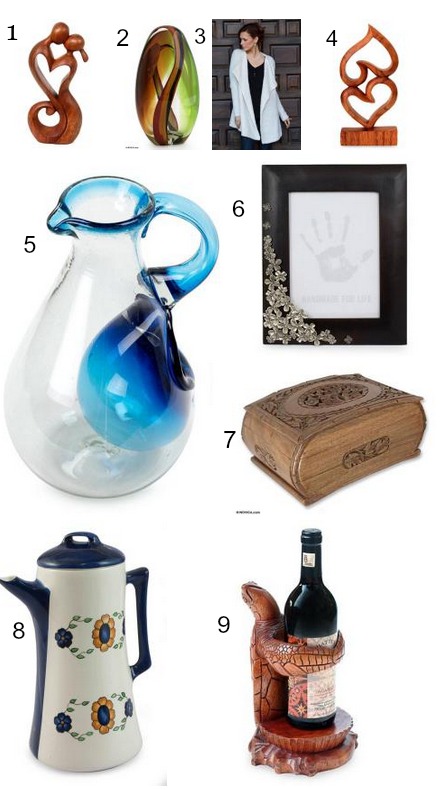 1. Everylasting Kiss. This face to face, a couple kneels in a kiss. This would be a perfect wedding gift too!! Truly a lovely wood sculpture.
2. Jade and Amber PowerHandblown Murano Inspired Sculpture. The colors of this Murano inspired sculpture would be stunning on the mantel.  This sculpture is achieved with time-honored blown glass techniques that are executed by hand.
3. Snow Duchess. This long loose fitting cardigan screams warm and cuddly! Warm and elegant made with a blend of baby alpaca, the fleece of the season's first shear.
4. Upside Down Love I love the description of this sculpture. Love turns hearts head over heels!! Isn't that the truth!! Inspired by the sculpture from Bali's Eka, it's hand carved from suar wood.
5.  Blown Glass Hand Made Pitcher with ice chamber. The pitcher is crafted by hand with artistic expertise in the Mexican tradition of blown glass. So stunning!!
6. Summer Clover.  This fair trade mango wood and pewter photo frame would be a perfect frame for a family photograph!! I've always said that getting photos of my kids and grandkids is my favorite gift!! A beautiful frame around the photograph doesn't hurt!!  
7. Window To My Heart. This wooden jewelry box for all of her treasures! This carved box is created with walnut wood by hand.
8.  Margarita Ceramic Coffee Pot I can't quite put my finger on what it is about this coffee pot that appeals to me so much! Is it the flowers? The bright cheerful design? Or the fact that Mom would think of me every time she pours a cup of coffee from this hand painted ceramic coffee pot crafted in Guatemala.  
9.  Gift from the SeaCarved Wood Turtle Wine Bottle Holder  Nyoman Karsa has sculpted this stunning piece from suar wood for a uniquely Balinese table accessory.  Don't forget to add a bottle of wine! Mom's like wine!
So, those are my picks for Valentine's Day gifts for parents.  I would love to know what NOVICA item is on YOUR wish list!!    I have to add one more; I just can't leave this review at just 9. So pick number 10 is mostly for the benefit of my darling husband.  So pretty! This ring screams CONNIE!! Honest, listen!  Designed by Jenny Setiawan. Strands of silver with deep blue topaz and pearls. So beautiful!!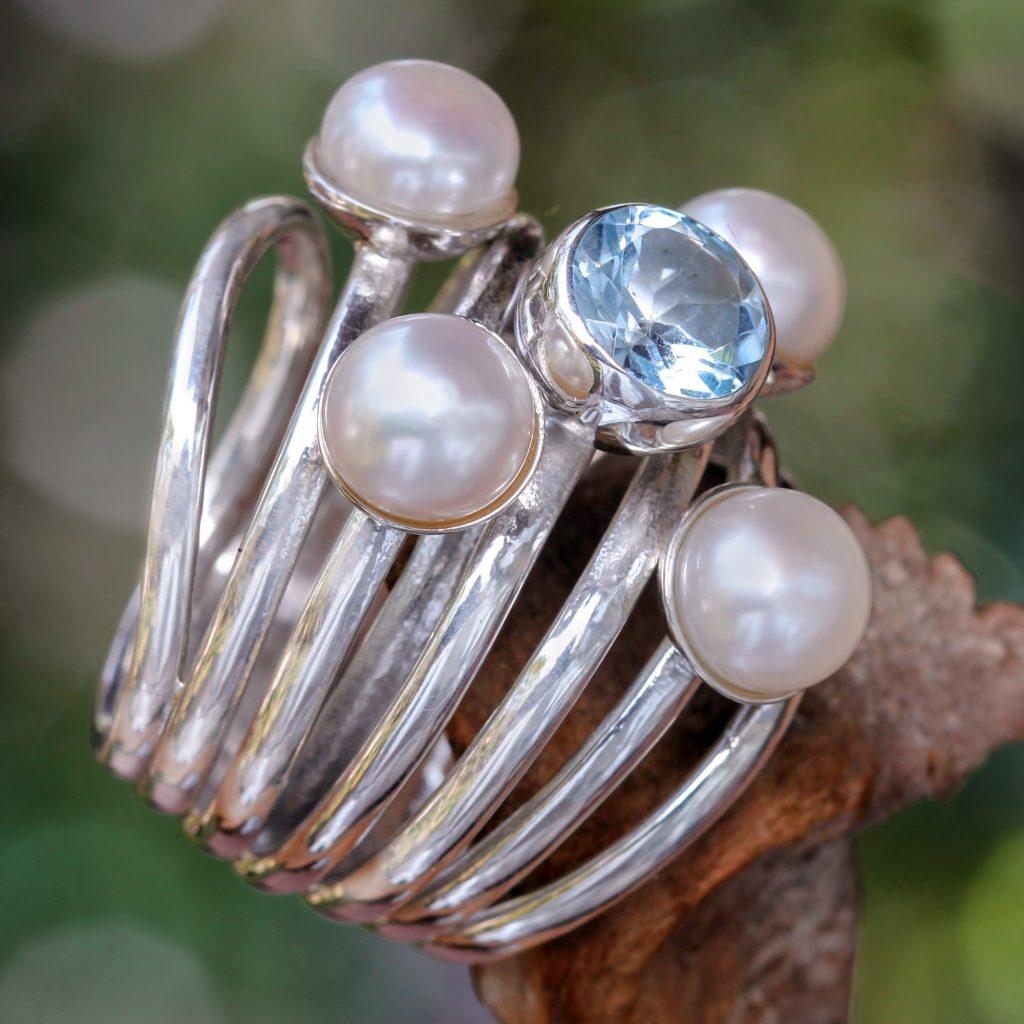 Rate this post:
[Total:

0

Average:

0

]