Since June is my birthday month, and I adore items from NOVICA, I am hereby dubbing myself the June Birthday Expert. No, NOVICA didn't give me this title, it's self-proclaimed. But really, who would be better to share with you some unique June birthday gift ideas than a JUNE baby!
Did you know that there is actually a historical origin for birthstones? Aaron, a high priest during the time of Moses, wore a breastplate containing twelve jewels, each jewel magically engraved with the 12 tribes of Israel. Then in the 5th century A.D., St. Jerome made the connection between the 12 stones in the Breastplate and the 12 signs of the zodiac. Then, the idea blossomed into thinking that gemstones hold magical powers!  Wearing your birthstone is said to have therapeutic or talismanic benefits.
For myself, wearing my birthstone just makes me feel elegant! Specifically, pearl and moonstone jewelry, which are June's two birthstones.
I don't think there is anything more classic or sophisticated than pearl jewelry. Whether you are channeling Audrey Hepburn in "Breakfast at Tiffany's" or Caroline Channing in "Two Broke Girls," pearls are timeless and always in fashion. Here are a few of my favorite pieces from NOVICA, starting with this Pearl Strand Necklace, 'Triple Halo'

Just in case you aren't a fan of full pearl strands, how about a mix of modern and classic?  Check out this handcrafted, bridal sterling silver station pearl necklace, 'Jaipur Moons.'  Adding a delicate chain between the beautiful pearls, it is 18 inches long and made with .925 sterling silver. So beautiful!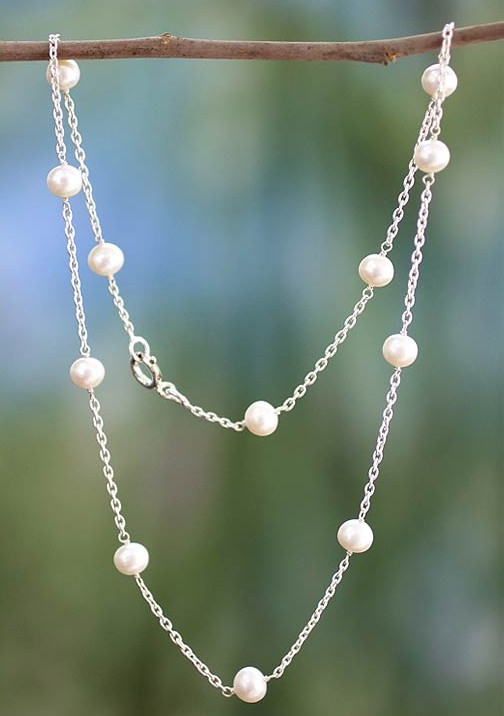 What if necklaces aren't your favorite pieces of jewelry? How about an eye-catching pair of earrings?  Moonstone, garnet and tourmaline shine in these 24-karat gold-plated earrings, 'Rainbow Snow.' So many colors surround that lovely moonstone that pairing these earrings with any outfit would be a breeze! At 2.3 inches long, these earrings will catch everyone's eye!
Of course, I always save my favorite piece for last. This work of art has everything I look for in a ring. The pearl and blue topaz cocktail ring, 'Heavens Above' is large, bold, silver and unique! Whether you are wearing that little black dress for a night out on the town, or jeans and a tee shirt this ring will rock! Trust me, I'll be sporting this one soon!
I'd love to know if you wear your birthstone in a ring, necklace or earrings. Have you looked yet for your stone among NOVICA's jewelry treasure trove?
Rate this post:
[Total:

0

Average:

0

]