Redecorating a space, whether as a makeover to a room or as part of the process of moving, can be daunting. With home magazine photos and Pinterest being main sources of inspiration, it is easy to become quickly overwhelmed when going for that "picture perfect" look. However, there are options that require little to nothing from your budget – and your sanity!
The quickest way to refresh a room is with throw pillows! While seemingly simple in concept (just throw them onto the bed or couch, right?) there are guidelines that, when followed or ignored, can make or break a space. Consider the following when choosing your pillows:
Pillow or Cover? 
When beginning to consider throw pillows as décor for a space, there are a couple of options. One choice is to purchase pillows that are pre-stuffed. The second option, a personal favorite, is to purchase basic cushions and switch out their covers or to buy pillow inserts. The latter is available online or at a craft's store. This is perhaps the easiest way due to the fact that covers can be exchanged according to what the decorator wants in the moment and are easily stored when not in use. Think of them as a more durable, zip-able pillowcase. In addition, these covers are easily washed or dry-cleaned because they lack the stuffing of regular pillows. The image of  the woven piece "Bright Horizons" by Alberto Ruiz depicts a cushion cover without the pillow inside. While it's a matter of preference, it may be wise to consider where pre-stuffed pillows will be kept when not in use and how they will be cleaned.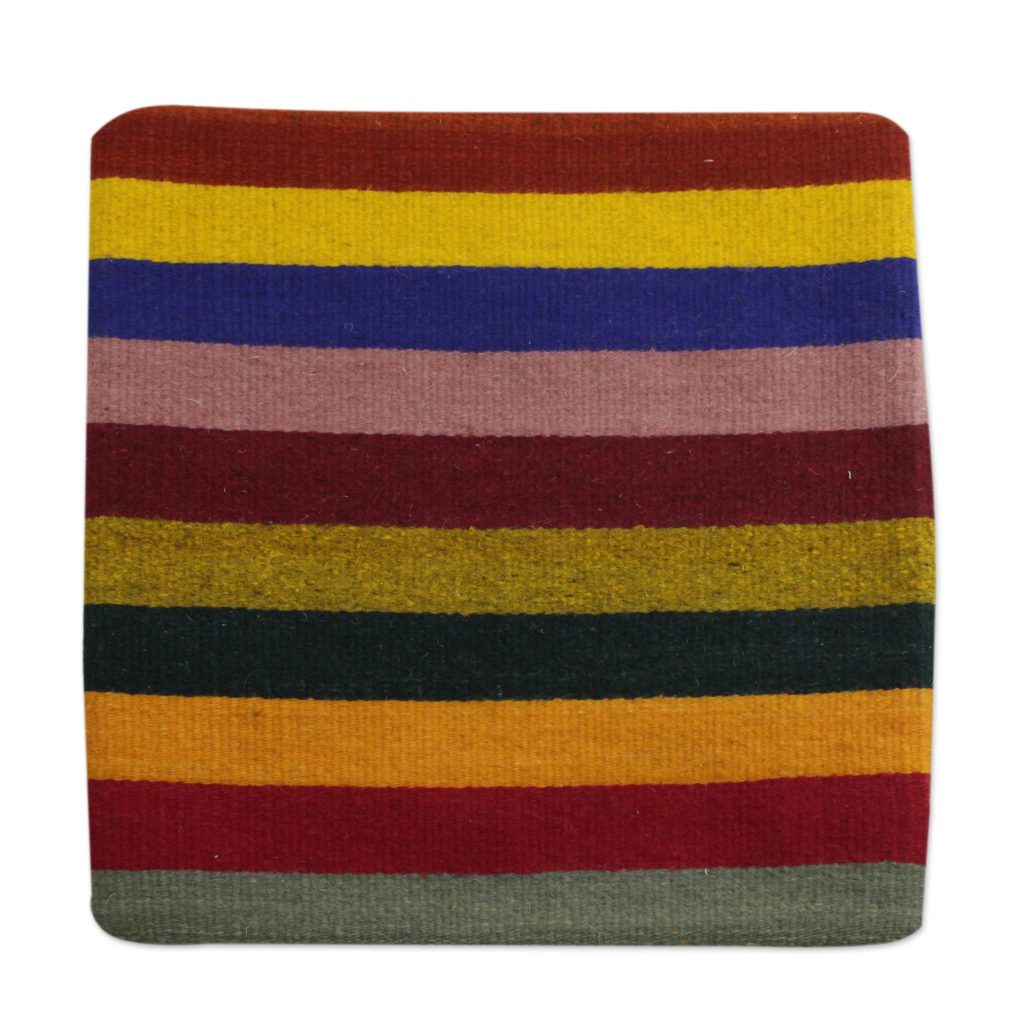 Color 
Color plays a HUGE role in the pillows that you should select. Brightly colored pillows should be paired with a neutral-colored wall or item of furniture. As a general rule, pillows should follow an established color scheme of one or two colors (various shades of brown or blue would "count" as one color). Veering from this concept can result in a room that is too "busy," unnatural looking, and hard to look at. A fantastic example of sticking to a specific color scheme and contrasting with a neutral background is NOVICA's Alpaca cushion covers "Starlight on Earth". This set features a simple color scheme of browns displayed on a neutral cream colored background – perfect for truly neutral rooms!
Pattern
Considering all of the options for throw pillows, it can be easy to get caught up in wanting floral, houndstooth, chevron, geometric, and Aztec all in one room. Resist this urge! To efficiently decorate with throw pillows, a good rule of thumb is to pair a single pattern with a solid. Again, patterned and solid pillows should complement the color scheme that you already have established. A great example of following this rule can be seen in Mario Chávez's "Starburst" pillow covers. As seen below, these covers follow the earthy, natural color scheme of the bench in the background. The colors tie nicely with not only the furniture but with the natural surroundings (Yes, you can even use pillows outside! Give special consideration to weather and durability of the material.) NOVICA features a variety of patterned blankets and throws that are easily coordinated with patterned pillows!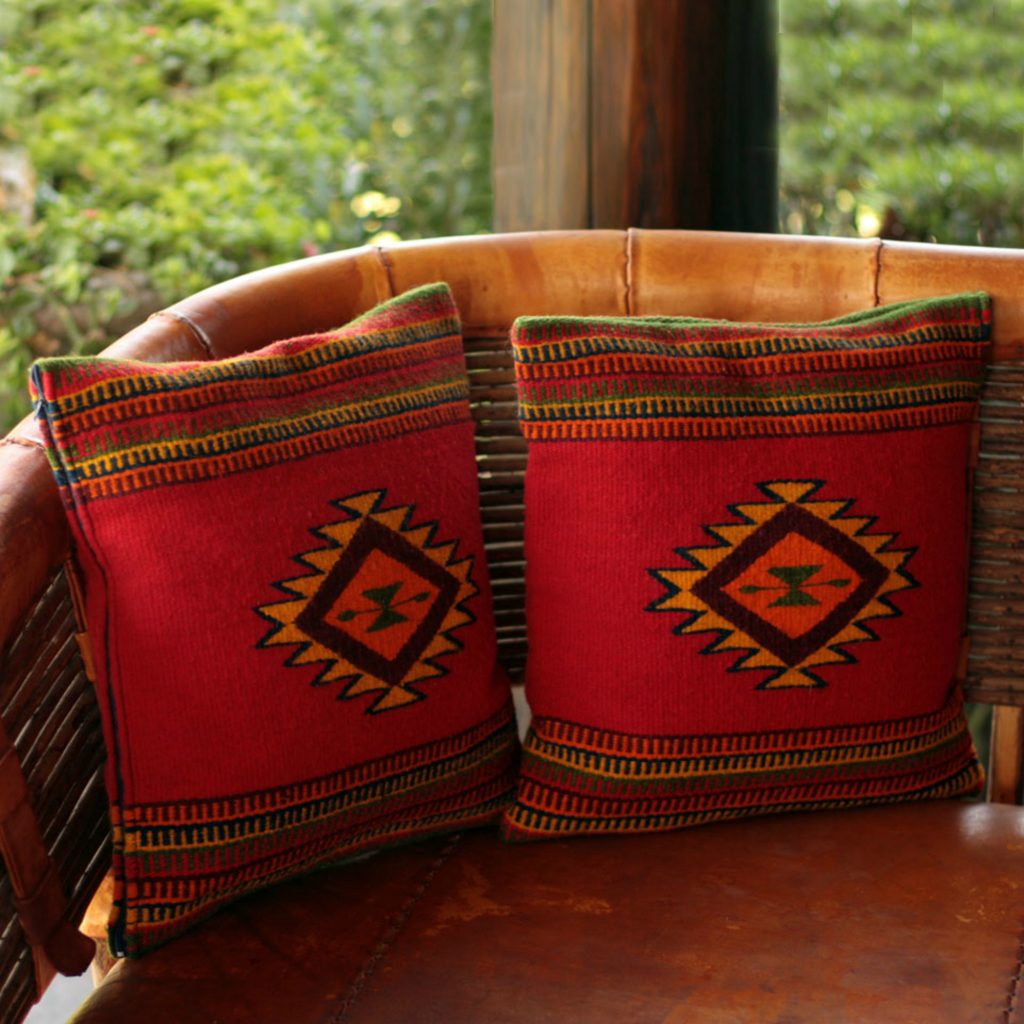 Outside the Norm – Break the Rules!
If you want to push the boundaries of the "rules" for decorating with pillows, try experimenting with a couple of different patterns that exhibit the exact same color scheme! Generally, as long as there's a neutral background color to the pattern AND a neutral color to tie into (the wall or furniture), two patterns at once can be a quirky and fun style. NOVICA artist Seema has nailed this rule on the head with the cushion cover set "Happy". While the colors and patterns are bold, the color scheme matches on each pillow and limits itself to three colors.  In addition, the "background" of the patterns is a neutral color, and in the image, are tied to a similar neutral background color.
Another way to "spice" up your pillow collection is to consider full-fledged art! Alaya Cholprasertsuk's "Flowery Day" cushion covers feature a scene from northern Thai life. While not necessarily limited to one or two colors or one simple pattern, this pillow cover pairs nicely with a neutral set of pillows as contrast and offers the viewer a lot to take in while not being overwhelmed!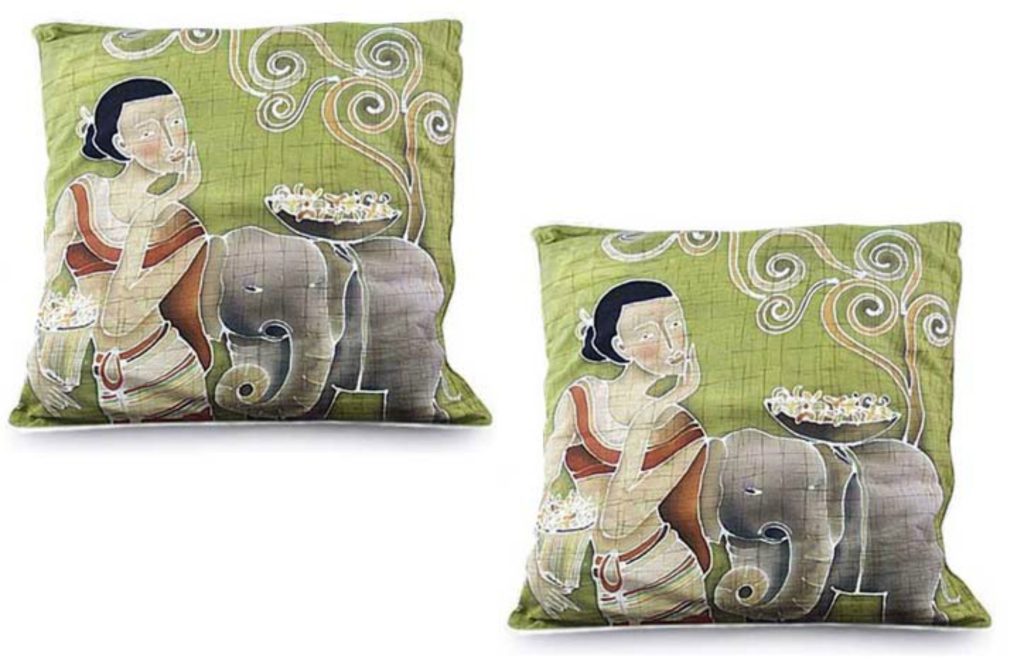 These "full art" pillows can also be used to bring a cultural theme to your home! Asha Prabha presents an absolutely stunning view of a Rajasthan woman in "Rajasthan Belle". They say that "the eyes are the window to the soul." This pillow offers a breathtaking look into a culture that many may not be fortunate enough to experience firsthand, but can admired by all.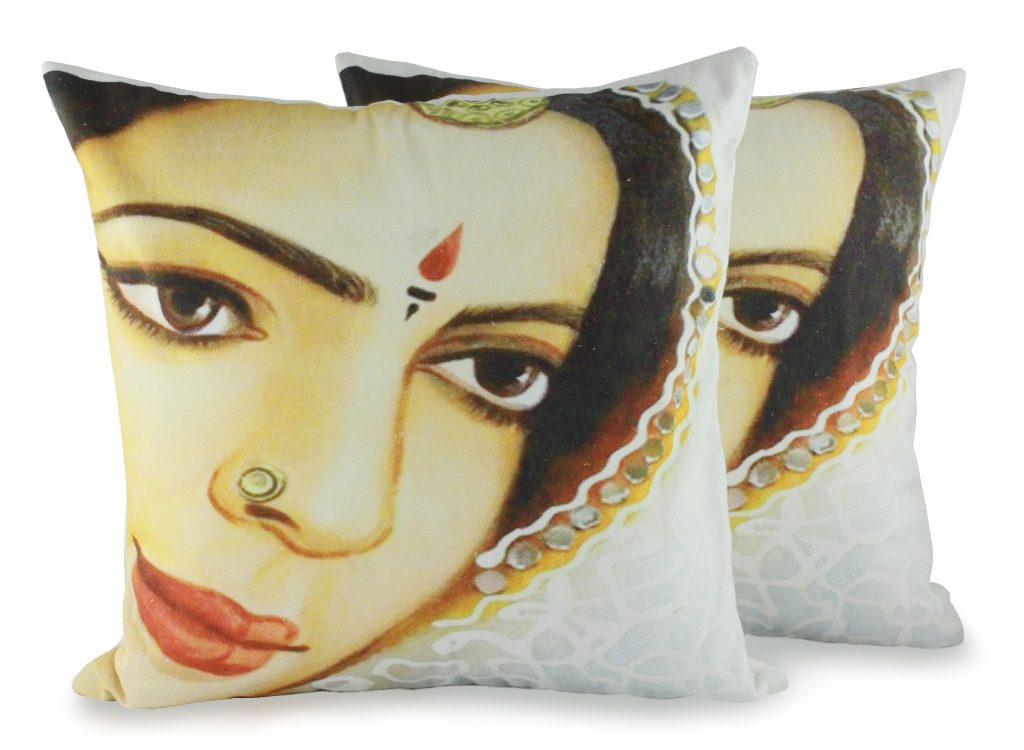 Overall, if consideration is given to color schemes and surroundings, it is easy to refresh the look of a room by using throw pillows. They are relatively inexpensive, as there's literally something to be found for every budget, and can easily be stored away and changed. They are an item that can be collected and rotated for different looks year-round. With NOVICA's huge selection of cushion covers, you'll never run out of options for unique, handmade looks!
Rate this post:
[Total:

0

Average:

0

]