The other eleven months of the year have every right to be envious. When it comes to birthstones, it's arguable that October has them beat! Although there are multiple stones for each month, the most commonly known October birthstone is the opal.
This stone comes in many shapes, sizes, and colors, but one of the most tell-tale signs that you're looking at an opal is the flecks of shimmer within a bright, often lightly colored stone. This distinct feature of the opal is caused by the varying arrangement and particle size of silica within the stone. Smaller particles make cooler colors while larger ones produce a less common warm color scheme (such as the stone in Sandra and Lily's "Sublime Pink"). NOVICA's selection of jewelry features opals of all varieties.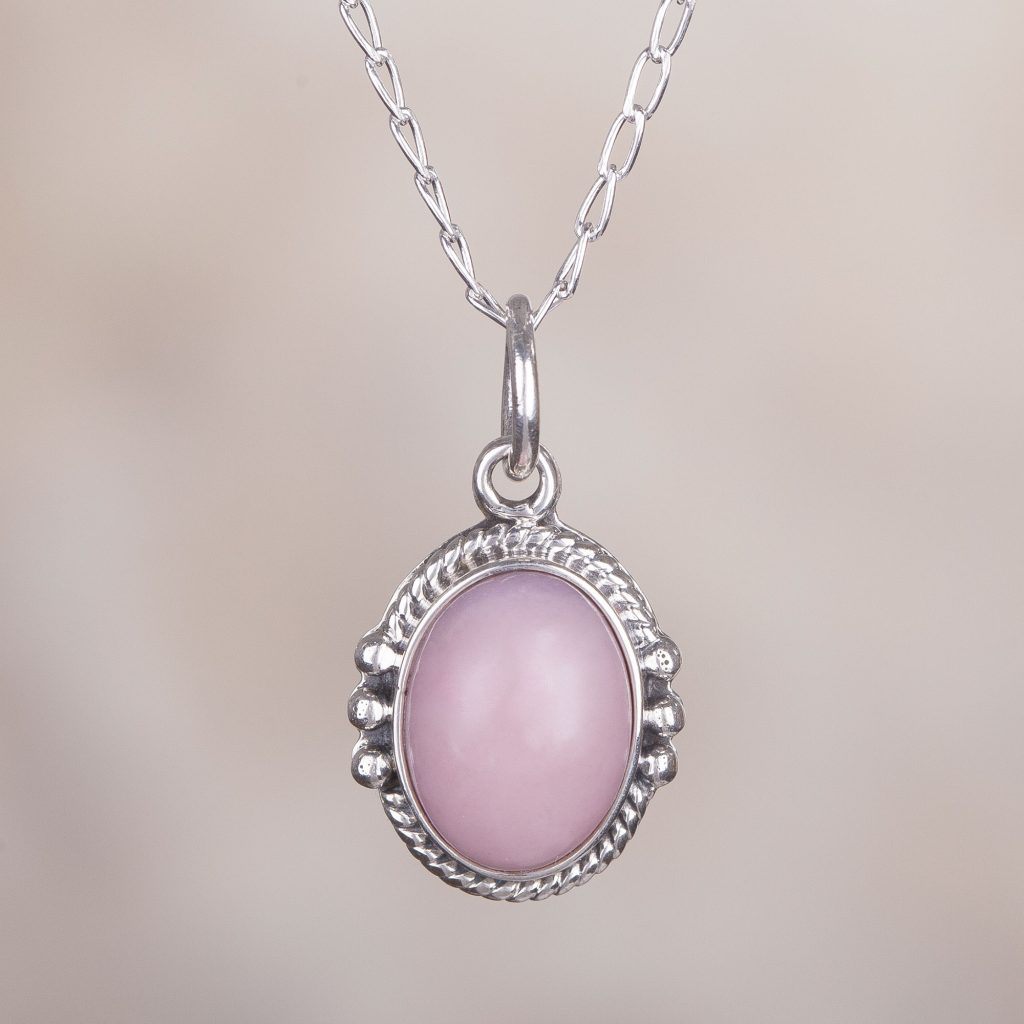 A fantastic example of the opal gemstone is "Intensity" by Indonesian artisan, Caine. The silver band of this ring plays with the sparkles of the opal exceptionally well. The simplicity of the metalworking perfectly complements the dazzle of the stone. This piece is timeless and modern, wrapped up in one breathtaking piece! There are so many colors within the stone that it reminds one of a kaleidoscope. The silver band (which also plays with reflections and light,) mimics the properties of the stone.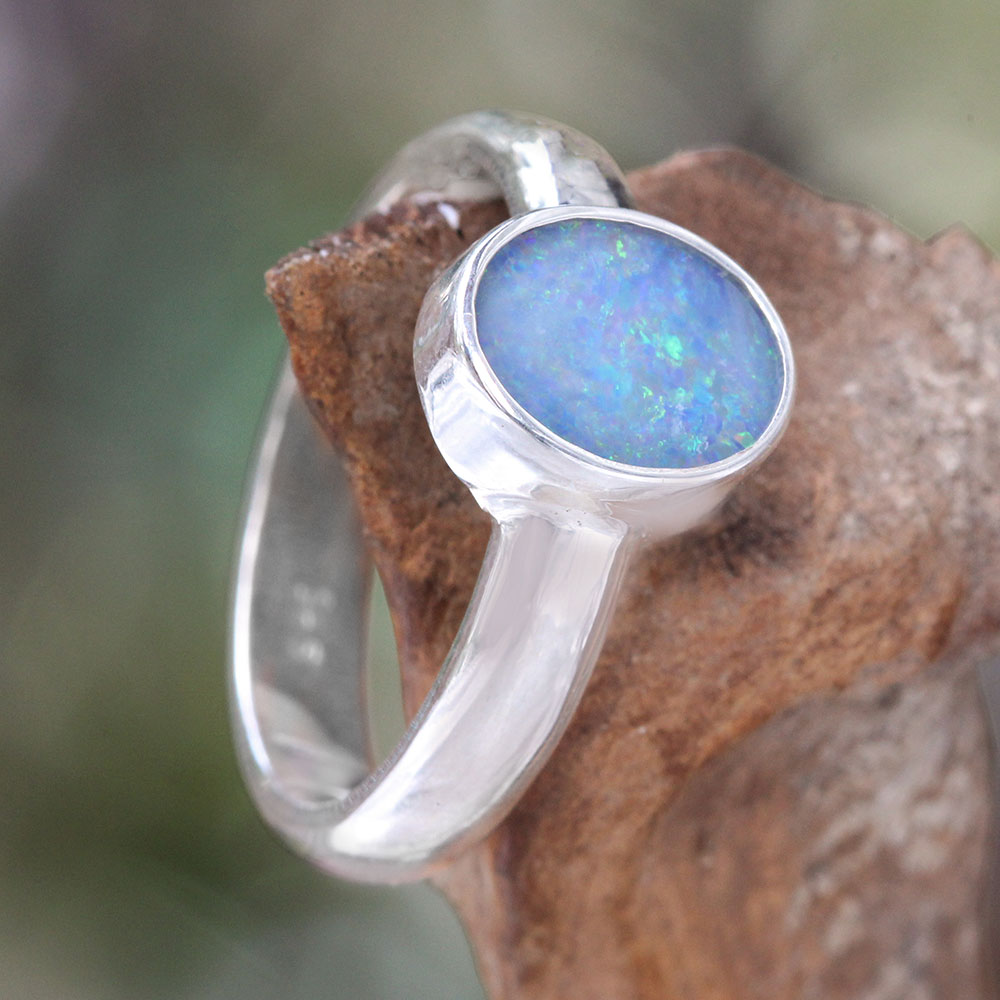 Opals are often used in groupings of gemstones. Because their sparkle includes multiple colors, they tend to bring unity to a piece that features a variety of colors, shapes, and textures. Buana's "Gianyar Magnificence" features silver, onyx, moonstone, and…you guessed it…opal! Slightly darker than the moonstone, the opal helps to transition the eye from lighter areas to darker ones. The sparkle of the opal gives depth to pieces that may otherwise feel unfinished. Because it is such an extraordinary gem, it is often used as a small accent. Don't be fooled, though! This gemstone definitely steals the show.
As mentioned before, an opal is a perfect complement to a variety of textures. Maricarmen plays with the combination of different finishes for silver and the stone. "Trio" features three bands: a satin finish, a "sandy" finish, and a shining band flaunting a blue-green stone. Although these finishes are very different, they're lovely together! The trio of rings can be split up or stacked – and are striking either way!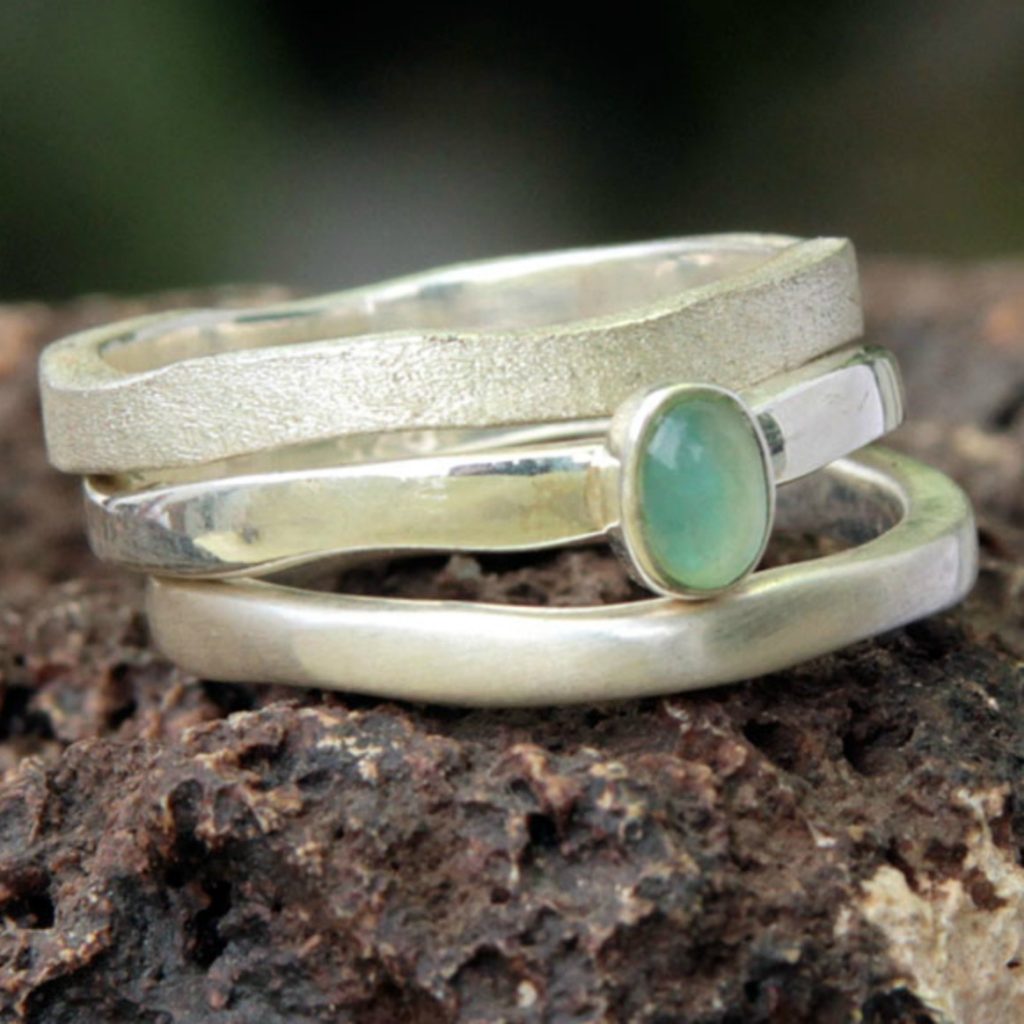 No matter what variety or setting you choose for displaying your opals, you can be sure that your purchase through NOVICA is changing the lives of artisans around the world – for much longer than the month of October!
Rate this post:
[Total:

0

Average:

0

]