Throughout history, bracelets have been worn by many cultures for a multitude of reasons. For example, in some ancient tribes in Africa, dancers would wear bracelets during spiritual celebrations in an effort to honor and please the gods. The bracelets the dancers wore would serve to highlight the dancer's arm movements, and therefore enhance the dance performance. Bracelets were also a display of social status, wealth, and family. It was also believed that if the gods were pleased by the sight of bracelets on a hunter's arms then he would be awarded strength, and granted good fortune in the hunt.  There are many different types of bracelets: karma bracelets, charm bracelets, bangles, beaded bracelets, link bracelets, cuff bracelets, wrap bracelets, and friendship bracelets, to name a few.
Karma Bracelets
Karma is a spiritual concept where one's intentions and actions influence the circumstances and eventual outcome of one's life. Good intentions, deeds or actions are believed to bring about positive fortune under the karmic principle. Karma bracelets are believed to bring good luck and fortune to the person wearing them. Perhaps this is because beauty can bring joy, and bringing joy is a good deed. In addition, seeing beauty may inspire positive actions, which may bring about good karma as well.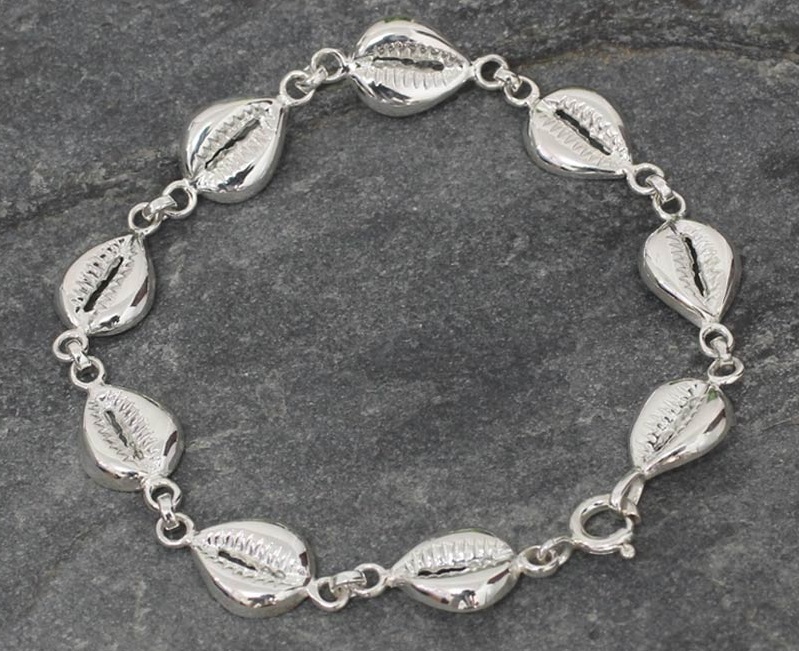 This sterling silver link bracelet from Africa, entitled 'Abundant Cowrie' depicts cowrie shells, which were once used as currency in West Africa. According to the designer of this bracelet, Ghanian artisan, Joycelyn Sena Zigah, "Cowrie is money and should be worn as such, as an emblem of prosperity."  It is thought that whoever wears the cowrie shells will be prosperous and attract good fortune.
Another bracelet believed to bring wealth and success to its wearer are the 'Coins of Passion' good fortune wristband bracelets. These bracelets have replicas of legendary Chinese coins made of brass woven into them.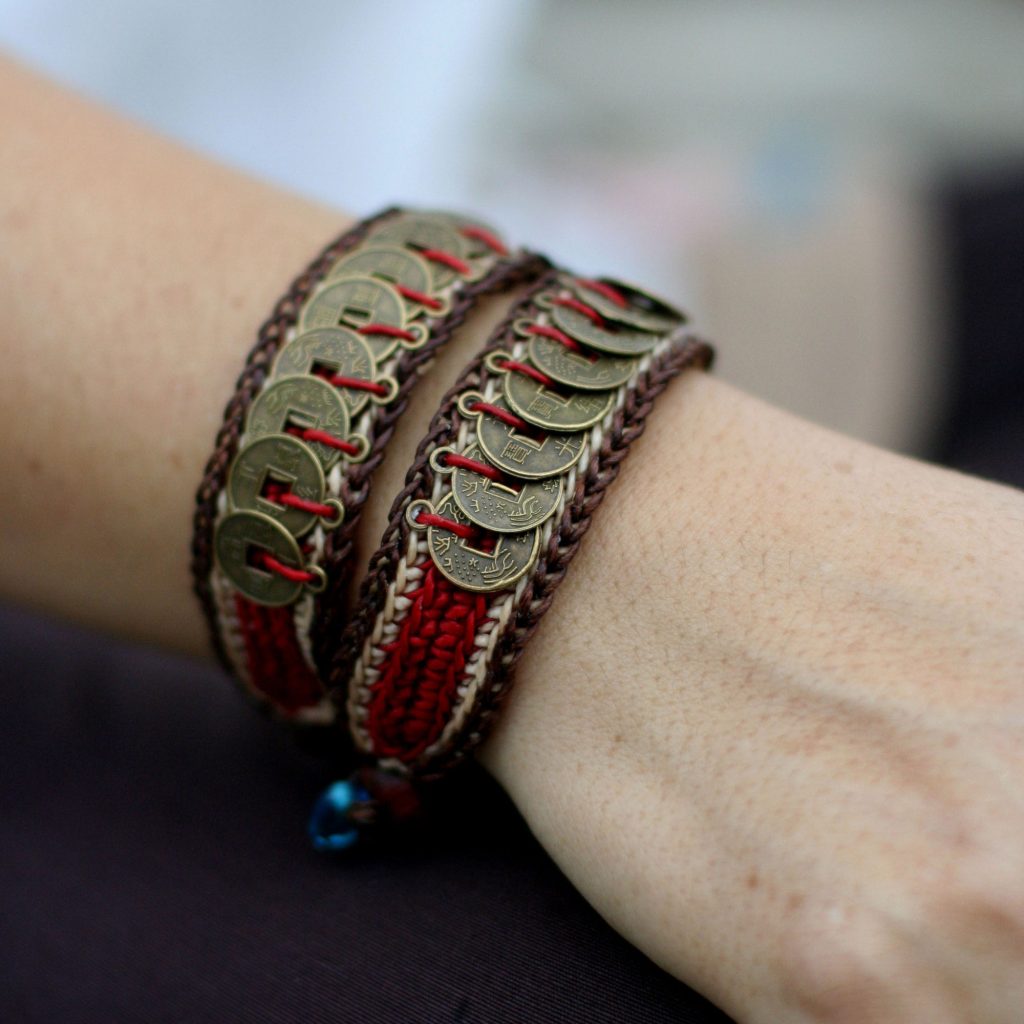 Charm Bracelets
Traditionally, the ornaments or trinkets hanging from charm bracelets are meant to signify memorable moments or special occasions from someone's life.  A person might have a charm suspended from their bracelet as a token of friendship, or wear one from a family member or romantic partner.  A charm may serve as a memento from a special trip.
Another type of charm bracelet is a band that has many decorative pendants, beads, or charms already in place when acquired by the owner, rather than a collection of charms gathered over time. The bracelet can still hold meaning to the wearer. This stunning and unique elephant charm bracelet with brass and blue calcite beads, entitled 'Elephant World,' would be the perfect gift for someone who loves elephants or the color sky blue.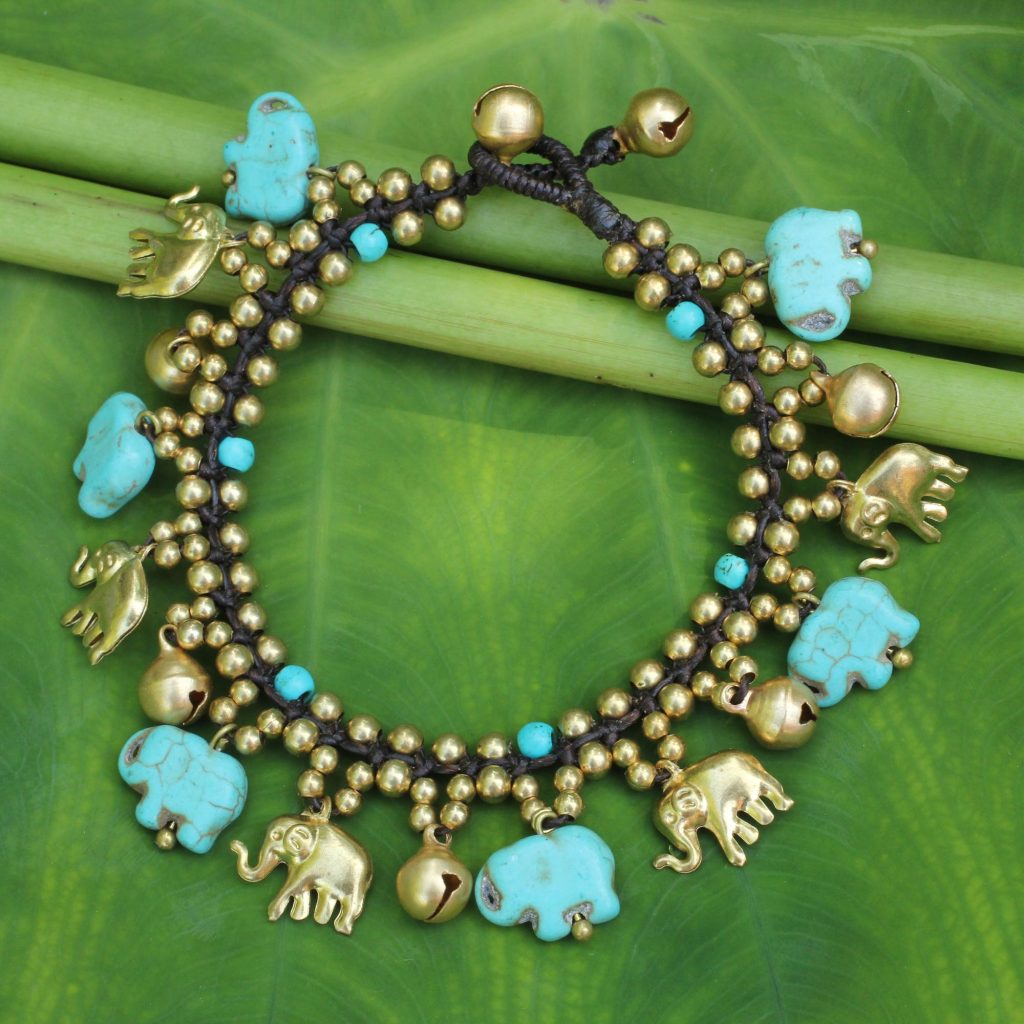 Bangles
Bracelets that are a solid band with no pendants or other ornaments hanging from them are called bangles. They are typically made from metal, but can be made from other materials such as wood or glass. Bangles can be smooth or textured, and some may even be set with stones or gems. This style of bracelet derives its name from the pleasant clinking sound made when several are worn together.
Bangles have cultural significance for brides in India. This pair of artisan carved and painted  floral mango wood bangle bracelets aptly named 'India Romance' would make a lovely addition to any jewelry collection. These bracelets would add a touch of artistic flare to a casual dress or outfit.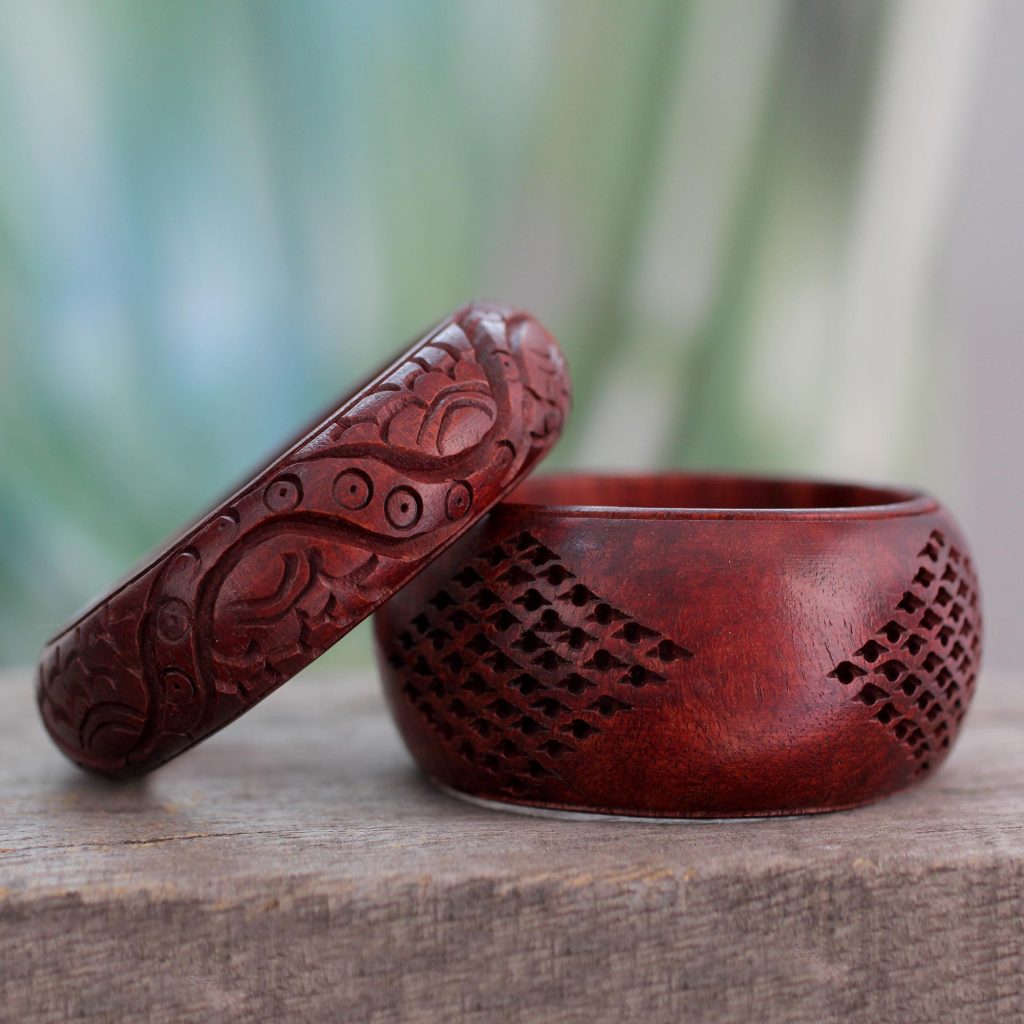 Beaded Bracelets
Many cultures around the world have created jewelry from strands of beads, either on string, leather, or metal. One nice thing about using beads is that many colors can be incorporated into the bracelet. This gorgeous leather amazonite and Hill Tribe silver wrap bracelet entitled 'Hill Tribe Explorer' is a beaded bracelet featuring florid silver beads of Karen hill tribe origin in the middle band as well as several multicolored beads in the two outside bands.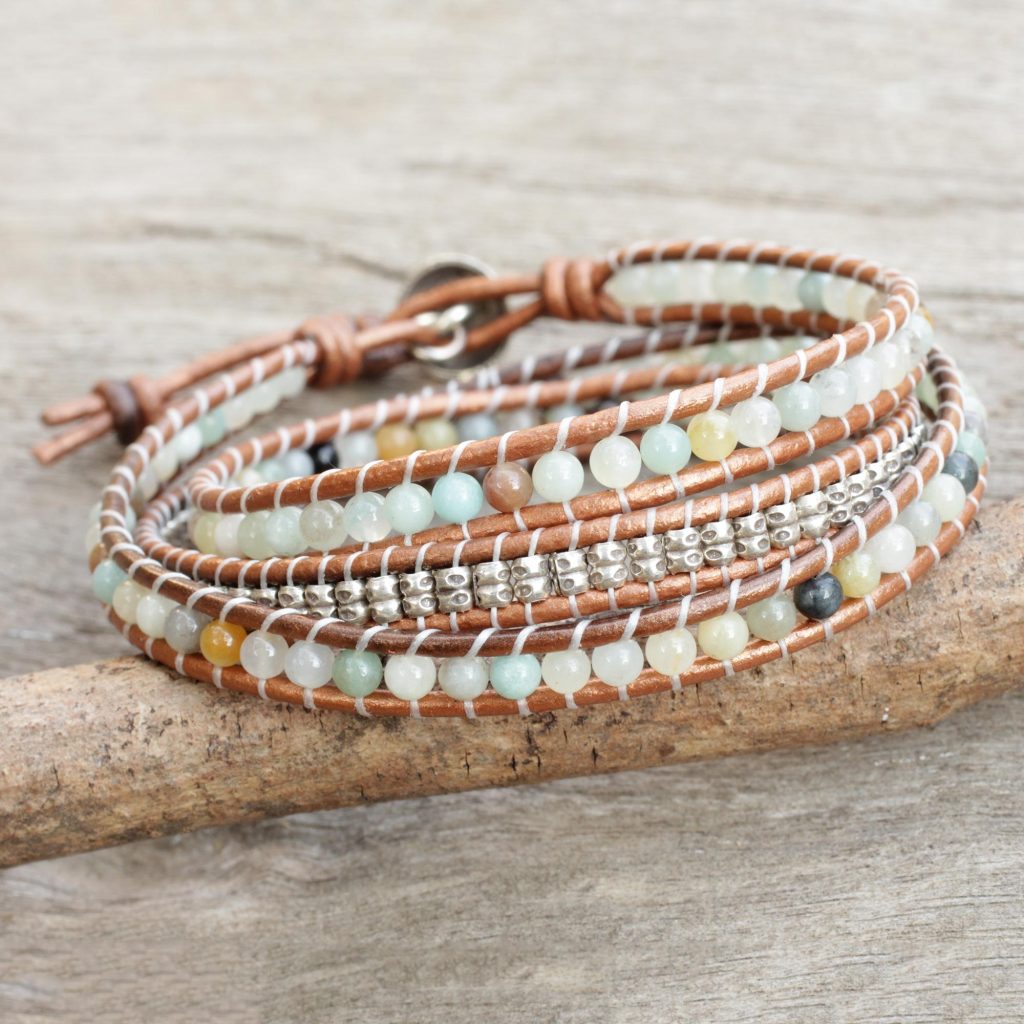 Link Bracelets
When a bracelet is made by joining or linking a number of comparable constituents or pieces of jewelry it is referred to as a link bracelet.  Essentially, link bracelets are made from parts that look alike or were once parts of a whole. This type of bracelet can be made from a variety of materials including, but not limited to, metal and precious stones. 'Floral Legends' is an exquisite artisan crafted moonstone sterling silver bracelet that can be worn to enhance a casual or formal ensemble.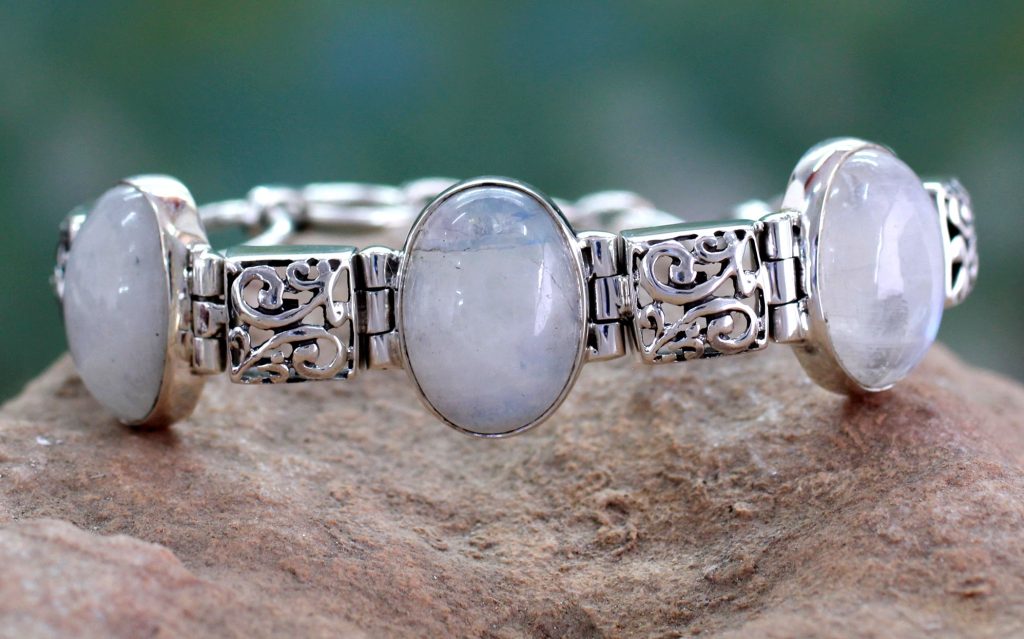 Cuff Bracelets
A bracelet that does not have a clasp and is not a complete circle is called a cuff bracelet. Typically, cuff bracelets are wide bands, and they must be solid as opposed to malleable. They have to be solid because that is how they stay on the wrist. Cuff bracelets are placed on the wrist through the opening in the bracelet and wrap around the wrist to stay in place. This striking sterling silver cuff bracelet from Mexico is entitled 'Leaf Fossil' because of the impression of the leaf pattern that has been fossilized in the sterling silver.
Wrap Bracelets
When a bracelet winds around the wrist once, twice, or many times, it is referred to as a wrap bracelet.  Wrap bracelets may have clasps to hold them on the wrist, although when formed from wire they may hold their shape on their own. This stunning gold-plated wrap bracelet is named 'Verdant Suns.'  The many gold-plated, circular suns orbiting the bands would brighten any day of the week.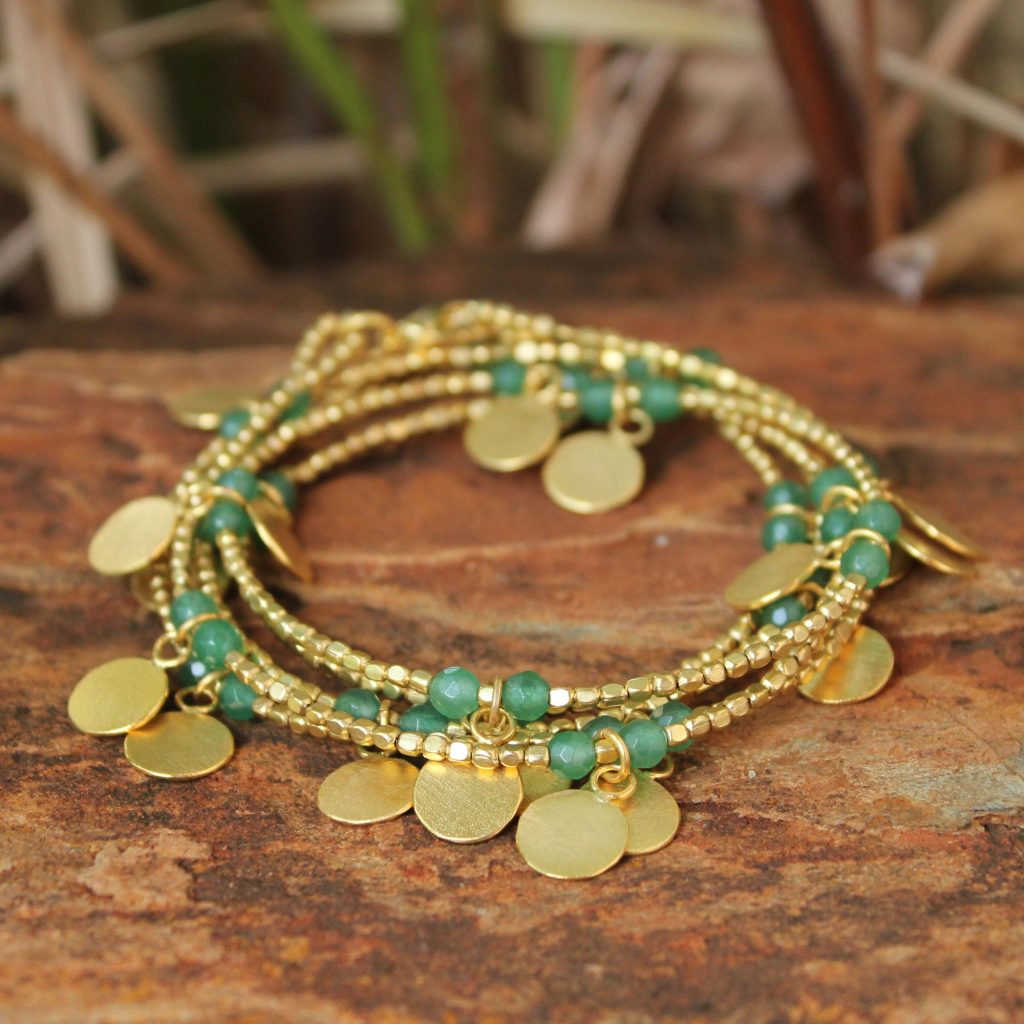 The wonderful thing about bracelets is that there are so many styles to choose from. They can be used as a way of self-expression, and to enhance the look of an outfit. NOVICA has a plethora of bracelets in several different styles made by craftsmen and artists from all over the world. Whether you are shopping for yourself, or a special gift for a loved one, this site has the bracelet or bracelets you are looking for.
Rate this post:
[Total:

0

Average:

0

]