Autumn happens to be my favorite of all the seasons. I adore fall weather fashion as well. For me, there is nothing better than the crisp air of fall – it even smells good. I love all things associated with this season: the beautiful and colorful changing leaves, apple cider, Halloween, carving jack-o-lanterns, and hay rides. In terms of fall fashion, some of my favorite things to wear, and see worn by others, are boots, leggings, sweaters, and scarves and shawls.
One fall fashion item that I feel doesn't get enough attention, but really should, is the shawl. Shawls are nice because they are a unique look, different than sweaters, but are still comfortable and can keep you warm. Also akin to sweaters, shawls can be worn for dressy occasions or casual ones. In my opinion, a shawl is a hybrid between sweaters and scarves; a blending of two of my favorite fall fashion items which make the perfect fall fashion outerwear.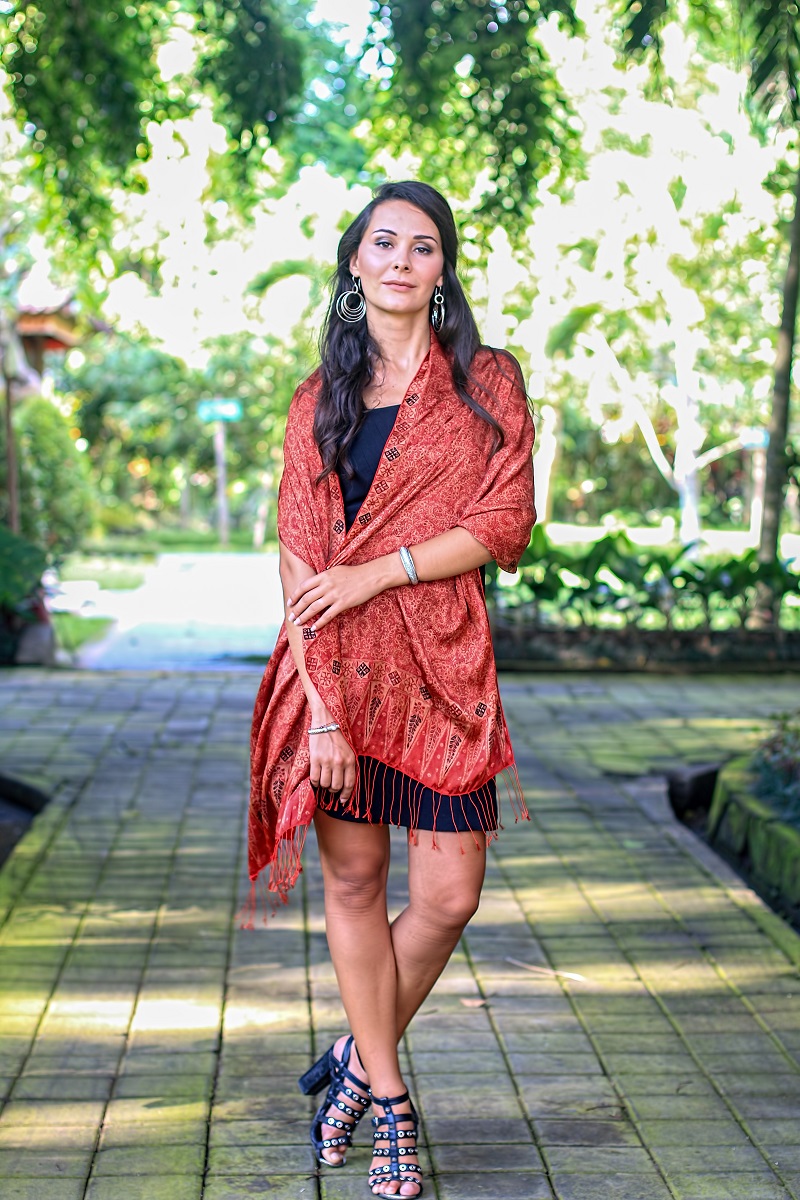 As autumn begins, the weather might not yet be cold enough for a heavy shawl, so I recommend a lighter fabric, such as silk. This artisan crafted batik shawl wrap, entitled 'Romantic Sunset' by artist Yuni Kristina, is made of silk and features a gorgeous floral pattern over a solid red wine hue. The colors in this shawl are the perfect transition from summer to fall because it contains tones associated with both seasons.
As the weather gets a little bit cooler, a heavier material with an open knit or crochet pattern might be better for keeping you warm while not causing you to overheat. A nice thing about shawls is that they can be removed and then draped back on depending on the temperature of the room or the outdoors – perfect for layering in fall weather. Featured above is a handmade floral alpaca wool crocheted shawl. Notice the open crochet pattern of the shawl which allows air flow, (as opposed to a tight crochet pattern with no holes).  In the beginning of autumn, when the weather is not as yet very cool, this shawl can be worn over a tank top or T-shirt. It also looks good over a short-sleeved dress. Toward the middle and end of autumn, this shawl can be worn over a light sweater with jeans or leggings, and over a sweater dress with tights or leggings and boots.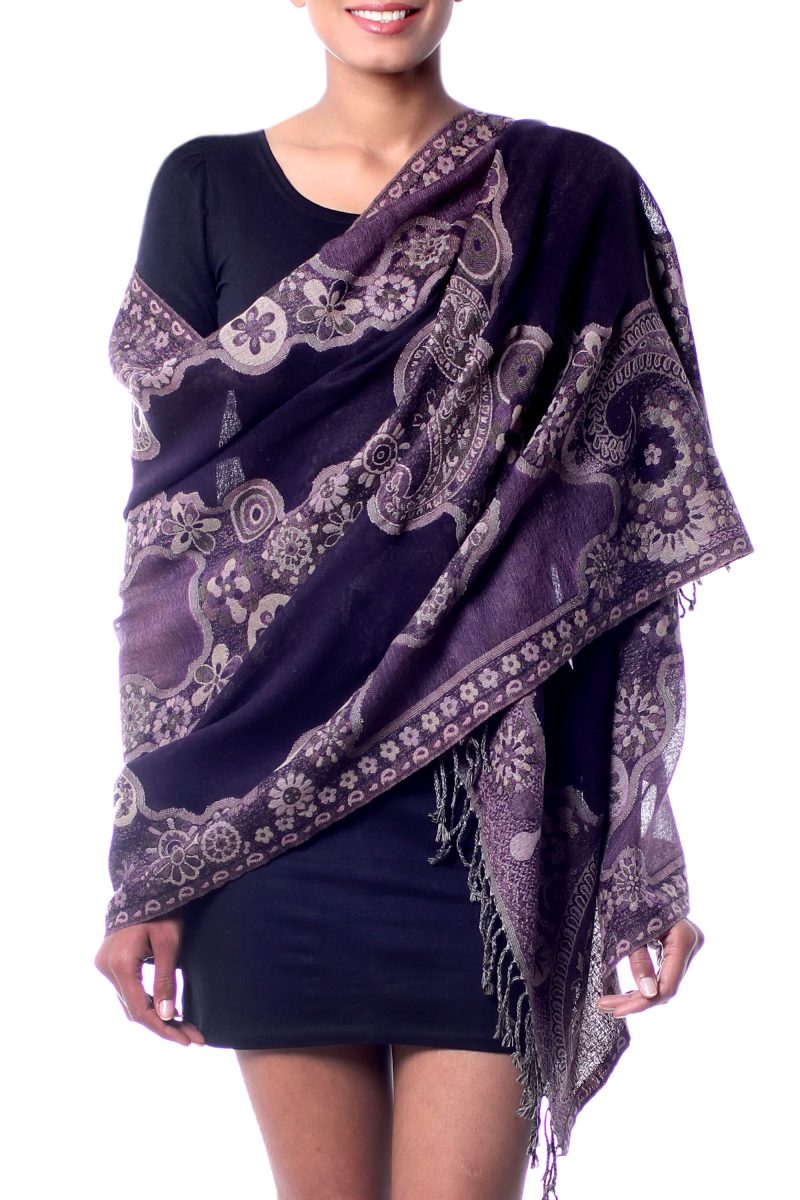 In the middle, and toward the end, of autumn, when the weather has cooled and winter's chill is nigh, a solid wool shawl would be your best bet for staying warm while still looking fashionable and elegant. The Jamawar style wool shawl wrap in pale purple over black, pictured above, contains so much ornate and stunning detail that it would be paired best with a solid color fitted sweater or dress. Can't you just imagine sipping a cup of delicious hot cider and reading a good book outside in the crisp fall air while wearing this shawl? I can!
Some shawls are even reversible, meaning you can turn them inside out and show off a completely different pattern or color. That is amazing! It is basically two outfits in one, and you can change anytime you want. I just love this idea. A lovely example of this is the reversible alpaca wool shawl called 'Eternal Sky' that will keep you warm on the coolest day of fall. This remarkable shawl was made in the Andes by the artist Isidoro C'cahuantico.
If you haven't tried wearing a shawl before, I would encourage you to give it a try. They are so comfortable, and great for layering. We all know how fall mornings can start out cold, then get progressively warmer throughout the day, only to become cool again in the evening. This is why it's so convenient to be equipt with a versatile item of clothing to be donned when needed, and then easily removed. If you have worn shawls before, then you know how special and useful they are. Either way, NOVICA has many styles of shawls, made with a variety of materials from different places around the globe. They make lovely gifts for the women in your life, and they will be sure to fit. As I have said before, shawls are the perfect fashion accessory for fall.
Rate this post:
[Total:

0

Average:

0

]