Known as the "crystal of unconditional love," there is much more to rose quartz jewelry than meets the eye. In addition to its beautiful pink luster, the feminine energy of the stone promotes compassion and peace, tenderness and healing, nourishment and comfort and is said to speak directly to the heart chakra! All of this from one little stone? Impressive. You can reap the benefits of the miracle worker by placing it next to your bed or by carrying a tumbled piece in a pouch with you while you run errands. Such radiance deserves a public display; why limit rose quartz to home décor when you can incorporate it into your outfit and shine brighter than you already do?
Even if you aren't a believer in the healing properties of crystals, there is no denying the aesthetic allure of these stones, which likely accounts for the exponential rise in rose quartz adornments, specifically in jewelry.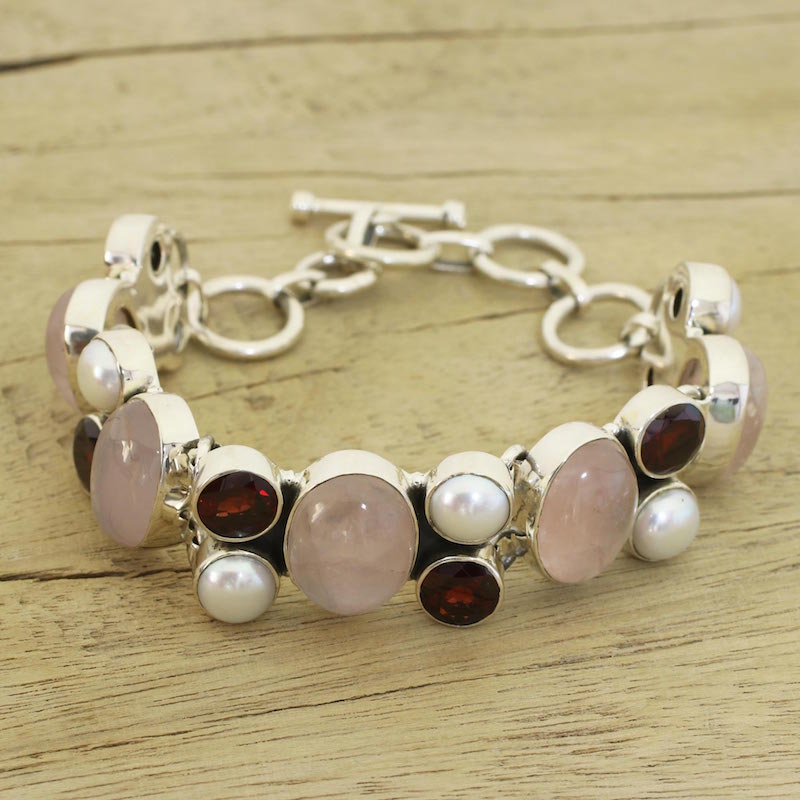 From your ears to your ankles, there is a rose quartz piece for everyone and every body part. Due to the versatility of the stone, it can be worn as an everyday staple or used as an accent to add a little oomph to your "big night out" get-up (both of which I will include!)
Let's take it from the top: earrings.
Did I hear someone say Rose Quartz earrings? I thought so! Whether you're lying low or hitting the town, dressing your ears up with Rose Quartz is a no-brainer.
A minimalistic hanging earring is subtle enough to not overwhelm but glamorous enough to get noticed, making the beauties below perfect for a trip to the farmer's market or even for a light yoga flow.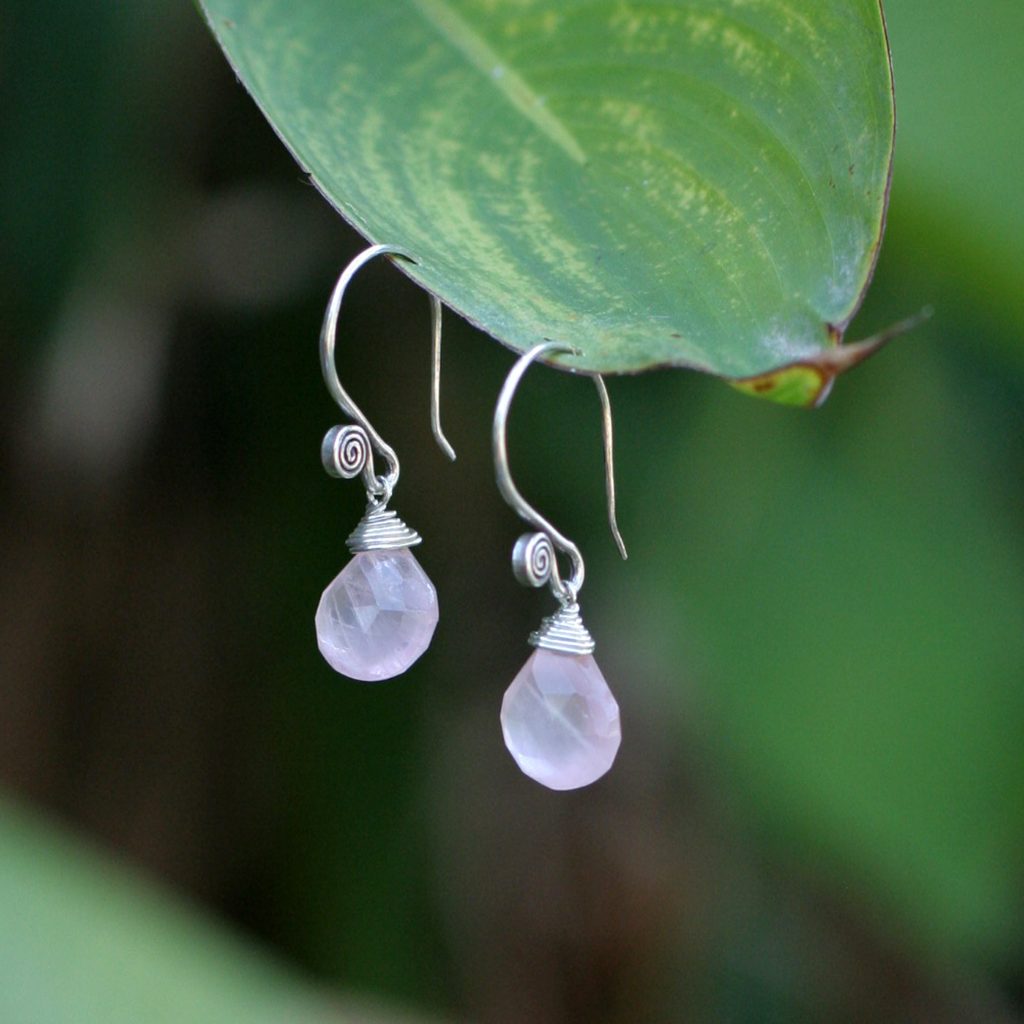 On the other hand, when you're looking to turn heads, I suggest going for a pair that demands a little more attention, like the pair seen below.  The hammered sterling silver detail and gentle hue of the crystal are two opposites that certainly will attract.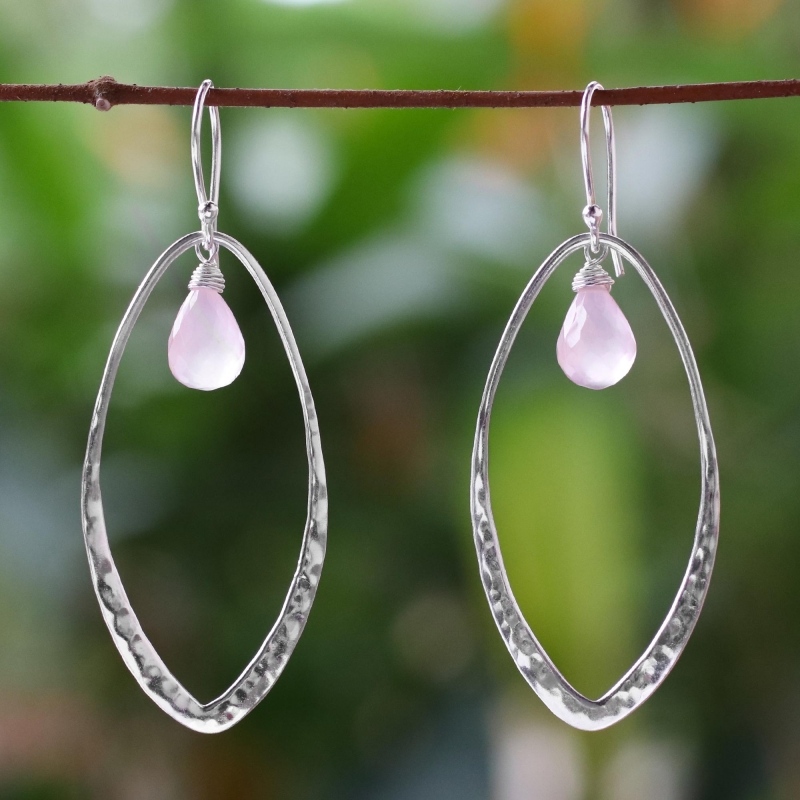 Moving Right Along: Necklaces
Warning: you might become a 'repeat accessory offender' with these two pieces because you won't want to take them off! 
The positive vibes that are radiated from rose quartz alone are undeniable but when you add an affirmation, the vibes are off the charts! This dainty rose quartz number is the daily ensemble addition you need to brighten your day and everyone else's around you.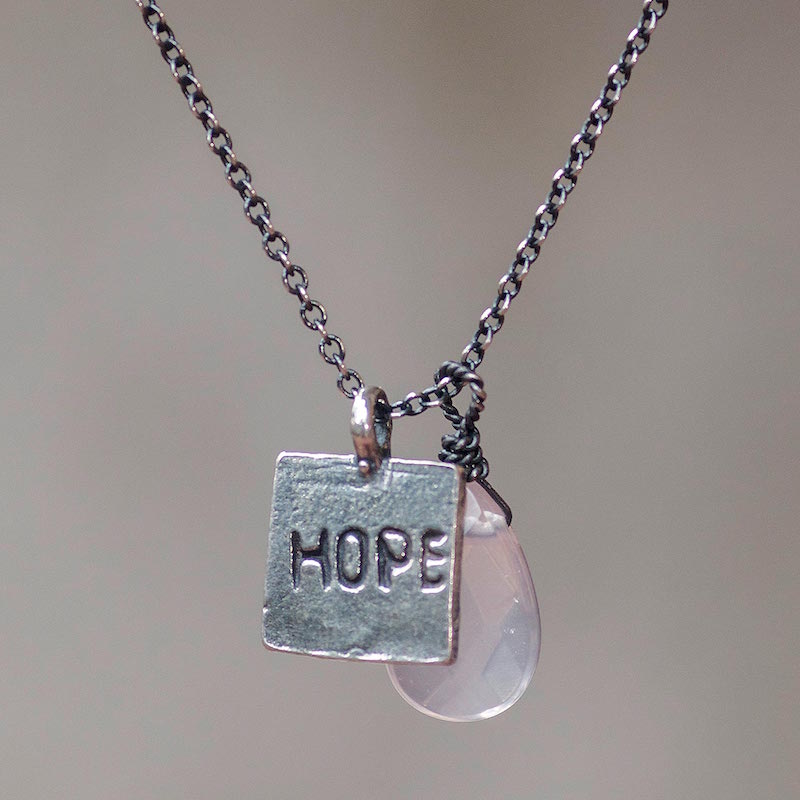 For a more demure look, this charmer is the answer.  Go easy on all other accessories and let this necklace do the talking; its beauty is sure to light up the night.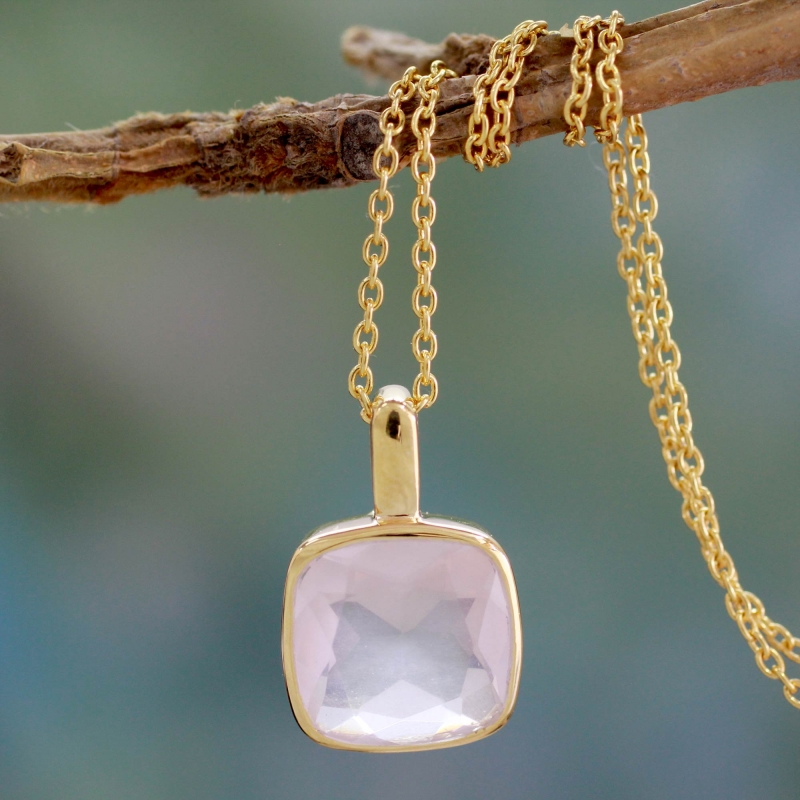 And Finally, Time to Put a Ring On It!
The way I see it, rings should be easy, breezy, and of course, beautiful. A lot of the time, they are worn day in and day out without being changed, so finding the perfect ring is important. Luckily, these Rose Quartz gems (literally) are pieces you'll never get tired of.
A ring stack is a great way to not only mix and match stones and styles but also to show off your eclectic (and enviable) taste in jewels. Kick it off with this cocktail ring, whose soft details welcome stack-mates off all shapes and sizes. 
In the mood for a flashier look?  This ring has it. (It being the 'wow' factor.)  Wear it sans any other hand-bling, guaranteeing all eyes are on it. After all, such glamour deserves that sort of attention.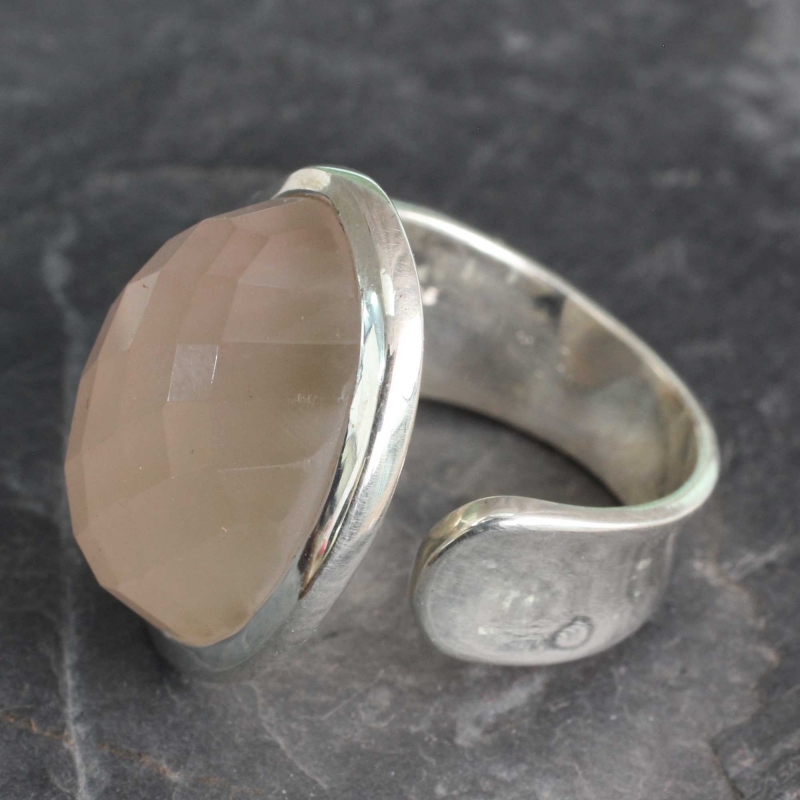 Needless to say, the list could go on and on, considering the endless amount of handcrafted treasures on NOVICA, but don't let the fun end here! Make sure to check out more rose quartz lovelies here!
And for those who feel the whole 'jewelry thing' isn't for you, fear not, we haven't forgotten about you! Chosen as one of Pantone's colors in 2016, there is no shortage of R.Q. inspired clothing and accessories, ensuring that you can still sport rose quartz colored threads. Check them out here!
Rate this post:
[Total:

0

Average:

0

]