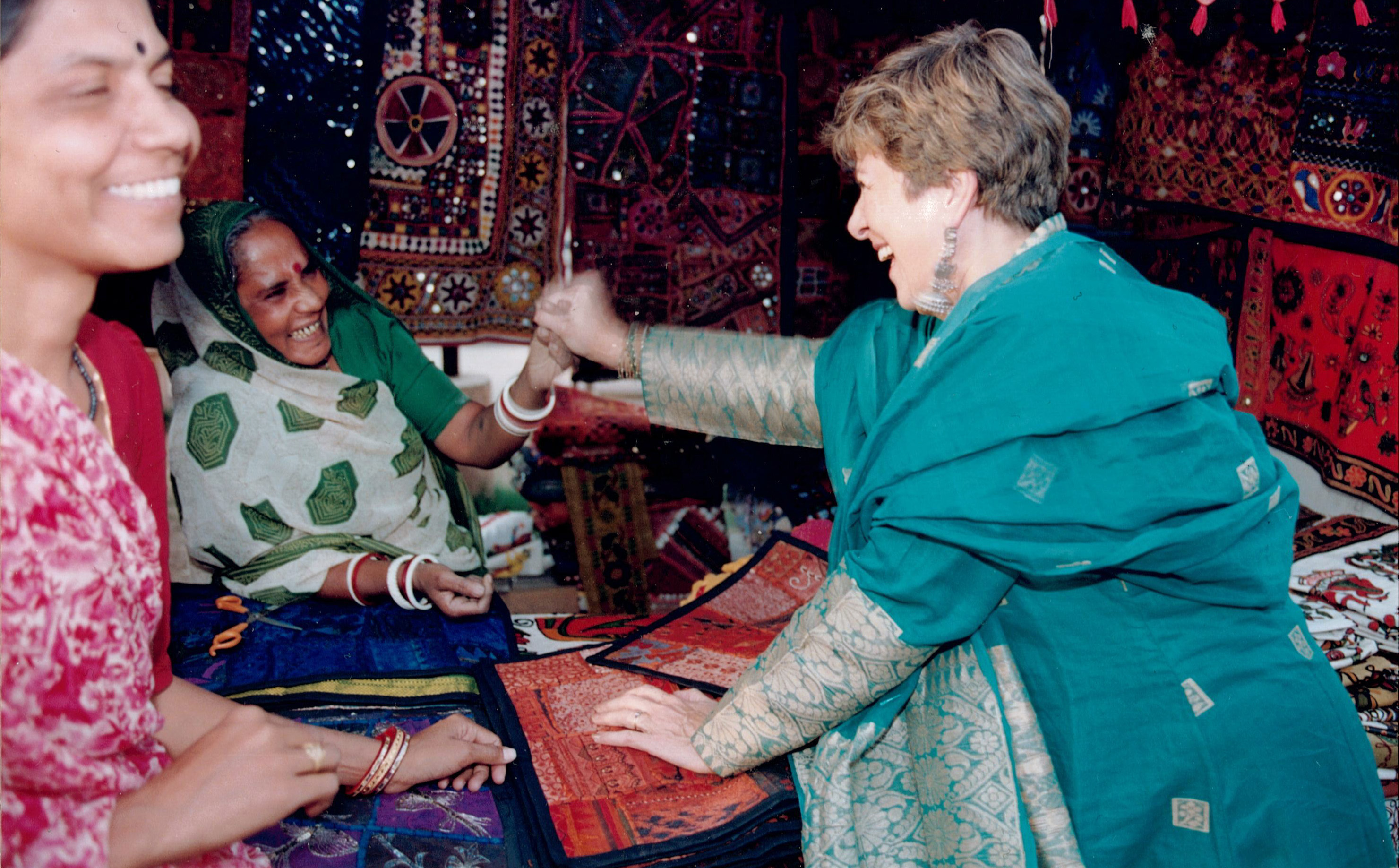 LOS ANGELES TIMES
By Lee Romney, Times staff writer
Conventional wisdom has it that social consciousness cuts into profits. But Novica.com is banking on a strategy that's equal parts humanitarian mission and raw capitalist logic.
The Los Angeles company brings the hand-made works of artisans around the globe to consumers at bargain prices. Its goal is twofold: to ramp up a profitable business while improving the economic prospects of isolated artists in some of the world's poorest pockets.
To that end, Novica has quickly grown to employ 132 people in seven regions. The co-founders are a Stanford University alum with Peruvian roots, his Brazilian-born actress wife, and her mother, a former United Nations officer who is promoting the works of some of the same people she helped as war-ravaged refugees.
Djembe drums from Ghana, mango wood pots from Thailand, Balinese sandstone sculpture, Brazilian oil paintings, and Andean Ayacucho weaves are just some of the hand-crafted items sold through the site.
Novica's ideas aren't entirely unique: Web sites such as Guild.com and NextMonet.com sell domestic art. Others–including Seattle-based World2Market.com, New York-based OneNest.com, and Massachusetts-based EZiba.com–have launched recently to market the works of Third World artisans. And nonprofits have long worked with collectives of weavers and other artisans to improve village economics in developing countries by selling goods abroad.
But Novica sets itself apart by melding for-profit goals with a humanitarian mission and streamlined distribution strategy that cuts out multiple middlemen and their markups.
Novica works directly with artists through its regional offices, stressing their stories as much as the art. Through its efforts, some of Novica's more than 1,000 suppliers already have won a following with collectors. Goods are shipped directly from the country of origin–at the consumer's expense and a savings to Novica–arriving with an exotic postmark and handwritten postcard.
"It's changing how the traditional export game of crafts is played," said president and co-founder Roberto Milk.
Take Isidoro Rojas, 41, who has woven tapestries in his Andean pueblo of San Pedro de Cajas since he was a child. Working through Novica saves the five-hour trips to Lima he once took to haggle with store merchants, he said in a phone interview. It has also introduced him to the Internet, which he navigates from a public computer kiosk two hours from his town.
"It's convenient," he said. "You don't have to travel here and travel there and bargain over prices. You just take a picture of your work with a special camera and . . . your product is on the market."
At a time when soulless start-ups are luring workers with sports cars and decadent parties, Novica has tapped into a craving for meaning. Prospective employees write lengthy essays on their commitment to NOVICA's economic development goals. And Novica draws traffic through nonprofit humanitarian sites, which receive a Novica donation for click-throughs.
Recently, the company launched the first $3.5-million leg of an advertising blitz, plastering its message all over New York City and appealing to travel and interior design enthusiasts through magazines like the New Yorker, Sunset and Conde Nast Traveler, as well as airline publications.
Novica has completed three rounds of financing. While Milk declined to disclose the amount raised, investors include veteran investment banker Michael Burns–a former managing director at Prudential Securities Group Inc., founder of the Hollywood Stock Exchange and vice chairman of Lion's Gate Entertainment–and Island Records founder Chris Blackwell.
Milk worked for Burns at Prudential, climbing his way to a job generally reserved for MBAs. There, he cranked out financial models and presentations for companies raising money and going public.
He took the job to develop the skills he would need to launch Novica. And his investment paid off. Burns provided Novica's seed round of capital, serves as the company chairman and also helped bring in other key investors.
It's a long way to come for Novica's founders, who built the company on family roots, a belief in Third World development and "dot-com" business savvy.
Milk and Nercessian met while he was finishing his bachelor's degree at Stanford. She was fresh out of high school in El Salvador, where she accompanied her mother, Armenia Nercessian de Oliveira, on one of her U.N. missions.
Milena speaks four languages, her mother nine. Her father is a Brazilian filmmaker who has helped produce some of the company's promotional materials, her brother a musician who runs Novica's Brazilian offices.
Milk, meanwhile, was born to a Peruvian mother from the northern town of Piura. He and his brother, Novica chief operating officer Andy Milk, spent their childhood collecting indigenous ceramics while their friends amassed "Star Trek" figures. Their grandmother and her hand-knit booties are featured on the site.
Within a week of their meeting, Milk and Nercessian came up with the idea for Novica, a name derived to be pronounceable worldwide. Milena's mother agreed to join the team as president of international operations.
In 1998 Milk and Nercessian launched Novica in the basement of their Santa Monica home, while Armenia worked her connections abroad, meeting with high-ranking government officials to smooth the way for regional offices. By last summer they had raised the money to launch the first regions, graduating to their current space last January.
The impact on the artists is notable. Rojas has purchased furniture and a television for his home, and he now sends his 8-year-old son to private school. In February alone, he earned $2,500 (in U.S. dollars)–far more than Peru's average annual income. And while he "had never touched a computer" before, he now boasts a Yahoo e-mail account and surfs the Web to monitor his products.
His weaves have been purchased by online customers as far away as Switzerland, Spain and the United Arab Emirates.
The Novica regional offices offer internet access to artists and provide them with translated customer e-mails. Artisans cart their wares to the regional offices for shipment, but Novica sends its staff into the rural areas with digital cameras to photograph artists and their works for listing on the site.
Whether the company can sustain its mission as demand grows remains to be seen.
"You've got to either find new artisans or figure out a way to keep the quality up," said Alan Carsrud, senior lecturer in entrepreneurship at UCLA's Anderson School. "How many masks can somebody carve before you're chopping down all the trees in the forest?"
Milk counters that Novica's grass-roots structure will allow it to tap into a wealth of artists who have never before had access to world markets, ensuring that mass-produced work stays off the site.
Already, about 50 new one- or two-of-a-kind products are listed daily from regions that include Brazil, the Andes, India, Mexico, Ghana, Thailand and Bali.
The site was recently expanded to include the travel diaries of former journalist Catherine Ryan, who under the mystery name "Wander Woman" visits with artisans in a different country each month.
Novica plans to soon add headline news from each region as well as chat and has negotiated region sponsorships from airlines. It has also had so many requests for tours to visit artists that it hopes to spin off a separate travel business.
"People visiting the site enjoy learning about the artists," Ryan said. "And they're also learning about different regions and cultures."
Rate this post:
[Total:

0

Average:

0

]