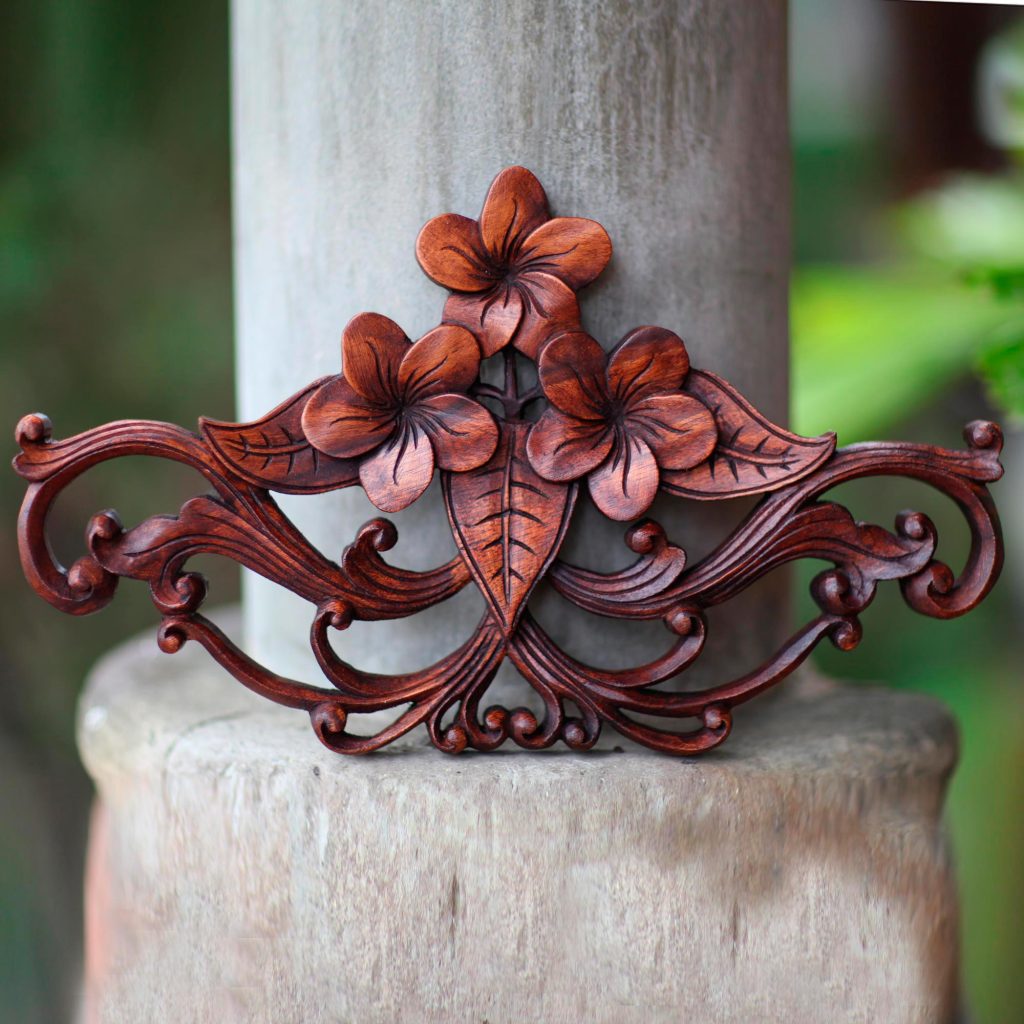 Does this scenario sound familiar? Every day when you walk into your home, a large, blank wall stares back at you. You look at it and shake your head. You know that the wall needs something. It needs some type of wall décor. You want to be welcomed by a beautiful image when you walk through the door. Still, the question remains, how do you choose the right wall art to hang on the wall?
The first question to answer is where you will be hanging any wall décor. The space itself has some determination on the type, size and number of items you can hang. For example, if the wall is quite large, one small 8 x 10 picture may seem minuscule. Also, a really dark space may not highlight color saturations in a darker painting. An area with lots of direct sunlight might cause a delicate canvas to fade. Balancing the space with the wall décor is key.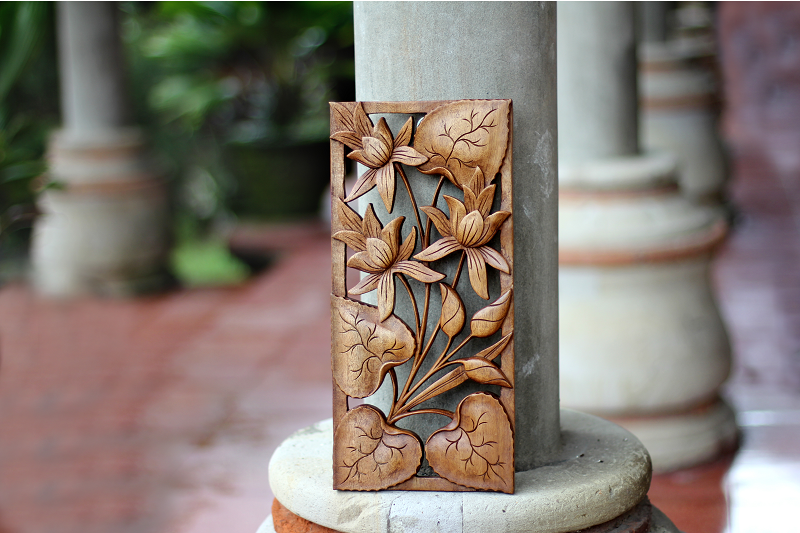 With larger spaces, a lovely way to incorporate a variety of wall décor is by creating a wall gallery. Dividing up the available area into pieces of various size keeps the eye visually stimulated. For example, a wall of several wood reliefs, like the hand-carved 'Frangipani Garland' floral wood relief panel paired with the "Sweet Hibiscus' wall sculpture, makes for an engaging scene. The use of like materials and colors brings out the detail in each piece, while the different sizes and shapes engage the eye. Overall, the balance of the gallery items is key in keeping the design from becoming overwhelming. Before nailing and re-nailing wall décor onto the wall, plan out your design.
To plan out a wall décor design, you can do a couple of things. One way is to take pictures and work with the layout on a computer. For some, this option can be a little demanding or overwhelming. An easy way to visualize the space is to work with painters' tape. First, start by taping off the entire area where you want to hang your art. Secondly, make taped squares, circles or other shapes on the wall to see how they would look, fit and interact within the planned surface. The painter's tape is easy to apply and remove without damaging the wall. Although you aren't seeing the actual wall décor, you are visualizing the area and components as a whole.
Once you have decided on the space and size, you can consider the type of ornamentation you want to hang. A combination of large and small items can be visually appealing. Grouping several small items with one larger, dominant wall art piece can be visually stimulating. Another option is to combine various shapes, like circular mirrors and horizontal paintings. Also, combining various textures, like wood reliefs with metal wall art, can make the wall décor appealing.
The most important point in choosing wall décor for your home is to find pieces that you personally love. Remember that you, not a decorator, grandmother or friend, is going to be living with this wall art every day. If you don't love it when you hang it up, you may not love it in six months or six years.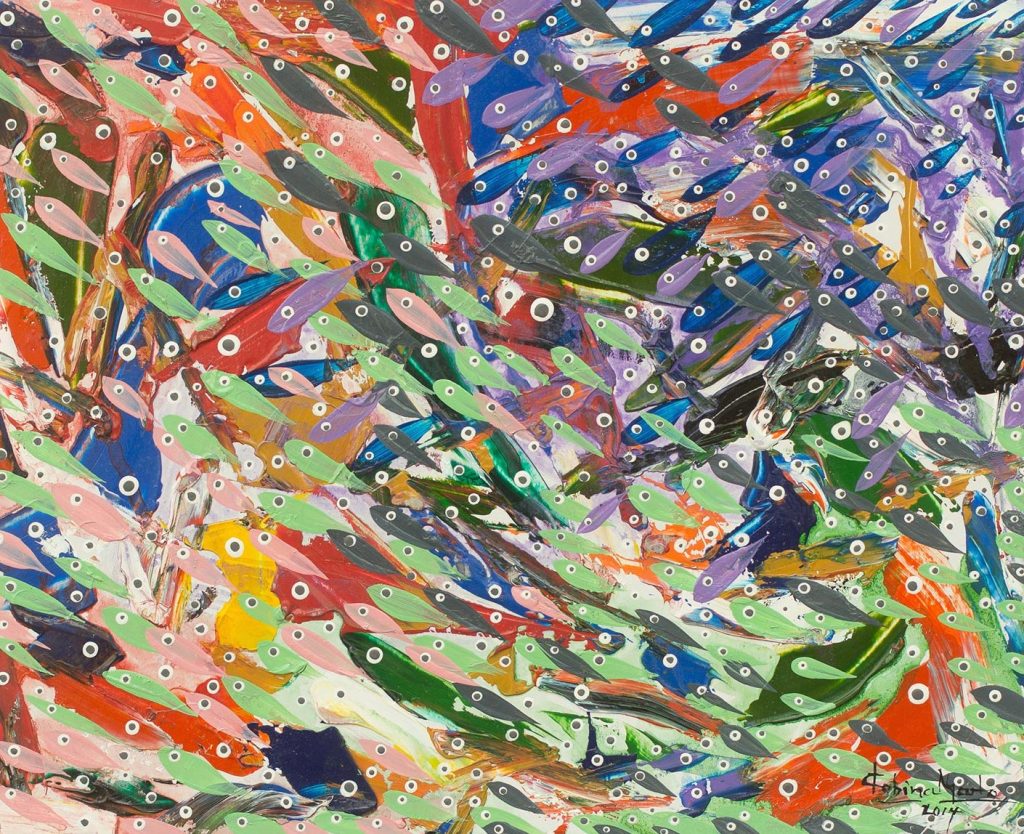 Personally, the wall décor in our home focuses on our many travels throughout the world. Some choices may be obvious, a large African protea flower canvas from a trip to South Africa, and others are subtle, a collection of sunset pictures from all our vacations. I chose these wall art pieces because I love looking at them every day. For example, the above painting, Defining Moments, seems like a sea of colors when seen at a distance, but on closer inspection, the scene shows a school of tiny, colorful fish. Paintings like this one remind me of moments of joy, happiness, and memories of family togetherness. Some of this wall art has been in my house, in the same spot, for 13 years and I still haven't tired of them.
Before you start putting nails in the wall, take a moment to think about what you love. From colors to countries, from textures to shapes, from moments to memories, let your wall décor be a reflection of your space and personality.
Rate this post:
[Total:

0

Average:

0

]