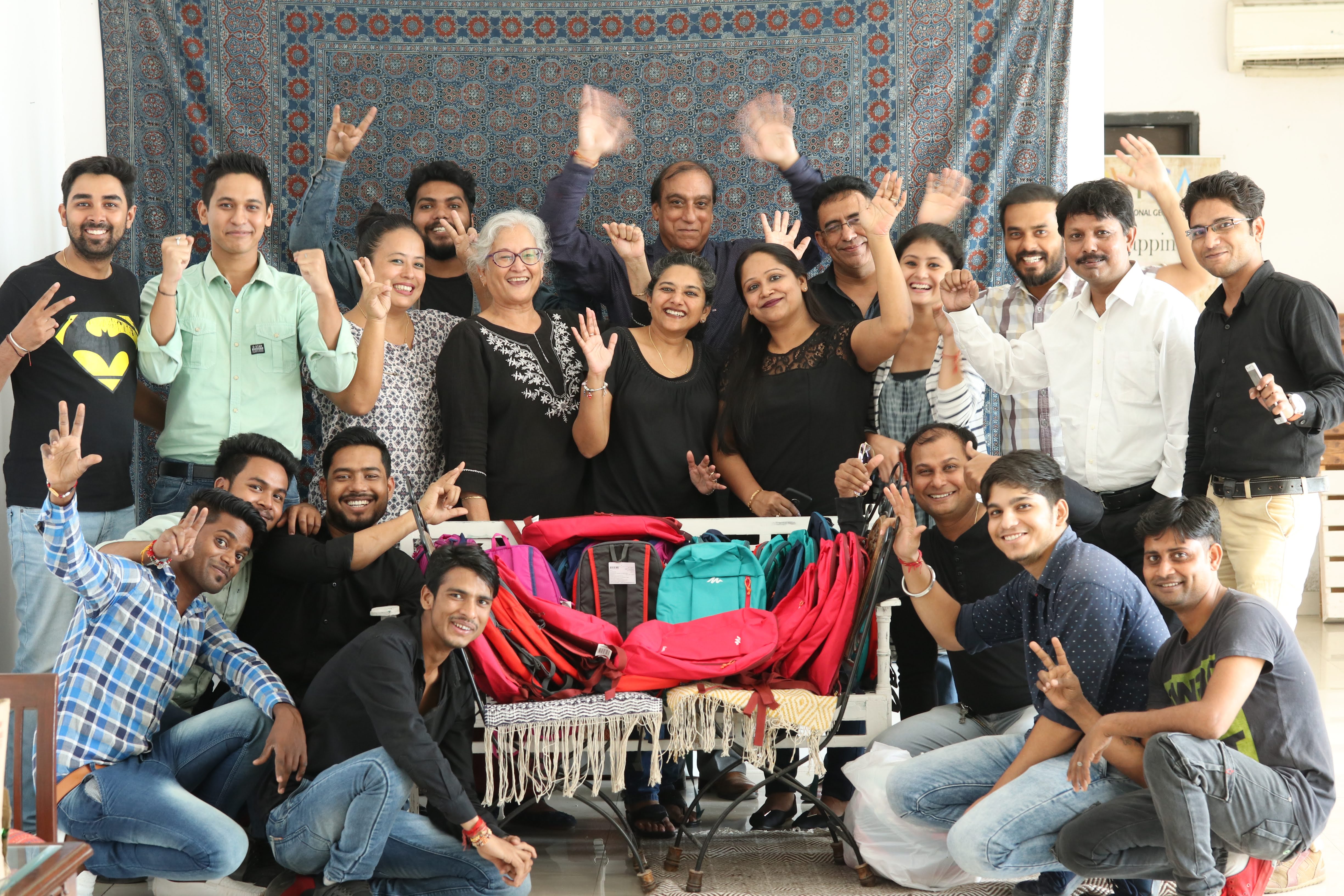 The lessons from one NOVICA Happiness Project in India are simple, yet profound: Love is shared in the small details, basic gestures, and many acts of kindness.
Everywhere we look, there is a tear to wipe, a heart to lift, a soul to hug… but only if we look!
In our effort to spread a little more happiness and a little bit of cheer in our surroundings we came across an organization called Sarthak Prayas, literally translating to "Meaningful Endeavour," which has extended itself to looking after the elderly, homeless and helpless by providing them a home, medical care, and dignity. They have also organized tuition for primary and middle school children from underprivileged families and given them an encouraging environment to study and learn basic life skills so they can become independent, confident, caring individuals.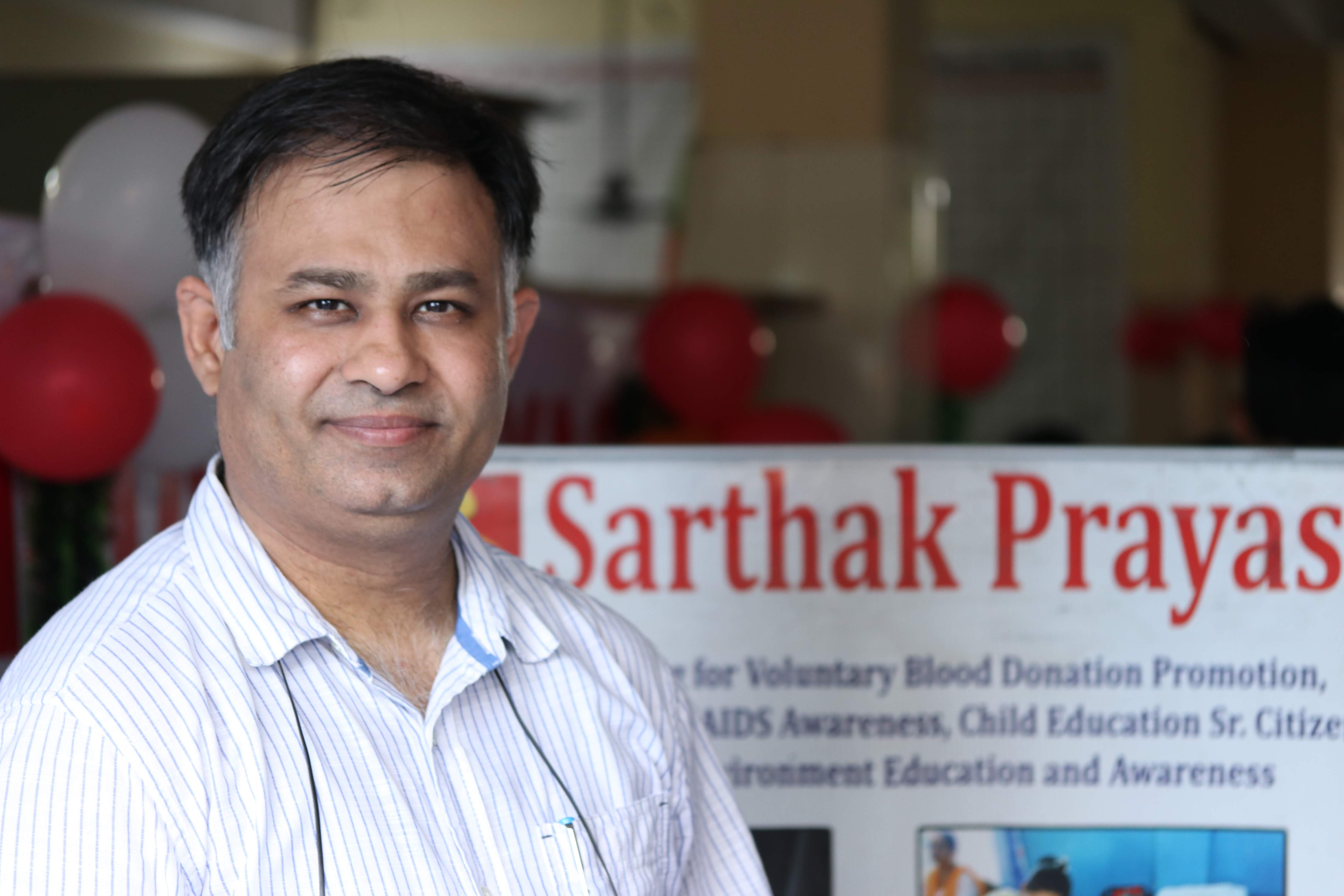 We connected with Mr. Harsh Arora the founder of Sarthak Prayas to know how we could help. His reply was heart touching. He said, "I would love you to give the most precious gift to my children and elders – your time!"
He welcomed us to visit one of his centers in Delhi and to spend an afternoon with the residents of the "Second Innings House." We were invited to attend school with the children who come who are students there. They have a tradition of having a birthday party every month collectively celebrating the birthdays of all the children of that month. So, we decided to sponsor the birthday party for September.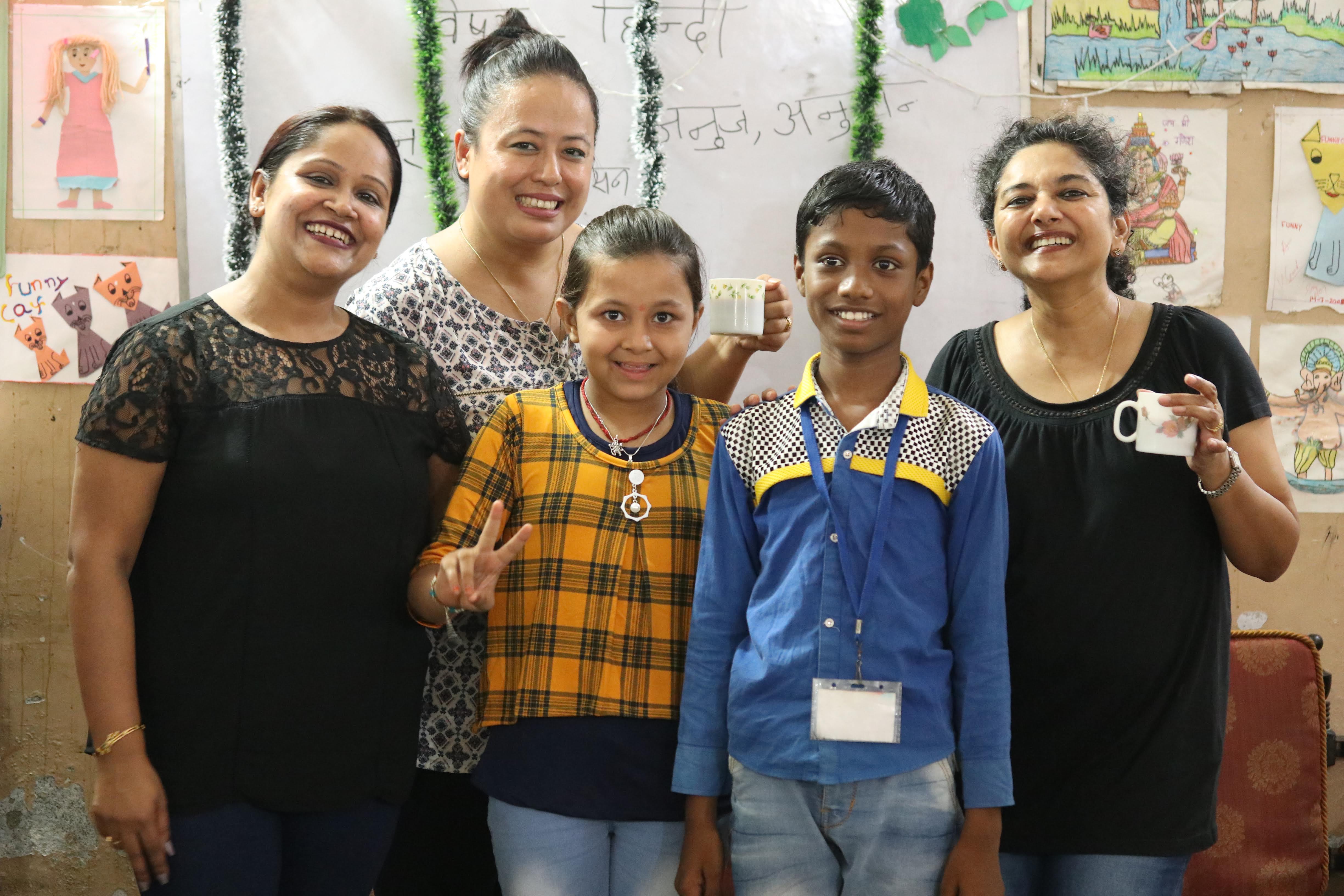 On 11th September, we visited the center equipped with gifts and food for the 30 children there and the 12 elderly people who were residents of Second Innings. Unlike our expectation of a drab, dull place we were greeted by a cheerful ambiance full of sparkling eyes and smiley faces.
The next 4 hours whizzed past in fun and laughter, singing and dancing, talking animatedly to the young and old! We decorated the hall with streamers and balloons for the birthday party. Ananya who was celebrating her 11th birthday and Ashish who was celebrating his 12th birthday enjoyed cutting the cake and getting blessings from everybody.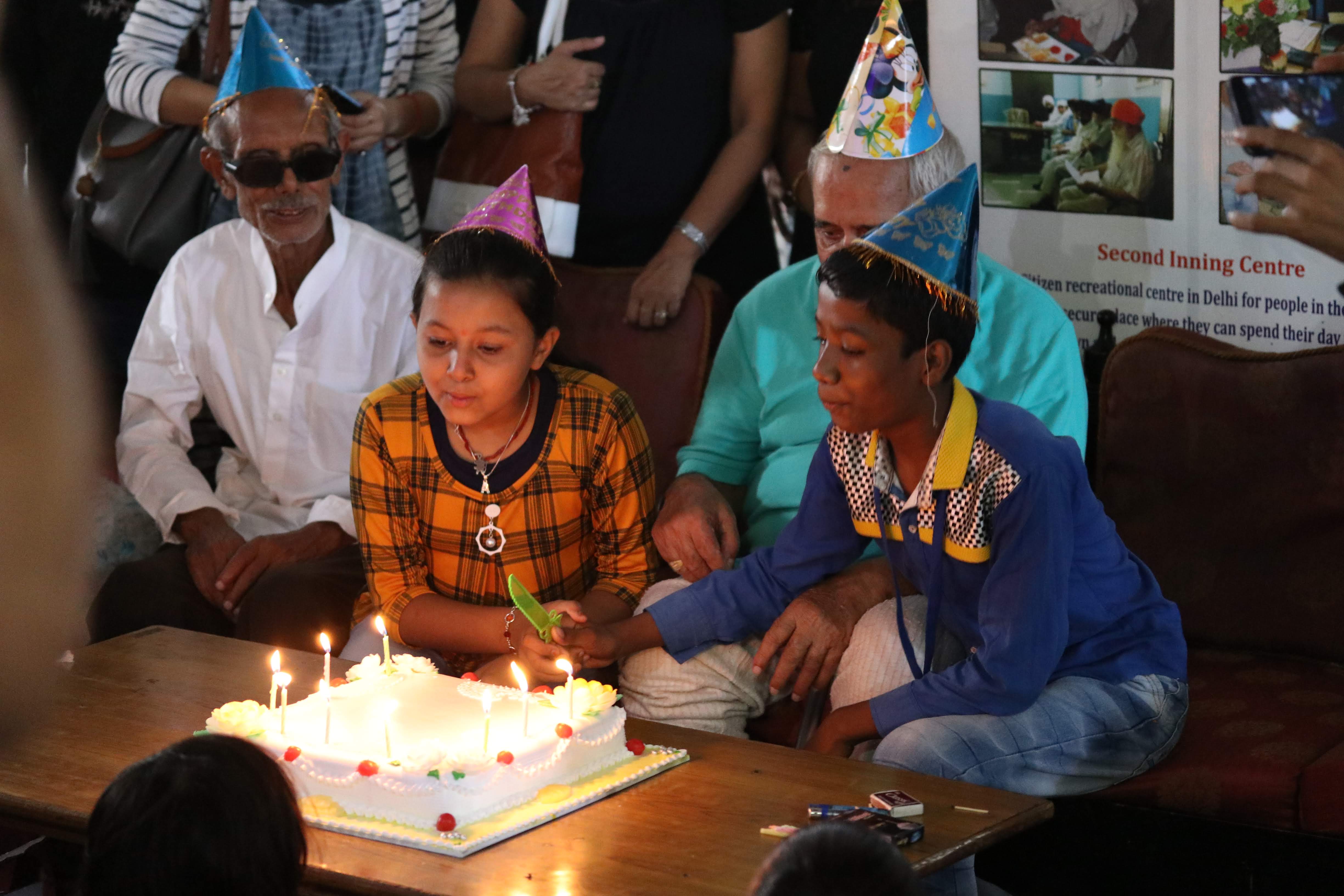 The children were at their entertaining best, telling jokes, teasing each other good-heartedly, and even having a dance face-off with our own NOVICA entertainer, Vinod.
We got to know the interesting inhabitants of the house including 93-year-old Mr. Rameshwar, who had sung with legendary playback singers of Bollywood back in the 1960's.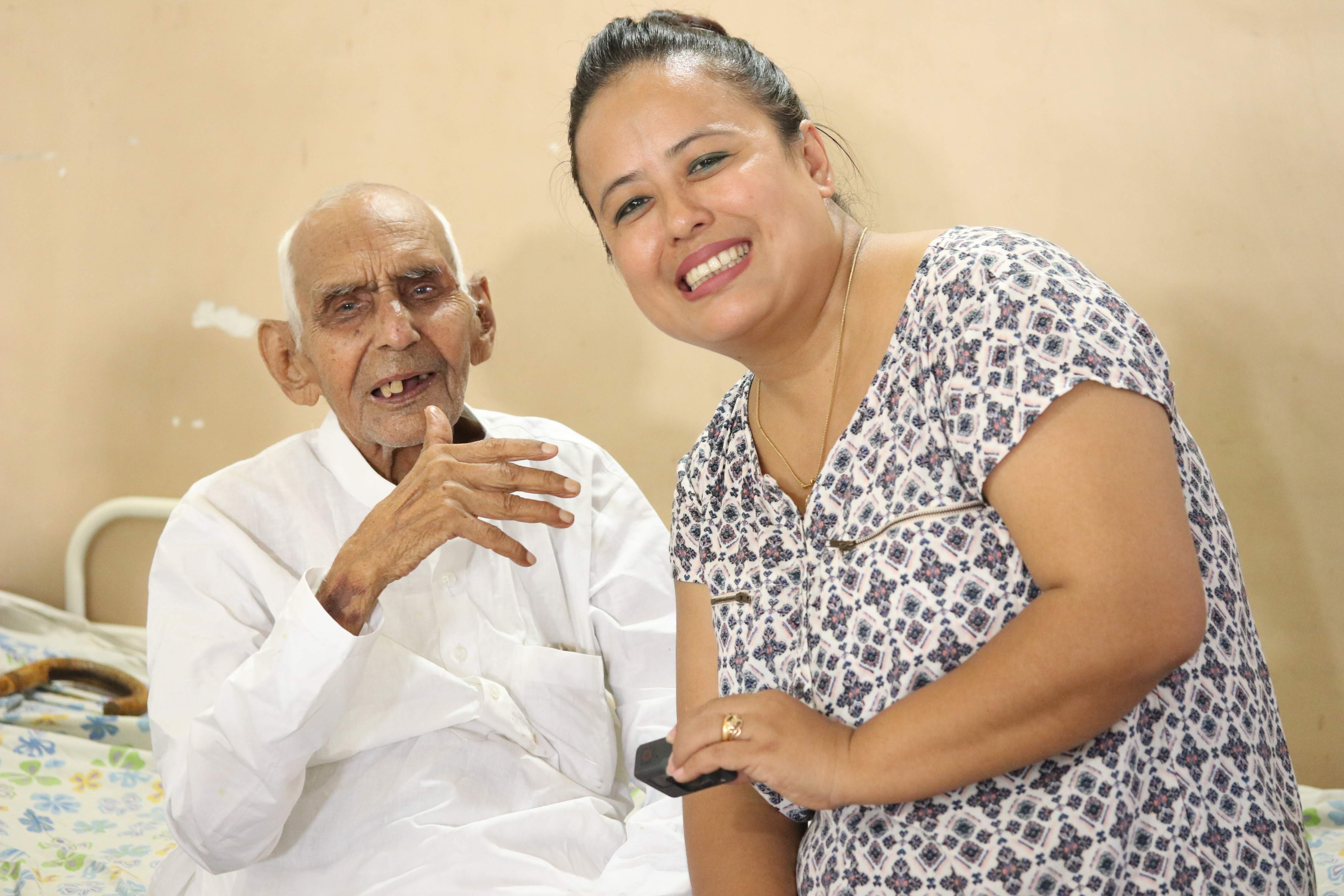 Rameshwar's love for music took him to the magical city of Bombay in the early 60's. After a few years of struggle and a few chances of playback singing he did not see his career taking off and like many unsuccessful aspirants he returned to Delhi. He settled down to marriage and a steady job with a saree retailer but kept the memories of his tryst with Tinseltown alive in his heart. As life progressed he fulfilled all his duties as a husband, father, and grandfather. Then there came a time when his children's lives became too full to accommodate him. Lonely after his wife's death he told his children that he would be happier staying away from their home and came to Sarthak Prayas. His children come to meet him every regularly and the relationship is now more harmonious and respectful than ever before. He is thankful for the love, care and support that he gets in his new home and blesses the caretakers for their selfless service.
Mr. Ganesh Shanker Mishra who lost his whole family in a bomb blast in Delhi a few years ago still smiles through his pain and tells everybody to laugh and be merry.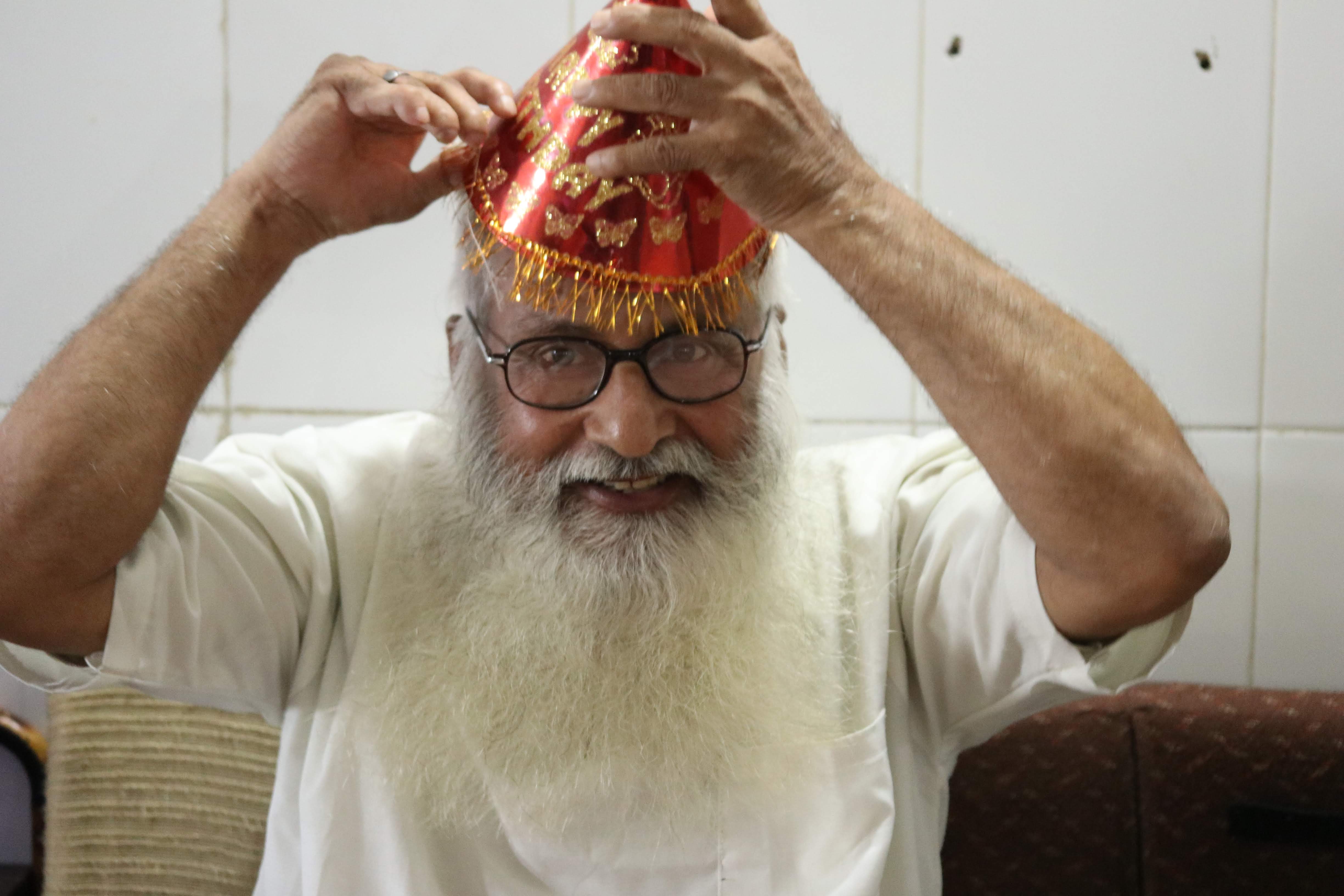 Sunita, who feels blessed that she has a home and her dignity despite being thrown out of her house by her only son and his wife.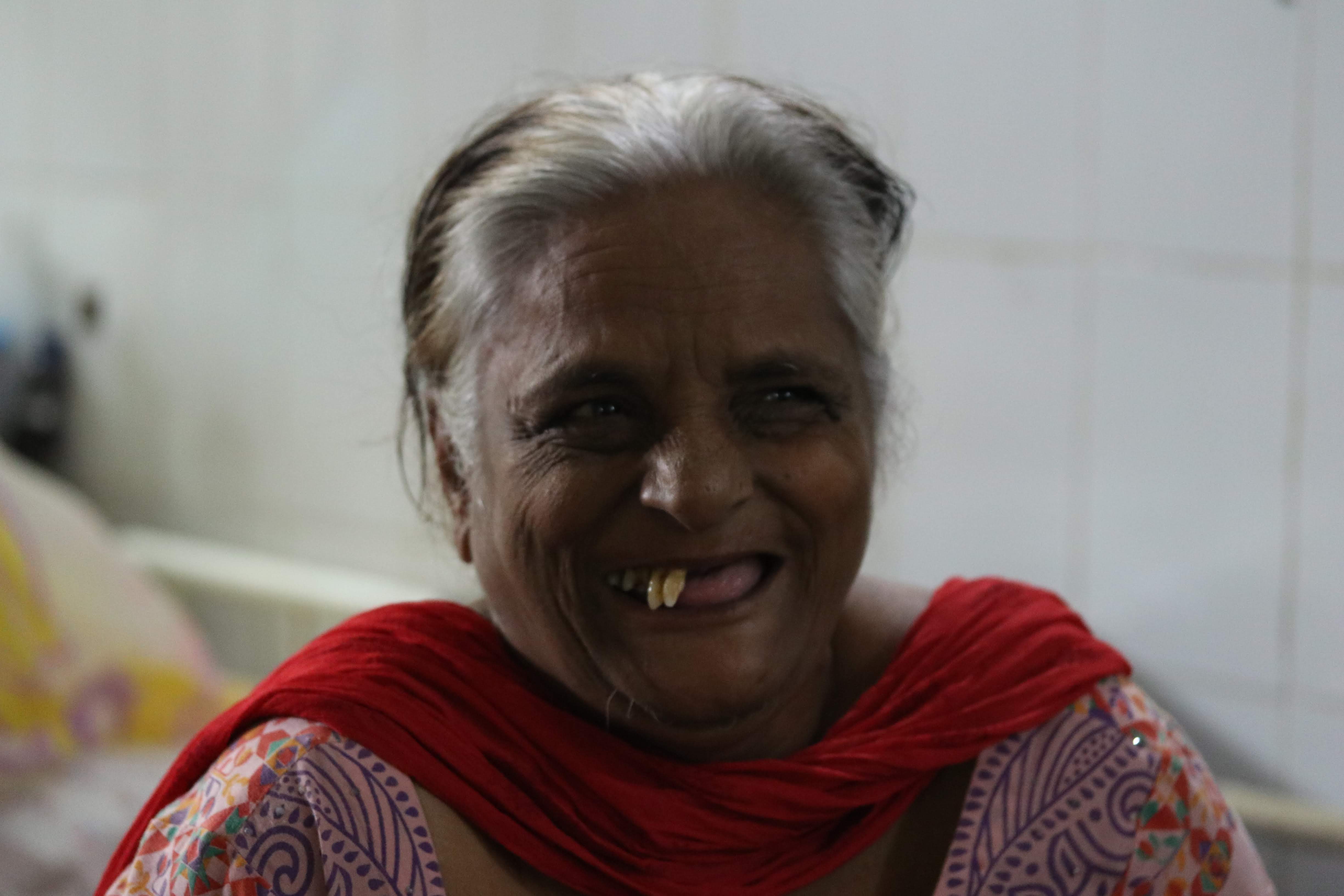 Chat with Sunita aged 63, a resident of Second Inning ~ Tiali Jamir
As we entered the Second Inning home, we saw rows of beds lined up against the wall.  There were elderly people, both men and women of different age groups. Some were having their afternoon nap while others were chit-chatting with each other. The environment looked very cheerful and my thought of a very grim and sad environment suddenly disappeared! All of them looked pretty happy. These are the people whose families have disowned them because they had become a burden to them. Now, they have found a home and a family in this Second Inning home ~ what a blessing!
I was suddenly intrigued by Sunita who was very chatty. I sat down by her side on her bed and started talking to her. Although she was very friendly and cheerful, I could see the pain in her heart. I asked her what made her come to the Second Inning home? Frankly, she looked hale and hearty and I really wanted to know why she chose to be here. She said, 'Well, life was so beautiful but disaster struck when my eldest daughter-in-law passed away. She was like my own daughter and cared for me so much. I also used to work as a maid in a big mansion and I couldn't have asked for a better life,' she continued. 'But my life came tumbling down when she passed away. My son re-married and my new daughter-in-law became my nightmare. She hated me so much, she would fight with my son and finally forced him to throw me out of the house. With nowhere to go, I landed up here in this home'  
Even after all this, she would not say a word against her son –such is the love of a mother for their children. Her eyes beamed when she said, 'My son comes and sees me from time to time. He still cares for me!' she exclaimed as she shed a few tears.
As we chat, Harsh, the founder of Second Inning walked by and Sunita could not hold her emotions. She burst into tears thanking him. 'It is because of him that I am living a dignified life.' This time, the tears she shed were of joy! I left the home as a better human being thanking God for all the blessings that he has bestowed upon me!
Lalit Thapa, who lost all will to live after the death of his young son and being abandoned by his own sisters.
Story of Lalit Thapa, aged 62, Nepal, resident, Second Innings ~ Deepa Gariya
62-year-old Lalit Thapa originally came from a small village near Pokhara, Nepal. He has been in Delhi for the last 30 years. He came to Delhi from Nepal and started working as a caretaker in a construction consultancy at Nehru place. Then, a few years back, his only son and wife, who was expecting their second child met with a fatal accident in his hometown. He was traumatized and went in a state of shock.
His two sisters insisted that he return to his hometown to stay with them. But after he went back he was diagnosed with an enlarged prostate. As his sisters could not take care of him at home, they had him admitted to a charitable hospital in Pokhara. Initially, they visited him regularly but gradually they stopped coming to meet him on the pretext that their husbands refused to send them to meet him. Moreover, both the sisters said that they were too busy with their own household chores and family.
Lalit felt very sad and lonely. He was very hurt. He decided to come back to Delhi. After reaching Delhi he went back to meet the owner of the construction consultancy where he used to work. The owner, being a kind person, gave him a job on one of his construction sites. But, his health did not permit him to work. Finally, one fine day, he was brought to Sarthak Prayas, an old age home run by Mr. Harsh, a good friend of the owner of the construction consultancy where Lalit used to work.
Lalit came to Sarthak Prayas on the 29th of Sep, 2015. He says, "I am very happy here. Presently there are 13 of us and we all stay here like a family. At times people from outside come to visit us and share their happiness with us. Every evening, around 40 children from the neighbourhood come to attend the assistance classes offered by Sarthak Prayas. Their laughter and cheerfulness brightens the ambiance as well as our lives. The people at Sarthak Prayas take good care of me. They even got my prostate operated on after 5 years of suffering. Now, by God's grace and Sarthak Prayas' help, I am completely fine. They also got my cataract operation done. On one eye, it was done a few months back while it is just 29 days ago that I got it done on the other eye. I am a part of Sarthak Prayas family and wish to spend the rest of my life here."
Mr. Arora, an engineering technocrat who has worked in many big companies in India and outside, now enjoys living in this home for its bonhomie and warmth.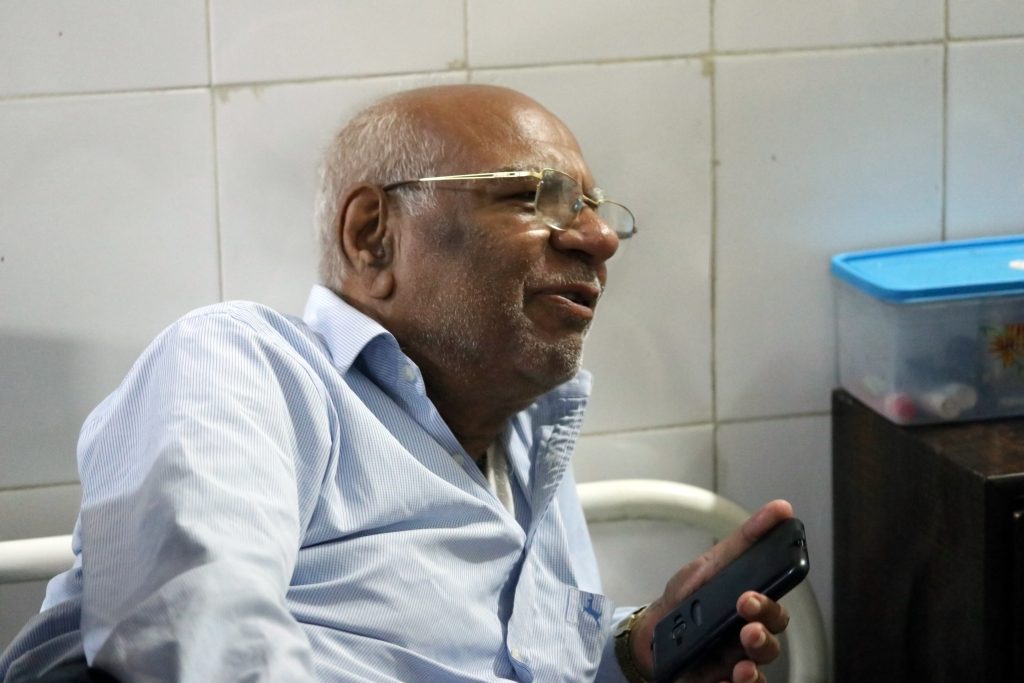 It was exhilarating, breath-taking and absolutely amazing how openly we were welcomed into the close-knit family of 30 little kids and 12 grandparents. So much love and respect all around! We had gone to spread happiness but collected a lot more for ourselves.

Rate this post:
[Total:

0

Average:

0

]