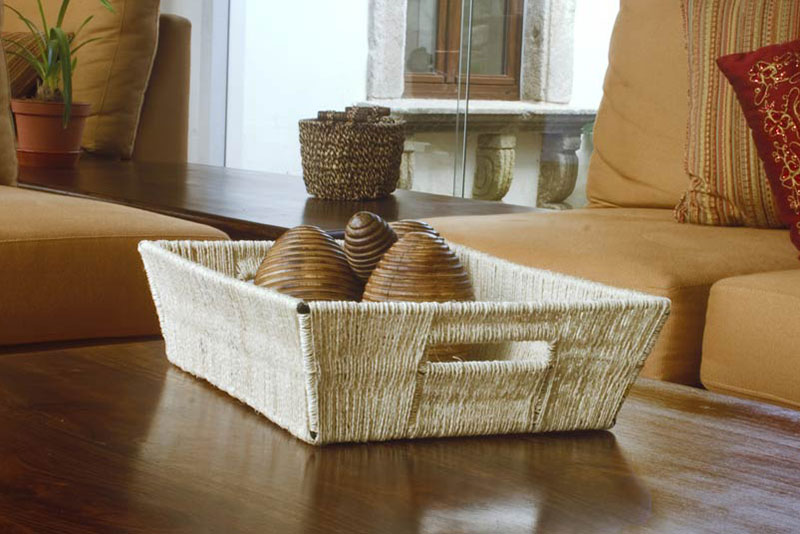 It's autumn again, and like the many colorful leaves covering the ground, fall decorating ideas are abundant and just waiting to be discovered. Whether you're planning a festive fall event like Thanksgiving or just enjoying the season with your family, give these ten fun ideas a try and get ready to make fall 2013 your most memorable one yet!
1. Fall for color
Even if your regular décor scheme tends toward a lighter or brighter palette, you can give any room or corner a sophisticated seasonal update with browns, creams, golds, oranges, and rusts to make your space feel warm and cozy as the weather gets colder. (Pro tip: swap out your normal area rug for one in autumn-ready shades to make a big impact with minimal effort!)
2. Cozy up with fall linens
Changing out your linens is a quick and easy way to pay homage to fall's rich colors as well as to prepare your home for colder weather. Pillow covers, throw blankets, and seasonal bed linens can help you snuggle up and stay cozy while transforming the look of a space. Don't forget the guest bedroom!
3. Light the way
As the days get shorter, you'll want to keep your home inviting and bright by ramping up your lighting — many areas that get plenty of sunlight in the spring and summer may need a table lamp once fall rolls around. To keep things cozy as the weather gets colder, choose tapers and votives in autumn-ready shades to update your year-round lighting fixtures for the season, or keep your white candles and go for candle holders with fall colors, textures, and motifs that match the rest of your décor scheme.
4. Create a fall tableau
A seasonal tableau or two is a must-try fall decorating idea, and it can be as versatile as you need it to be! Take an area like your mantel or foyer and transform it into an autumnal vignette by layering a statement fall décor accessory with candleholders and all your favorite natural materials.
Creating a fall tableau is also great if you want to practice your DIY décor skills: from make-at-home wreaths and garlands to candleholders made from pumpkins, there are so many ways you can make this decorating idea work for you.

5. Bring the outdoors inside
Autumn is the season of abundance, but you don't have to go traipsing through the woods and fields to feel like you're in nature. Bring the outdoors inside when you're decorating for fall by layering and arranging gourds, Indian corn, pine cones, colorful leaves, heirloom pumpkins in every size, loose nuts, and branches around your house. Elements of the outdoors look especially nice when arranged in a decorative bowl, basket, or glass jar or hung with raffia or yarn from your lighting fixtures!
6. Fall for rustic textures
Look for wood, distressed textures, and elements of the outdoors to give your home a rustic and cozy feel for fall 2013. Props gathered from nature are an obvious choice, but you can also sprinkle in leather and natural fibers to give your home a seasonal touch-up.
If you don't want to give your space a head-to-toe makeover, swapping out your décor accessories is an easy way to mix in some rustic textures. Look for leather trays and catch-alls for your entryway or guest bedroom, or fill woven baskets with pine cones and small pumpkins and put them in any room.

7. Set the table: Rustic Charm
Let nature guide your fall decorating ideas this year and put together a rustic table for entertaining guests. While a rustic theme looks great in any season, earthy colors and textures work especially well for autumn when the leaves are changing so many beautiful colors.
Wood serveware really makes this look pop, and you can even repurpose a wood cutting board to serve appetizers, bread, or desserts for added homespun appeal. Create your own stunning but simple centerpiece by layering elements from the outdoors — anything from leaves to moss to bundles of dried wheat — or filling glass jars with seasonal foods like nuts, citrus fruits, and gourds.

8. Set the table: Modern Elegance
If your décor scheme is a bit more modern, you can create an elegant table with a more minimalist feel. Monochrome brown tableware is a great fall decorating idea that makes your dining area feel elegant and put-together, and is so easy to assemble: simply pair a brown table runner and placemats with a white tablecloth and china and look for tableware with brown accents.

9. Try a mobile bar
Fall is the season for entertaining, so why not wow your guests this year with a mobile bar? It's a fun way to liven up a party, take care of guests' beverage needs, and show off your bartending skills — even if you leave it in a corner all night. Add festive fall-colored glassware, a vase full of pumpkin-colored flowers and your favorite fall-themed cocktail recipes and you're sure to take the prize for "Best Hostess of 2013."
10. Create a seasonal nook
Taking a small area like a window seat or a corner in a larger room and transforming it for the season is a great way to get your home ready for fall, especially if you don't want to re-do the look of your entire house.
Invest in a small piece of furniture, like a curio table or stack of shelves, that can be used year-round to swap out and showcase all your seasonal décor. Then fill it with a few of your favorite fall décor accessories and a selection of natural materials (see tip number 5) and hang a fall wall hanging or mirror to complete a stunning focal point for any space.
Your best fall yet
Fall has got to be one of the best times of the year for decorating — there are so many ways you can get creative with styling your home and really embrace the season. Whether you're cooking up a storm, curling up with a cup of hot cider, or just enjoying the weather, let your inner designer run free and get ready for your best fall yet!
How do you invite in the season? What are your favorite fall decorating ideas? Tell us about it in the comments!
Rate this post:
[Total:

0

Average:

0

]