With spring comes a renewed effort to declutter and organize my home. Some days, it feels like a never ending process but I keep trying.  This week, I have been looking for spring decor accessories for storage that are attractive and colorful.  I had several plastic containers that I decided I really didn't like and wanted to replace them with something that I did like.
Spring Decor Accessories for Storage
One of the first things that I wanted to replace was the old plastic sewing box I had my sewing stuff stored in. I didn't like the color or the plastic material at all and wanted something pretty I could set out in plain sight and enjoy. Of course, I knew that NOVICA would have a wonderful selection of spring decor to choose from and I wasn't disappointed at all.
NOVICA had so many different spring decor accessories for storage that I had a difficult time choosing what I wanted. I wasn't sure if I should choose one of their beautiful handmade baskets or a box of some sort.  While I was looking, I found a number of beautiful jars that I'll be back for in the future.
In the end, I decided to get a decoupage box called "Birdsong" that was hand made in India. The gorgeous colors in this decoupage box mix both stripes with bird motifs in a silhouette. The artist, Smriti Bakshi, worked in decoupage to create this beautiful box. The box opens to reveal an orange interior that repeats the same bird patterns inside the lid.
This box is the perfect size to hold my sewing supplies. It measures 3.1″ high x 7.75″ wide x 6″ deep. The top has a small brass knob on the lid to make it easy to remove the lid. It's very well made and is a beautiful spring decor accessory that no one can tell holds my sewing supplies.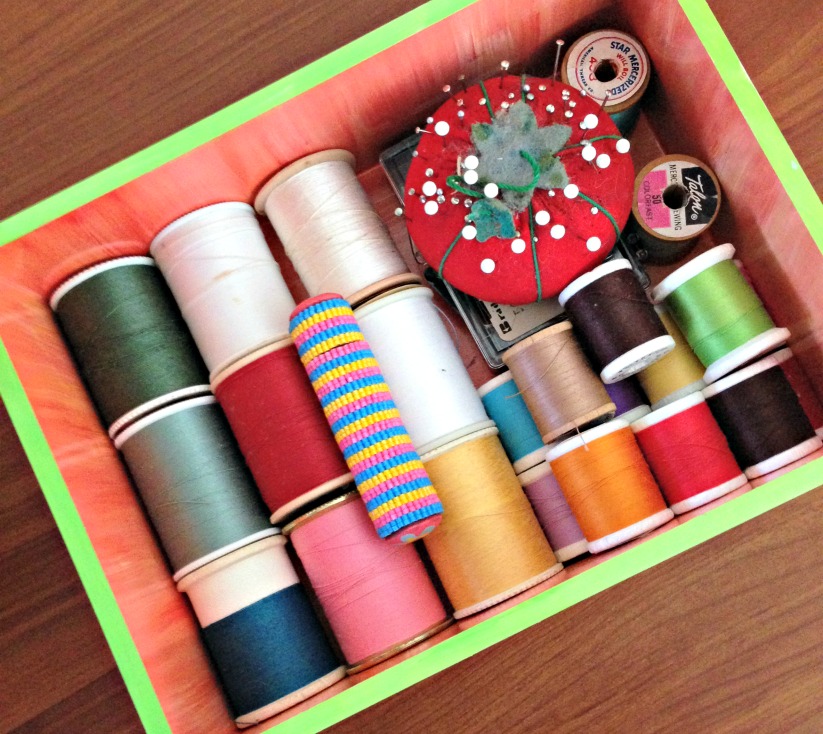 Like all of the unique handmade gift items I receive from NOVICA, this came beautifully gift wrapped and tied with a bow. The package contained a hand written card from the artist thanking me for my purchase and support along with a small card with information about the decoupage box that I received.
If you're shopping for new spring decor items for your home or as a gift, you really do need to look at the selection that NOVICA offers. Their products are all so well made and absolutely stunning. They are one of a kind gifts that you are sure to receive many compliments about.