We asked all the 'husbands' at NOVICA HQ what their ideal Christmas gifts from NOVICA would be, and there were 3 very clear choices that beat all others.   As advocates of all things NOVICA and manly – we figured that they might be onto something.  So here they are – the top 3 NOVICA team picks that could help you bag perfect Christmas gifts for your husband.
GIFT IDEA 1 – AN IMPOSSIBLY SOFT ALPACA SWEATER
Even our own CEO swears by them – a super soft alpaca sweater on your husband is good for the whole family.  As a Peruvian American growing up in Texas, NOVICA co-founder Roberto Milk had an unfair advantage at his elementary school.  His family had rare access to alpaca wool – and that meant he was an unsuspecting magnet for all the girls in his class who loved the soft fibers of his alpaca sweaters.
1:  'Cortijo Man in Blue'  //2:  'Informal Green'   //3:  'Navy Cuzco Casual'   //4:  'Informal Brown'  //5:  'Taking Flight in Cinnamon' //6: 'Cortijo Man in Beige' //7: 'Casual Gray' //8: 'Millenary Voyager' 9: 'Varsity Grey' //10: 'Gray Inca Hills' //11: 'Ice Earth' //12: 'Brown Inca Hills'
The positive feedback young Roberto received has played a huge part in our enthusiasm for this special  yarn.  We are excited to have built up our alpaca collection to rival the offerings of most major department stores.  If you are searching high and low for sublimely soft pullovers and want to shop ethically and fair for perfect Christmas gifts for husbands  – look no further!
GIFT IDEA 2 – INDIANA JONESY 'GEAR AND TREASURE'
Whether your husband was chasing imaginary treasures on his BMX… or he was taking you on your first cinema date to watch his favorite hero eat chilled monkey brains in "The Temple Of Doom" – most men admire the world's favorite archaeologist – and would be quietly excited to receive an artifact for their man cave that gave them a talking point and made them look just a little bit like Dr Jones.
"Why of course I've been to West Africa – that's where I was gifted this mask while hanging out with the Ashanti Community in Northern Ghana!"
1:   'Good Energy' //2:  'Yaa Asantewa'   //3: 'Mystical Hunchback'    //4:  'Explorer'  //5:  'Beloved Buddha'  // 6. 'Empowered' // 7. 'Ancestral Greeting' // 8. 'The Highroad' // 9. 'Chavin Personage'
GIFT IDEA 3 – A TOUCH OF GLOBAL 'BLING'
What!?  Jewelry for my man?  Even those brutes that won't wear a wedding ring are partial to a little secret bling every now and then.  It's true, jewelry is not for every man – but if your guy is partial to even the slightest bit of personal embellishment then NOVICA is a veritable goldmine of tasteful bling for men – especially HUSBANDS!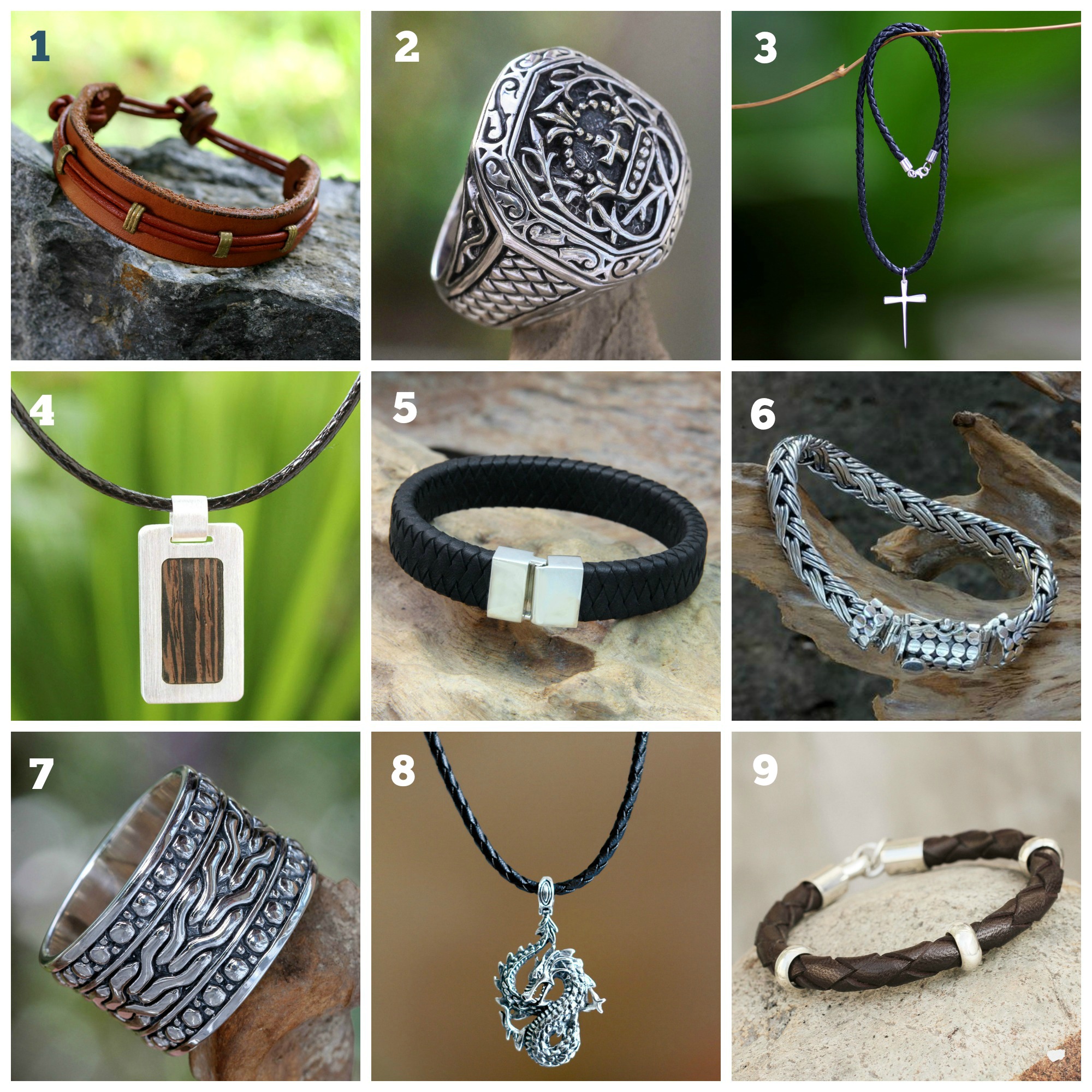 1:   'Stand Alone in Tan' //2:  'Cardinal'   //3: 'Holy Sacrifice'    //4:  'Urban Hero'  //5:  'Courage'  // 6. 'Friendship' // 7. 'Water' // 8. 'Dancing Dragon' // 9. 'Chankas Warrior in Dark Brown'
If you thought this post was useful or entertaining – please share it using the social buttons below. Artisans benefit every positive action you take.  Thanks for helping us to #spreadhappiness!
Rate this post:
[Total:

0

Average:

0

]