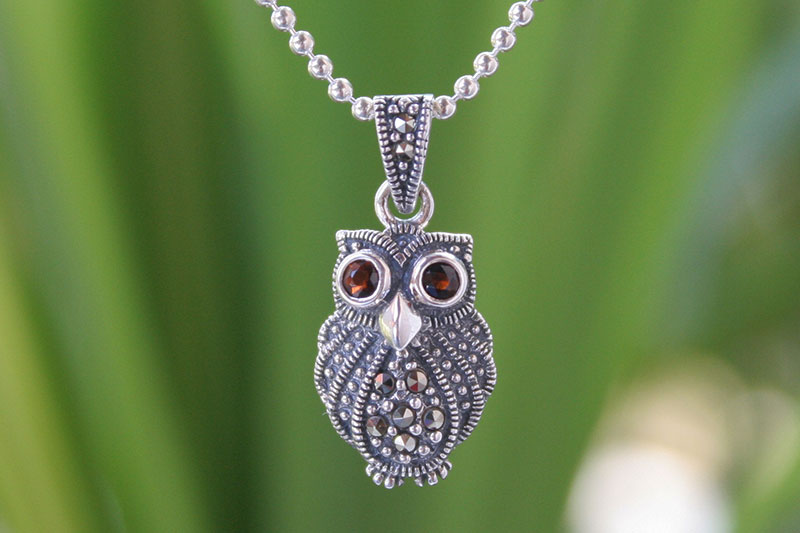 By Allison Dial.
With a new season already upon us, we're all looking to give our wardrobe a little update. And savvy fashionistas know the easiest and most cost-effective way to do so is with jewelry that speaks to this season's biggest trends.
If you're wearing the same "jewelry uniform" every day, it might be time for an upgrade. This season's necklaces, bracelets, rings, and earrings are all about size, volume, and edginess. So pile on as much weight as you can carry, and let your inner warrior be your muse. Read on to learn all about fall's top jewelry trends and get ready for your most stylish fall yet!
1. Oversized cuffs
An oversized cuff is a great alternative to an armful of bangle bracelets for the woman on the go. Rather than spending time layering, you can just slip one on right before leaving the house and still make a big impression. This look works best with a relatively bare arm, though, so be sure to pair your show-stopper cuff bracelets with shorter sleeves or roll up your longer ones.

2. Stacking rings
Dress up your fingers with stacking rings, one of the easiest trends to pull off this fall. You can mix and match pretty rings from your jewelry box or grab a matching set to give your look a huge dose of rocker chic.
3. Mixed metals
Mixing metals, just like your mother told you not to, is definitely no longer taboo. Give yourself a rich, eclectic look this fall by combining multiple gold and silver pieces in a single area of wear. Not sure how to get started? Begin your layering with a gold accent piece to help create a harmonious mixture of the two.
4. Chandelier earrings
Chandelier earrings are your go-to "look-at-me" piece when you feel like giving your statement necklace a day off. They're so romantic and feminine, especially paired with a sleek ponytail or fabulous up-do or sitting on top of cozy fall necklines and scarves. Plus, they have the added benefit of making your neck look longer!

5. Cuff earrings and cartilage jewelry
You used to only see them on a handful of avant-garde fashionistas, but the cuff earring trend is gaining momentum and showing no signs of slowing down. Give it a try and infuse any good-girl look with a little toughness!

6. Bright, chunky rings
Call it the statement ring: go large enough and it will become the focal point of your outfit. Bold rings are a great trend to invest in because bright colors will perk up a darker fall wardrobe, and you can keep wearing them when the weather starts to warm up again. Extra points if you wear multiple bijoux on each hand and stack them with band rings!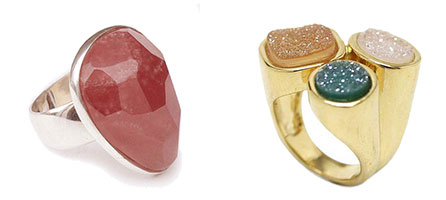 7. Glam chokers
With the revival of all things '90s and punk this season, the rebirth of the choker necklace was inevitable. Fortunately, for fall 2013 the choker is back with class, moving away from the ribboned, mid-neck styles of decades past and dropping to the bottom of the collarbone for added statement-making power. Don't be afraid to pair yours with more girly pieces like pearls for a fun and unexpected contrast.

8. Statement necklaces
Statement necklaces might just be the number one trend for all of 2013. It's easy to see why: they're ideal for busy days when you want to spice up a simple outfit — they'll even transform jeans and a white T-shirt into a full-on outfit! On the flip side, they look so polished and romantic when you pair them with a button-down shirt or a pretty party dress.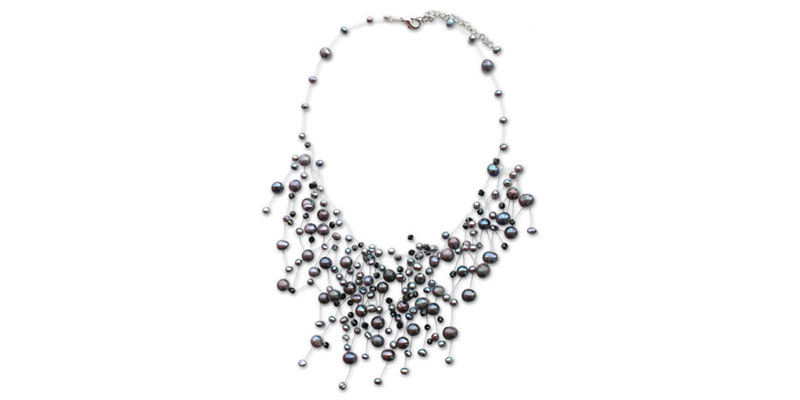 9. Layering small pendants and charms
Not sold on all the oversized styles this fall? Don't worry — there are still plenty of options for those who prefer smaller, daintier accessories. While a little harder to pull off than other current jewelry trends, wearing a few small pendant necklaces and charms is a great way to channel your inner bohemian and sport a laid-back yet polished look. Pair two necklaces of varying length on any outfit (or choose a pre-layered piece, like the one shown below) and you'll look like the picture of fall 2013.
10. Animal-themed jewelry
The animal-themed jewelry trend has been going strong for a while now, but nobody's complaining. It's a cute and quirky addition to any woman's jewelry box — plus you get to choose your favorite wild thing. Whether you like adorable woodland creatures like the ever-popular owl or exotic animals like elephants and jaguars, animal-themed jewelry in any style is more accessible than ever. Mix animals in as charms or pendants in your layered pieces for extra trend power!

Fall for jewelry this season
Jewelry is the easiest way to take an ordinary outfit and make it outstanding. And with so many different styles to choose from and unique looks to create, fall 2013's bold jewelry styles have us so excited. So what are you waiting for? Step into the spotlight with this season's biggest trends and get ready to look your best!

Will you be adopting fall 2013's jewelry trends? Are there any that we missed? Tell us about it in the comments!
Rate this post:
[Total:

0

Average:

0

]