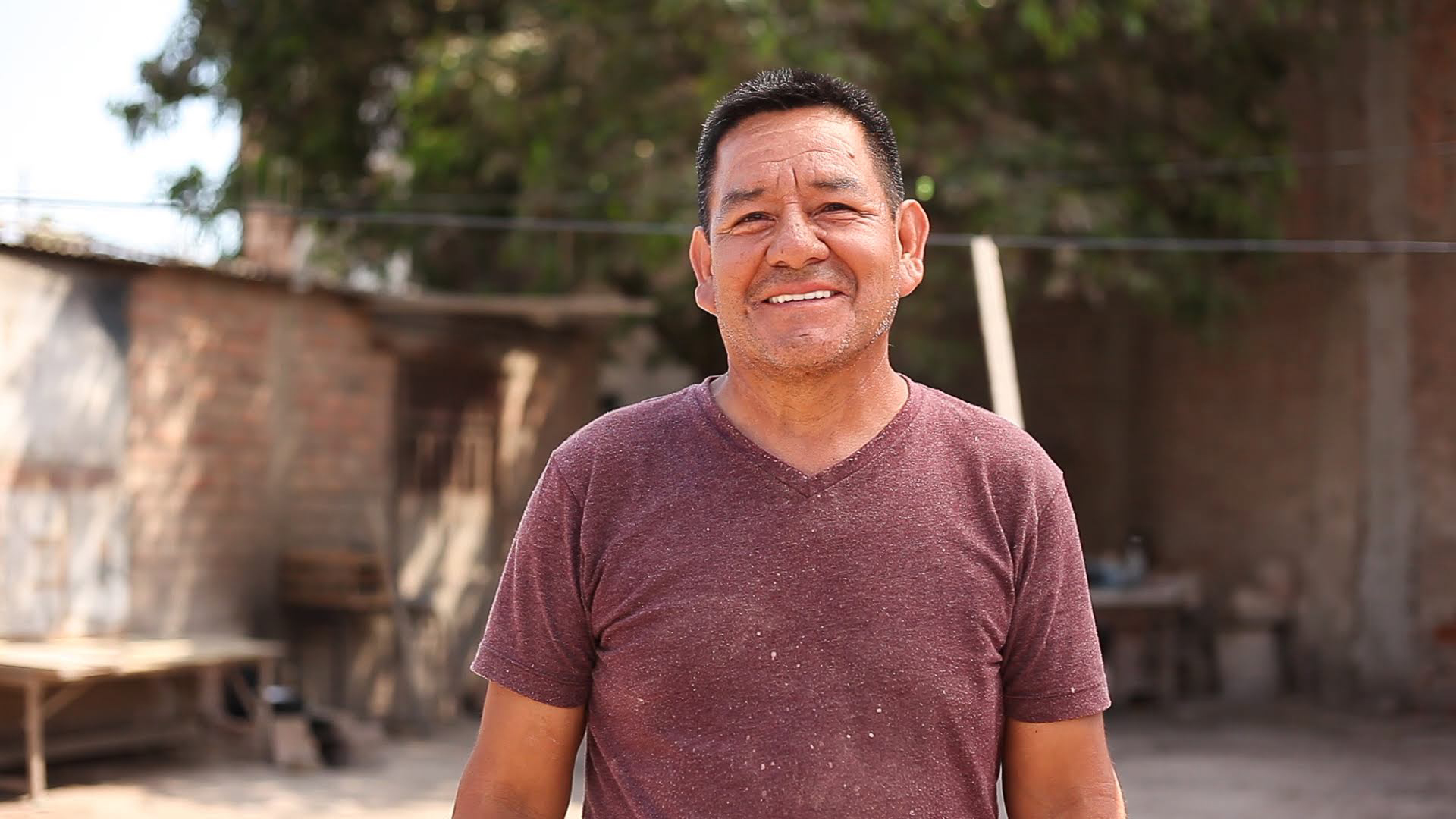 From the outside, it looks like a simple house under construction but inside, it's really the laboratory of a self-taught artisan.
This is my first impression of Walter Acosta Mires' home-workshop. What makes this experience unique is the collection of pre-Hispanic ceramic replicas scattered throughout the room. Some are large and others are very, very small. They come in many shapes and colors.
In the middle of this cultural disarray, I find the artisan, a 56-year-old ceramist who models clay with the grace of a sculptor and grasps his tools with the precision of a surgeon. To one side is his work table, and on it are his most recent archaeological replicas; from a small Andean llama to a couple of nude cuchimilcos from the Chancay culture. The cuchimilco inspired the creation of Milco, the mascot for the Lima 2019 Pan American Games.
"What do ceramics mean to you?" I ask while observing him.
"For me, ceramics are like a religion. You want to get out and you can't — they won't let you, they pull you in. They absorb you and you feel that time goes faster," he replies with a smile and his world, filled with anecdotes and experiences, begins to open like a book.
A self-taught artisan
Walter Acosta began to familiarize himself with pre-Hispanic ceramics at the age of 16. He had been living in Lima for a few months after leaving his hometown of Huambo in search of better opportunities. This is how he and his younger sister emigrated to the capital.
"In my hometown, we didn't have anything. We had to use our imagination for everything. When I was a boy, we made our own ball of rags and played soccer with it after school. When we came to the capital, I also had to find a way to support myself. I needed a job to pay for my tuition, food and for buses," the veteran artisan explains.
One of his first jobs was helping an older woman with her housework. She was retired and had a lot of time on her hands, so she enrolled in the Escuela Nacional de Bellas Artes and turned her back patio into her studio. There, Walter discovered art in its finest expressions as he watched her create new paintings, drawings, and sculpture every week.
Toward the end of the 1970s and the beginning of the '80s, tourists realized that Peru is an attractive place to visit. As a result, more jobs became available in artisan workshops. When Walter saw an ad for a workshop hiring employees, his eyes began to shine. He was fascinated by the ceramic arts and asked the manager to give him a chance to work there.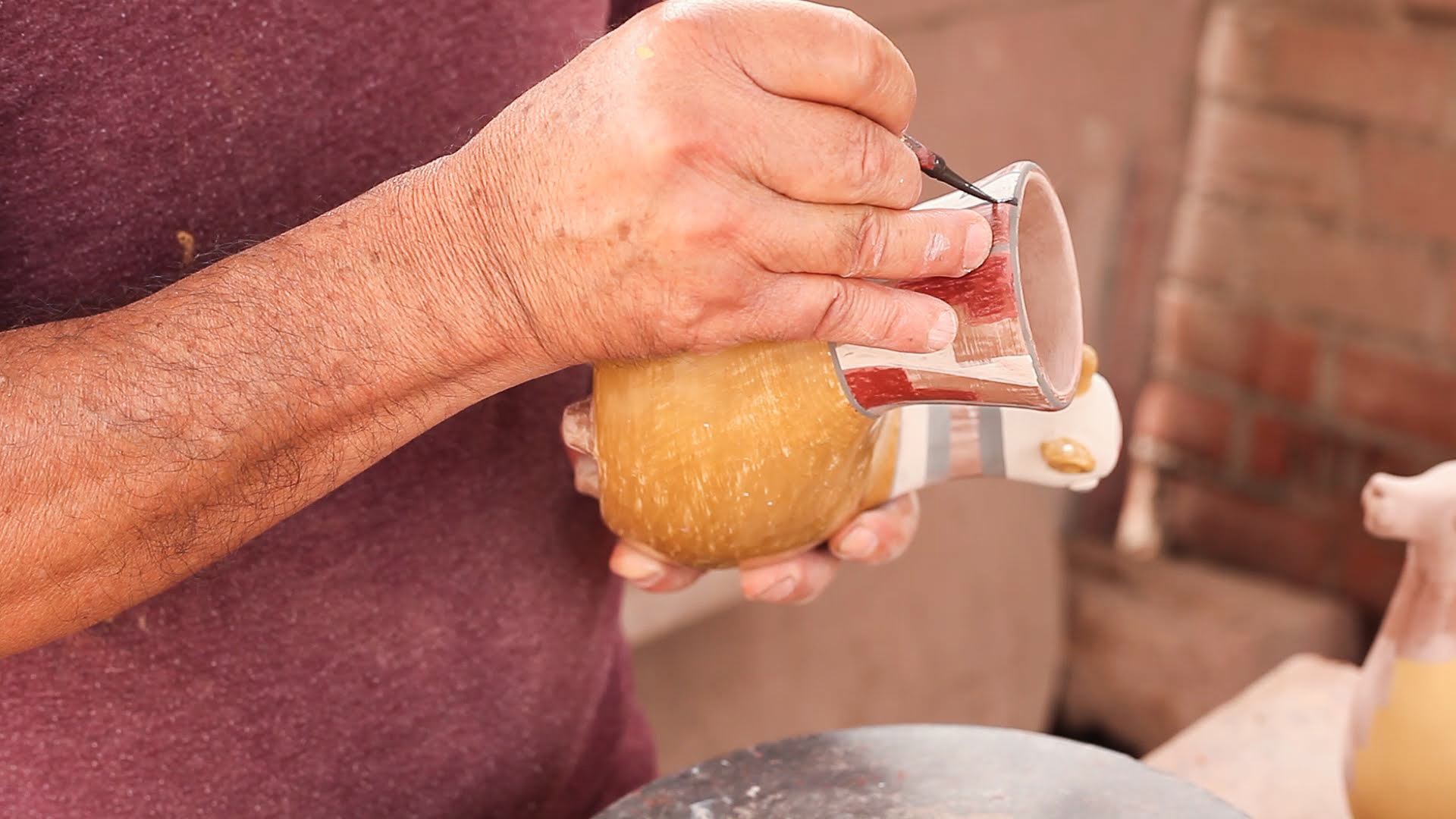 "I was the youngest person there. Because I had no experience, I was forced to start out with tasks like polishing and finishing. But I wasn't satisfied with this. I wanted to do more. I asked one of the designers to give me a chance to learn how to shape the clay. At first, he wasn't convinced but finally, he agreed to let me take a little clay and a finished piece home with me. I had to make an exact copy and have it ready the next day," Walter recalls.
"This was the first time I made a pre-Hispanic replica," the artisan confesses.
That night, he shut himself in his room and began to work. Adrenaline kept him awake all night and it was time enough to achieve an exact copy of a "huaco," as these pre-Hispanic ceramics are known in Peru.
It was an extraordinary job. The next day, he showed it to his boss who approved it and promoted Walter to the job of principal artisan in the workshop. This is how the self-taught artist got his start. He learned to define ceramics as the art of removing everything non-essential from the clay until it takes on a life of its own. Walter was only 23 years old. He'd come to Lima in search of bronze but ended up discovering gold.
Walter's early ascent as an artisan led him to work in a number of workshops, where he expanded his knowledge over four years. Then he decided to rebel. He wanted managerial independence and he found it when he set up an improvised workshop in his aunt's house. There he crafted ceramics for the few orders he received from a greatly reduced number of clients. First, he'd draw the pre-Hispanic style he wanted, then he'd craft it in ceramic. Yes, Walter Acosta drew his designs because he didn't have ceramic catalogs or history books.
"I'd go to the National Museum of Archaeology, Anthropology, and History of Peru in Lima's Pueblo Libre neighborhood because the entry fee was cheaper. I drew in an old notebook, then I'd return to my workshop to create the images in clay," he says, laughing.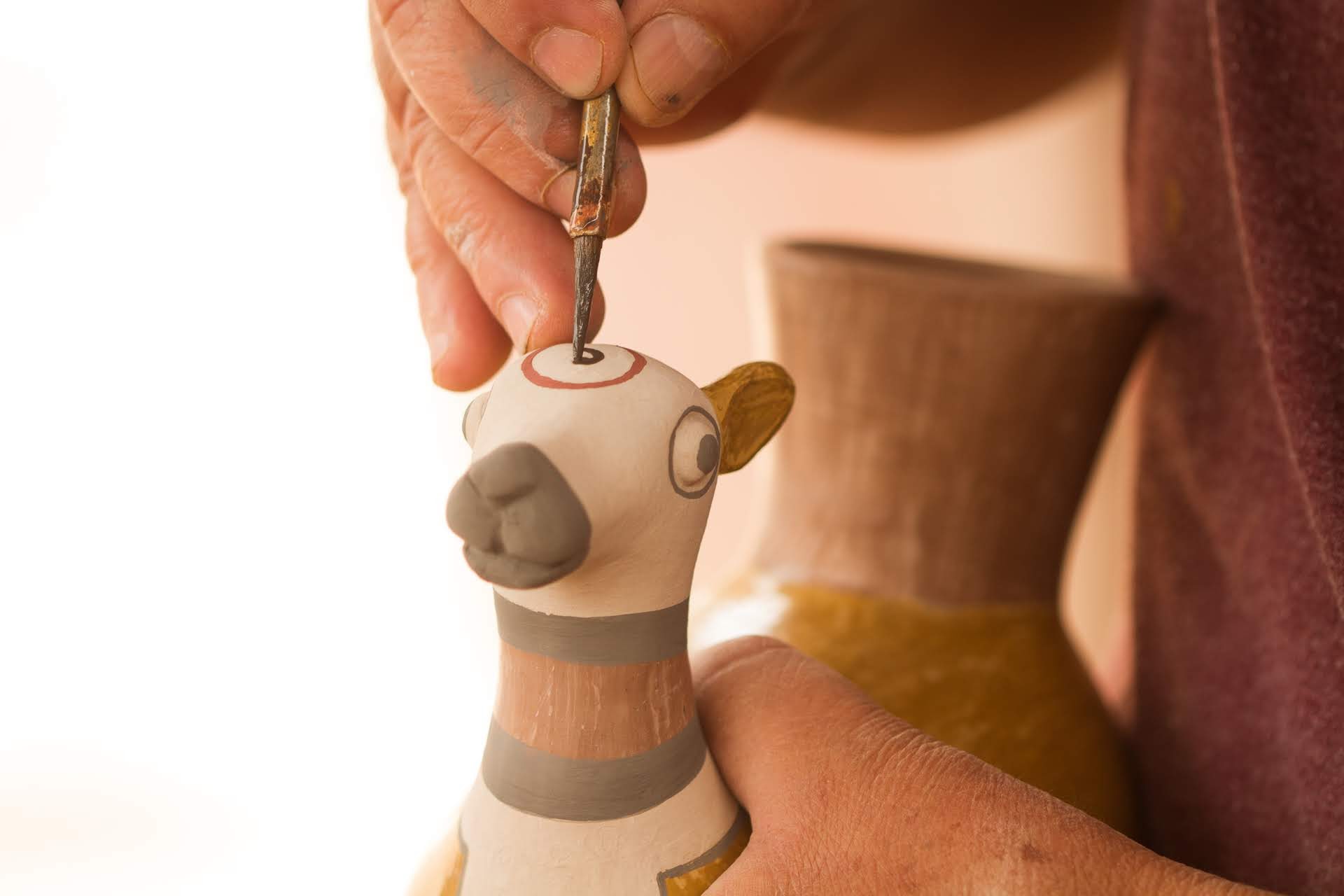 He didn't have the resources needed to enroll in an art school but he did sit in on classes more than once.
"I didn't have the time or money to study. Luckily, entrance to classes at the Escuela Bellas Artes del Peru was free. No one took roll. I just went to watch and listen in classes taught by professors who worked in sculpture and ceramics. Afterward, I return to my workshop to imitate their ideas," Walter confides.
Tripping and falling
Learning on his own let him define his style and technique. He confesses that more than one archaeologist was fooled by his work. "This is due to the aging process I use in my designs," he says as though it weren't a secret.
Ceramics also brought Walter the opportunity to work with the Peruvian archaeologist Walter Alva, who discovered the Royal Tombs of Sipan, and with the forensic anthropologist Sonia Guillen, known for her research in preserving the mummies of Leymebamba in the Amazon region. Both asked Walter for the same thing — replicas.
"They asked me for copies of pre-Hispanic ceramics for their studies. The originals are difficult to transport from one place to another and, in addition, they require special procedures and paperwork. So they sent me photographs of the huacos and I crafted them in clay. Other times, they lent me the original pieces and I worked in special rooms inside the museums," the artisan explains.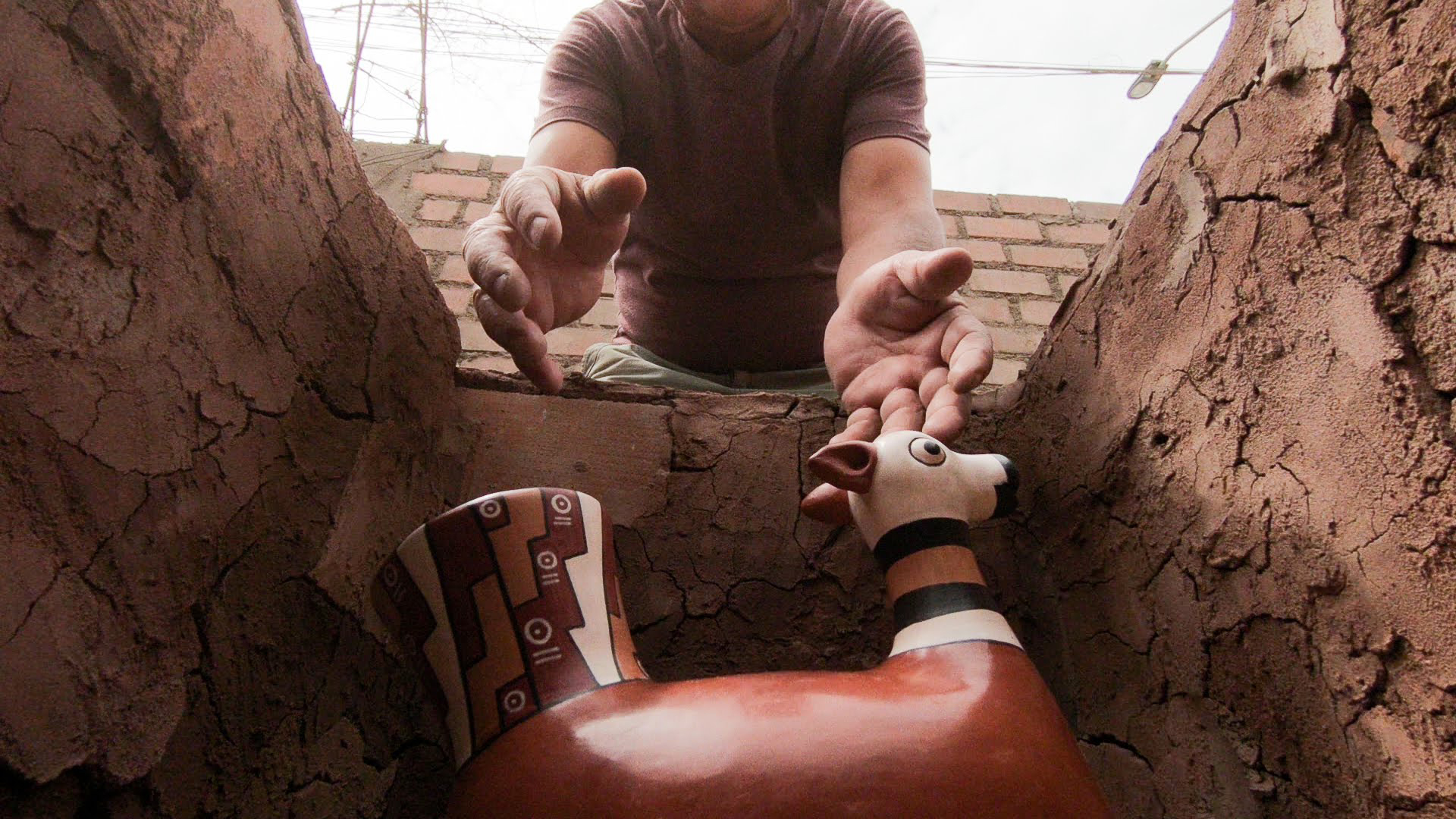 Walter had become popular in the field of archaeology. He didn't think of anything else but his work. His orders increased when he signed a contract with a transnational business. But his work became too much and he spent eight years without realizing he was chained to a routine. Finally, he decided to free himself.
"I realized that I didn't like the ceramics I made anymore. Due to the pressure, I had to finish quickly and fill the orders. I felt like I was just scribbling any old thing. When I saw this, I told myself, 'We're going to stop now.' So I decided to retire to rescue myself."
That decision took a great load off him. Walter recovered all the time he's lost. Today he dedicates his time to shoppers at NOVICA, where he's worked along with his family for ten years. He assures me he'd rather work a thousand times with NOVICA because his work is appreciated by the shoppers there. From then on, life smiled on him once more. His replicas again fascinate both handicraft aficionados and those who are less expert.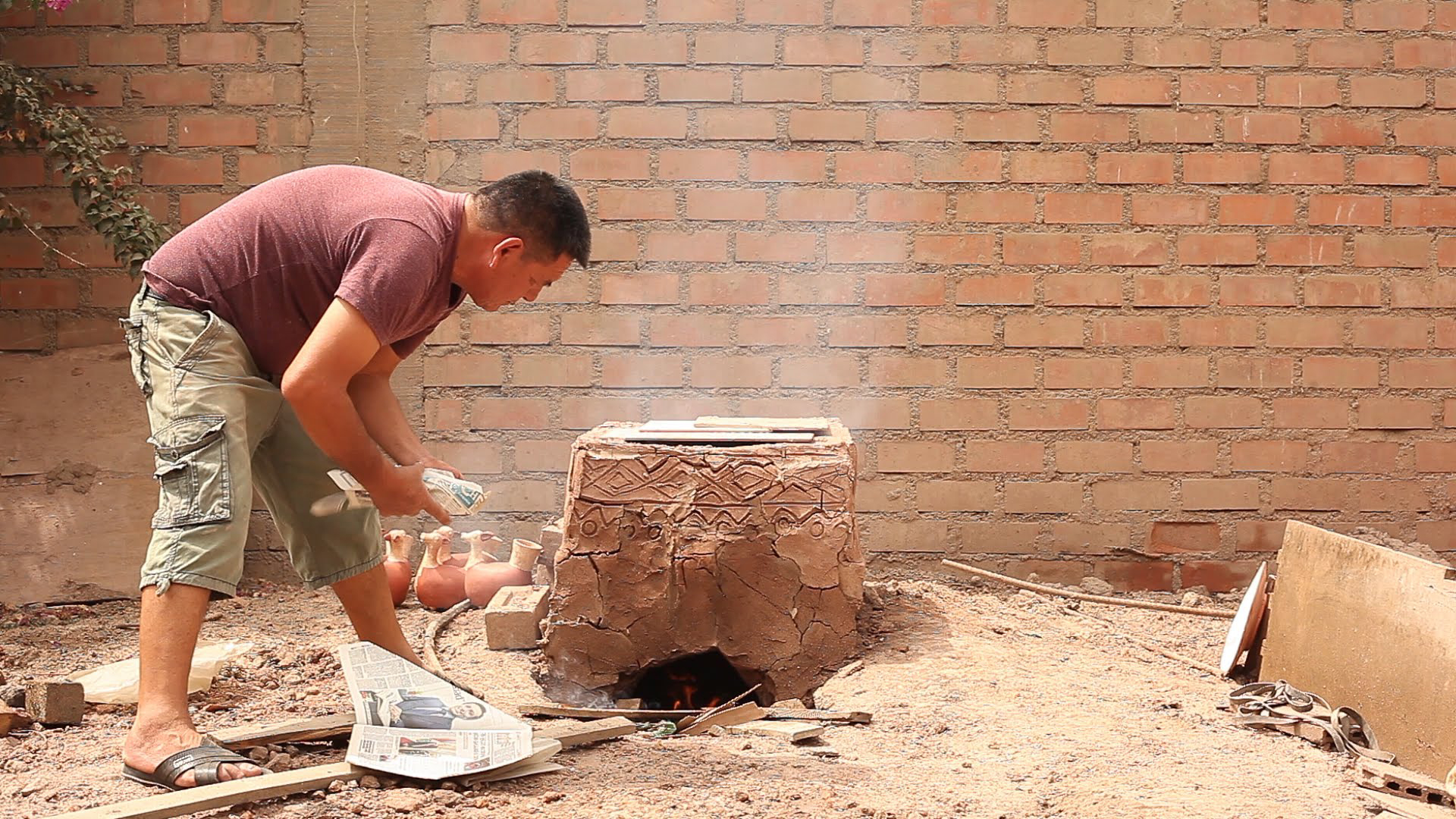 "I believe that ceramics are a way of sharing the legacy of our ancestors. That's why NOVICA is very important in my life. I enjoy working here with inspiring people who know how to appreciate art. People who began with only a dream but who, although they had little, have become great. Even so, they haven't lost their simplicity.
As though it were the last ceramic design
Today, Walter crafts every replica as though it were the last of his lifetime. He works calmly, taking the time he needs to achieve a perfect finish in each one of his designs. "Now that I'm older, I think I should have studied archaeology when I was young. It would have been wonderful to have experienced it or to have combined both professions," he says with a deep sigh.
Like other artisans who have practiced their craft for a long time, Walter dreams that all his work will be remembered and never forgotten. For this reason, he hopes to have his own museum where he can exhibit every kind of pre-Hispanic replica and something more. "I'm renovating my workshop in Puente Piedra in the north of Lima to convert it into a museum. I plan to also include Aztec ceramic art from Mexico and some pieces from ancient Egypt. I can offer the visitor a little bit of everything — it will be an international museum."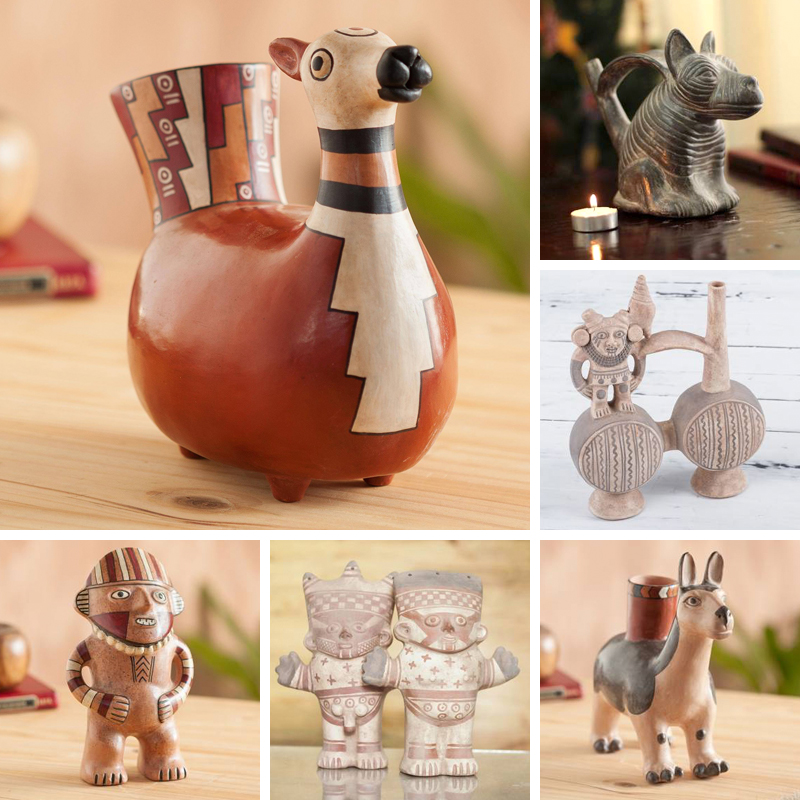 Walter Acosta thinks about this and other dreams until he remembers work he still needs to do. He smiles.
I watch him and think that despite everything, Walter has found his ideal place. He seems to live life to the full, as though he were a wealthy retiree who enjoys creating art in his back patio. I say goodbye and leave his home-workshop and the world seems to stop for a moment. It's not due to the grey sky of Lima. It's because leaving this small world of ceramics is a drastic change of reality.
Interview by Gunther Felix in March 2019, in Walter Acosta's home-workshop in Lima's Pueblo Libre neighborhood.