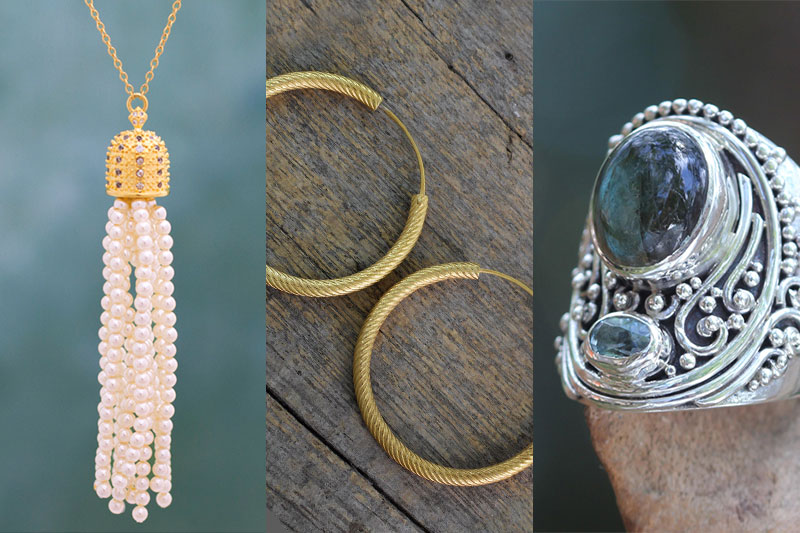 Pearl Tassel Necklace                   Timeless Twist Hoop Earring                         Misty Starlight Ring
Looking to inject a bit of newness into your wardrobe? You're in the right place! Jewelry is one of the easiest and most cost-effective ways to transform your closet, and today's jewelry trends are especially irresistible. With our dedicated team of merchandisers and fashionistas looking to every corner of the globe to find the best and most sought-after in fair trade, artisan-crafted jewelry, we've compiled our top three jewelry trends to wear right now. Enjoy!
Tassels and Fringe
Along with the rise of all things fringed and bohemian, the tassel jewelry trend shows no signs of slowing down this season. Chic yet full of whimsy, tassel earrings and tassel necklaces are a great way to add movement, depth, and volume to your outfit. We love tassel earrings styled with hair in buns and ponytails for a sophisticated, neck-lengthening look — or a tassel necklace paired with a simple T-shirt and jeans for instant "wow" factor!
Whether you prefer funky tassels made of bright-colored thread, tassels made of delicate strings of beads, or tassels formed from high-shine metallic chains, now is the perfect time to incorporate this fun, boho-chic trend into your jewelry wardrobe.
Gold Hoop Earrings
Gold hoop earrings have been in the jewelry scene for some time now — their heyday was in the 80s and early 90s, but gold hoops have been found in the ancient Sumerian archaeological site of Ur that date to 2500 BCE! Nevertheless, they're experiencing a huge resurrection lately, and we are loving the return of this always-chic classic style.
Pair larger gold hoops with your favorite off-shoulder styles for eye-catching and flirtatious looks, or wear smaller styles on office ensembles for a sleek and streamlined vibe. For a twist on the gold hoop earrings trend, look for pieces adorned with colorful gemstones, intricate filigree metalwork, or dainty pearls.
Iridescent Gemstones
With their soothing, mystical glow and dazzling hues encompassing all colors of the rainbow, it's no surprise that iridescent gems have emerged as a strong jewelry trend lately. Opal jewelry, rainbow moonstone jewelry, and labradorite jewelry can be seen everywhere flashing captivating interplays of color and light.
Opal birthstones have been preferred for years by the October-born, but now everyone seems to be getting on board with the opal jewelry and moonstone jewelry trend! For brides-to-be looking for something a little different, sparkling opals and shimmery celestial moonstones have emerged as a sought-after choice for engagement rings. These stones seem to glow with an inner light (ancient Hindus believed that moonstones were literally moonbeams made solid!) complementing a variety of metals and other gems.
Sometimes considered a "sister" gemstone of rainbow moonstone, labradorite jewelry has also become extremely popular lately. With a slightly darker, more mysterious hue than opals or moonstones, labradorite's flashes of green and blue light add depth and dimension to the jewelry it adorns. In fact, Inuit peoples believed labradorite to be the frozen fire of the Aurora Borealis — a perfect reason to add this stylish and fascinating gemstone to your wardrobe.
Fair Trade Styles to Wear Now
All trends come and go, but with styles this good to try out, we hope these three jewelry trends stand the test of time. And as always, shopping unique fair trade jewelry from artisans is a surefire way to make things extra stylish!
Do you have a favorite jewelry trend you're loving right now? Are there any big styles we've missed? Tell us about it in the comments!