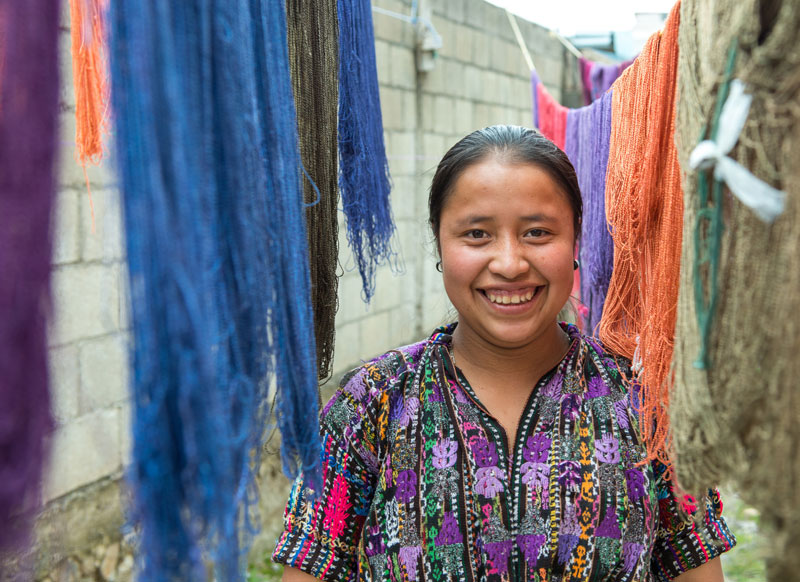 The scars of Guatemala's 36 year civil war run deep, and bearing the brunt of this conflict has been the lot of the country's indigenous Maya population.
Widowed, illiterate and financially destitute, many women from Maya communities within the district of Sololá faced a bleak future. It was the founding of groups such as the K'amolon K'i K'ojonel (eng: "lets get together") that would turn the tide of misery for these women.
The brainchild of leaders from the Triunfo community in Pujujil, it began as an arts and crafts project in 1987 with  financial aid provided by Vancouver businessman Ronald Spector. Funds provided by him were used to buy materials and pay the first 17 women members to weave scarves and shawls to sell overseas.
Mr. Spector went on to help them search for a fair price, introducing them to the international fair trade market.  Soon after, married women from the community joined the program, followed by a group of widows from El Adelanto, a neighboring community also affected by the massacres.  By the end of the first year, there were 100 women weavers in the project.
Since its foundation, the K'amolon K'i K'ojonel has grown into a successful association for women run by women, with 200 active members. Their major achievement has been the founding of a women's group that has become a major source of psychological stability to the region's broken families, while providing much needed financial relief.
These women have claimed for their own the mastery of the back strap loom, just like their mothers and grandmothers did before them.  This is arguably the oldest method of weaving on Earth, with pockets of similar techniques present in the Himalayas, Indonesia and Central America.
Maria Ajcalon (above) and Rosa Yaxon (right) both learned this art from their mothers. Although Maria lost both of her parents at an early age, she retained the weaving skills and work ethic her mother taught her.
Rosa started perfecting her art from the age of 12. Since then, she has honed her skills to become the association's chief dyeing expert, and now shares her knowledge with the group's other women.
The women are proud of their motto, "Weaving a Better World" because if reflects their philosophy on life. They are proud to be rescuing such a legendary art on the back strap loom and to be able to offer their children a better future.  In some cases, these women have  become the primary, or even the only source of income for their families – something difficult to attain for women in many parts of of Guatemala.
What do you think the future holds for these groups?  How can we motivate more retailers to work with them, and how could NOVICA help them better? Please let us know in the comments below… (especially if you've bought one of their items before!)
You can support these courageous women through NOVICA on this page.
Rate this post:
[Total:

0

Average:

0

]