The fight to survive in uncertain times
During this difficult period, our mission remains strong and essential–perhaps more than ever. We believe that unity and togetherness will create a better world. (Now we just do it wearing face masks.) Meet the global makers who are helping to protect us all.
This year, we have experienced how quickly life can change. The unprecedented shift caused by COVID-19 has impacted every single one of us.
Global artisans have felt that impact in devastating ways, as tourism has dwindled and craft markets have fallen silent.
Yet many have channeled their creativity and ingenuity into new projects: handcrafting face masks for themselves, their loved ones, and the world.
Allow us to introduce just a few of these very talented artisans, whose handmade creations have quickly become customer favorites. As you browse their collections of beautiful, unique face masks, know that your purchase not only saves lives within your immediate community, it also sustains the lives and livelihoods of artisans around the world. Let's continue to support each other!
Artisan, Maria Cristina Martinez says, "When COVID-19 came, I wanted to protect my husband, my children, and my grandchildren – but in Mexico, there was a shortage of face masks. So I made masks for my family and friends, and neighbors began to ask where they could buy them. I began to make masks to sell and now my masks are being worn in many places in the world.
"This is a noble experience for me. I am taking care of my family and I am doing my part in some small way to keep COVID-19 from spreading."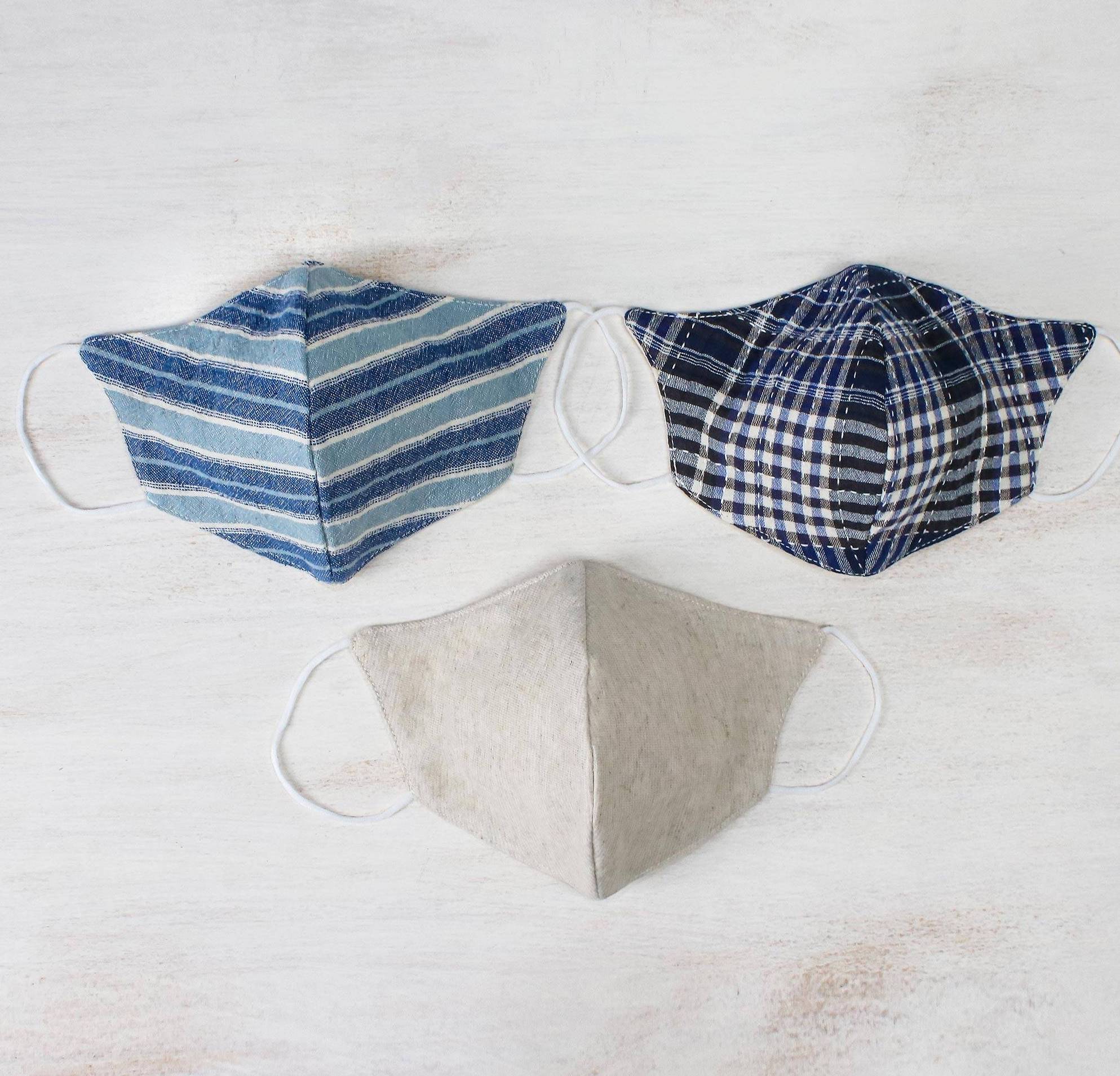 Artisan Jamriang tells us, "When the virus came, orders for clothing seemed to disappear and so did our income. My workers were worried that I would close. I realized that there was a way for us to survive by taking advantage of what we had. We are skilled sewers and we had some fabric stock. We began to make masks instead of clothing, and NOVICA put the masks on the website. Customers loved the natural cotton and linen, the soft fabrics and we always have orders coming in. My workers have income and I thank everyone – I think that when people are wearing my masks that they have a smile under the mask that is sending encouragement to everyone.
"We can all be strong and we will get through this difficult time together."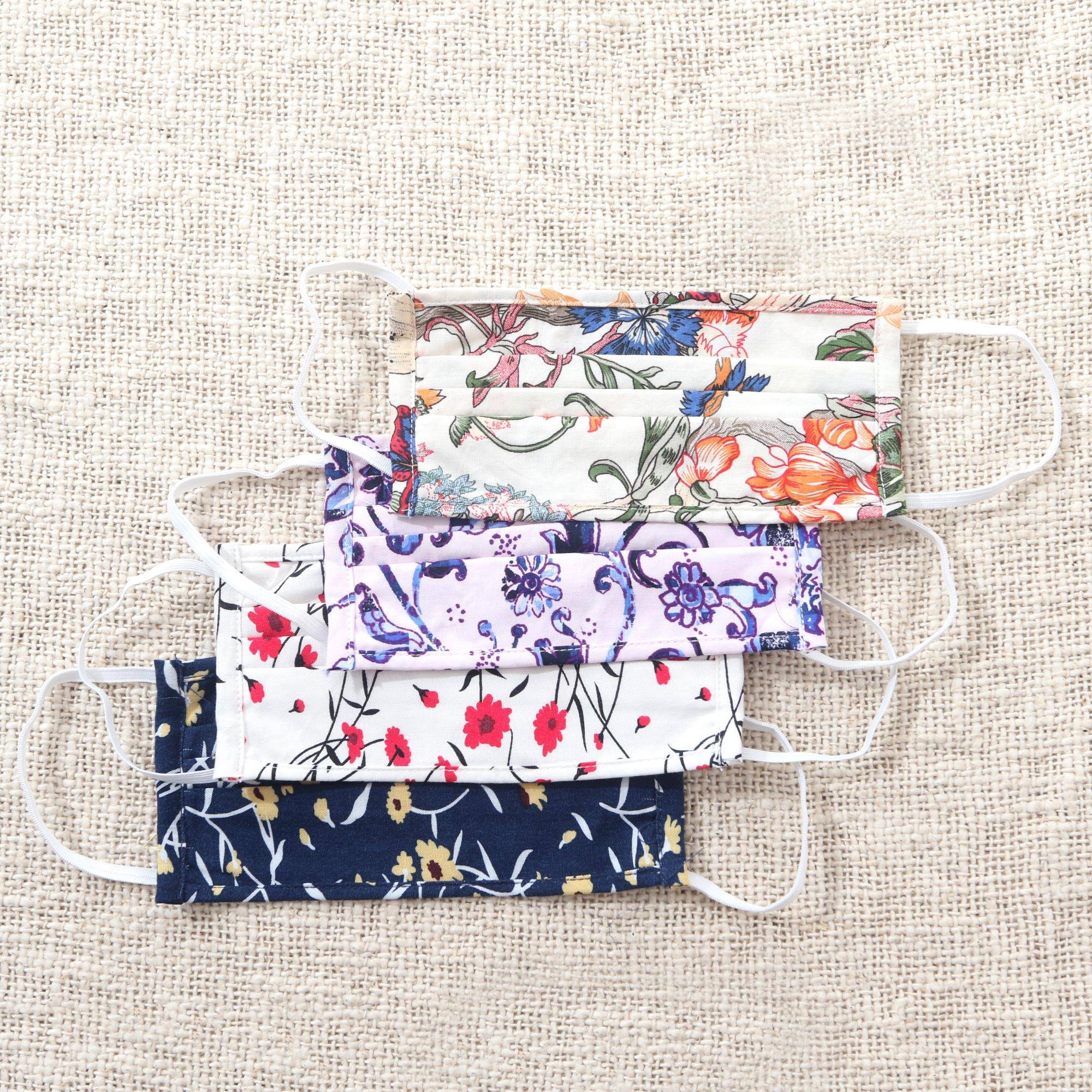 "When COVID-19 came I was very afraid," says Made Suciati. "Tourist hotels and the boutiques that sell my clothes were closed – I worried about how I would support my family and how my workers would support their families. Then I thought of what we do every day – the cut fabrics, the embroidery, the beadwork that we use to create our clothing could be used to make masks.
"Our masks are both functional and beautiful – to make them encourages us to keep going and we want to encourage you to keep going when you wear them. We will survive this together."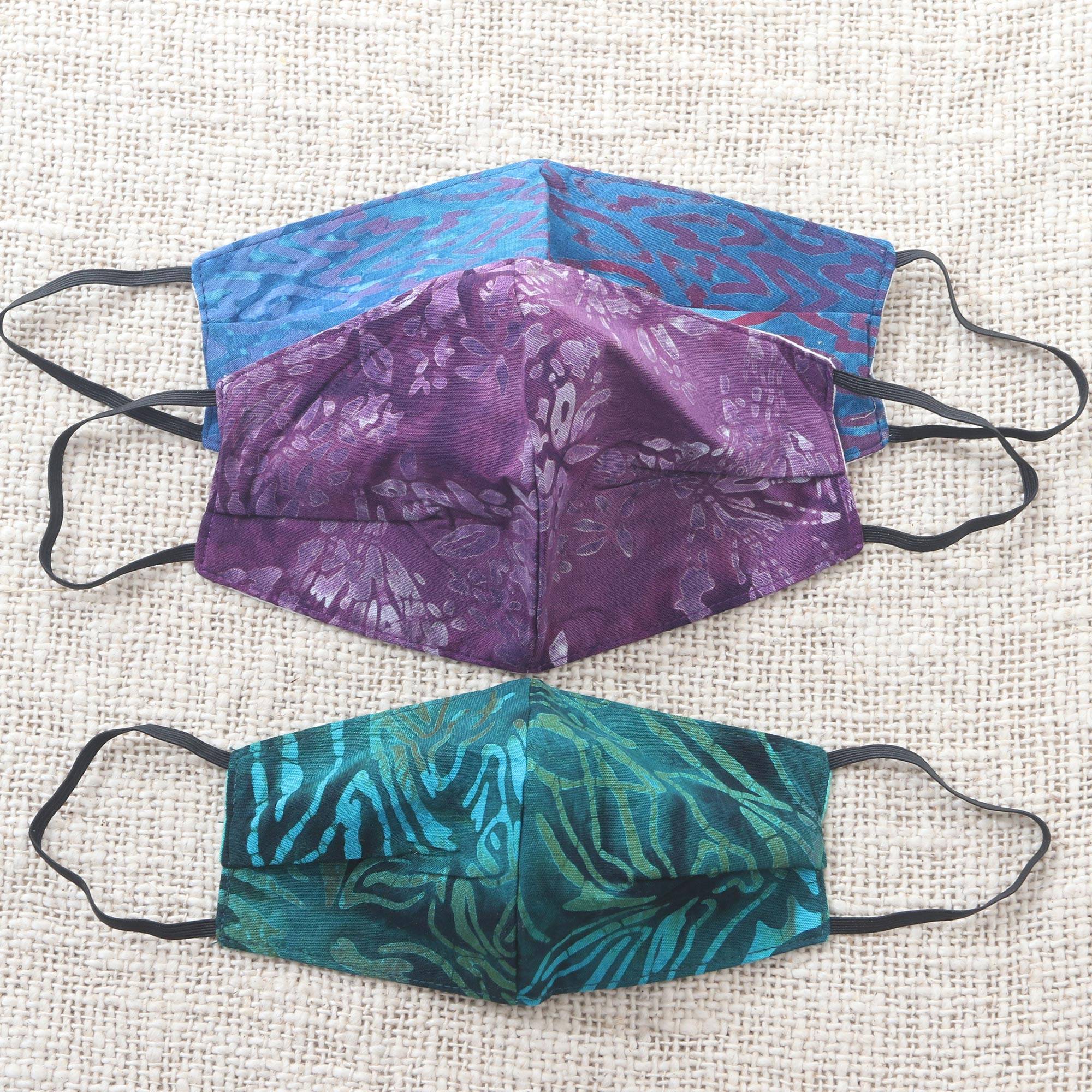 "When the pandemic came, it was terrible – there were no tourists. The stores that sell my clothes closed their doors and canceled my orders. I was stuck with all the batik material. I learned that disposable masks were in short supply and I began to make masks that were washable and reusable from my material. I gave them to family and friends and then to those that needed masks because they had no money. Everyone was liking my masks and I thought – if NOVICA sells my clothing maybe they can sell my masks. NOVICA customers have liked my masks and I have been able to use my material and to keep my team of workers.
"We are grateful to everyone around the world who has bought our masks. We are able to take care of our families while helping to keep you safe – we hope that when the pandemic is over that you will come and see the Bali life."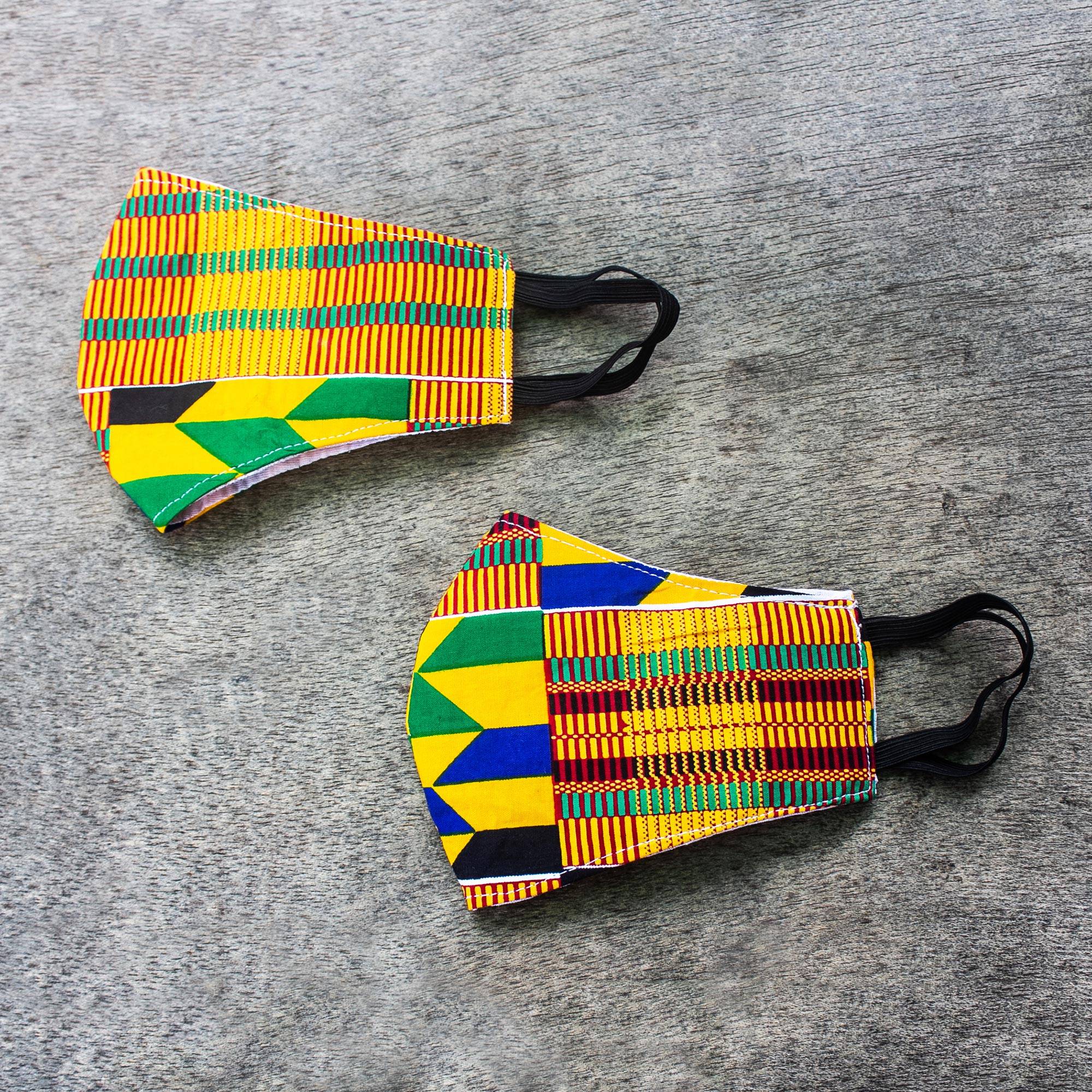 West African artisan, Justina Botwey says, "Focusing my efforts on making face masks is important to me because I know it's a way of helping save others from contracting and spreading the virus. I have been able to establish a new source of income from making face masks and am able to fend for myself and others. Even though COVID-19 has pushed me into doing things differently, I still want to maintain my uniqueness. Thank you for wearing my face masks.
"Your purchases help feed others. Please take good care of yourselves so we can all fight this disease and make the world a better place."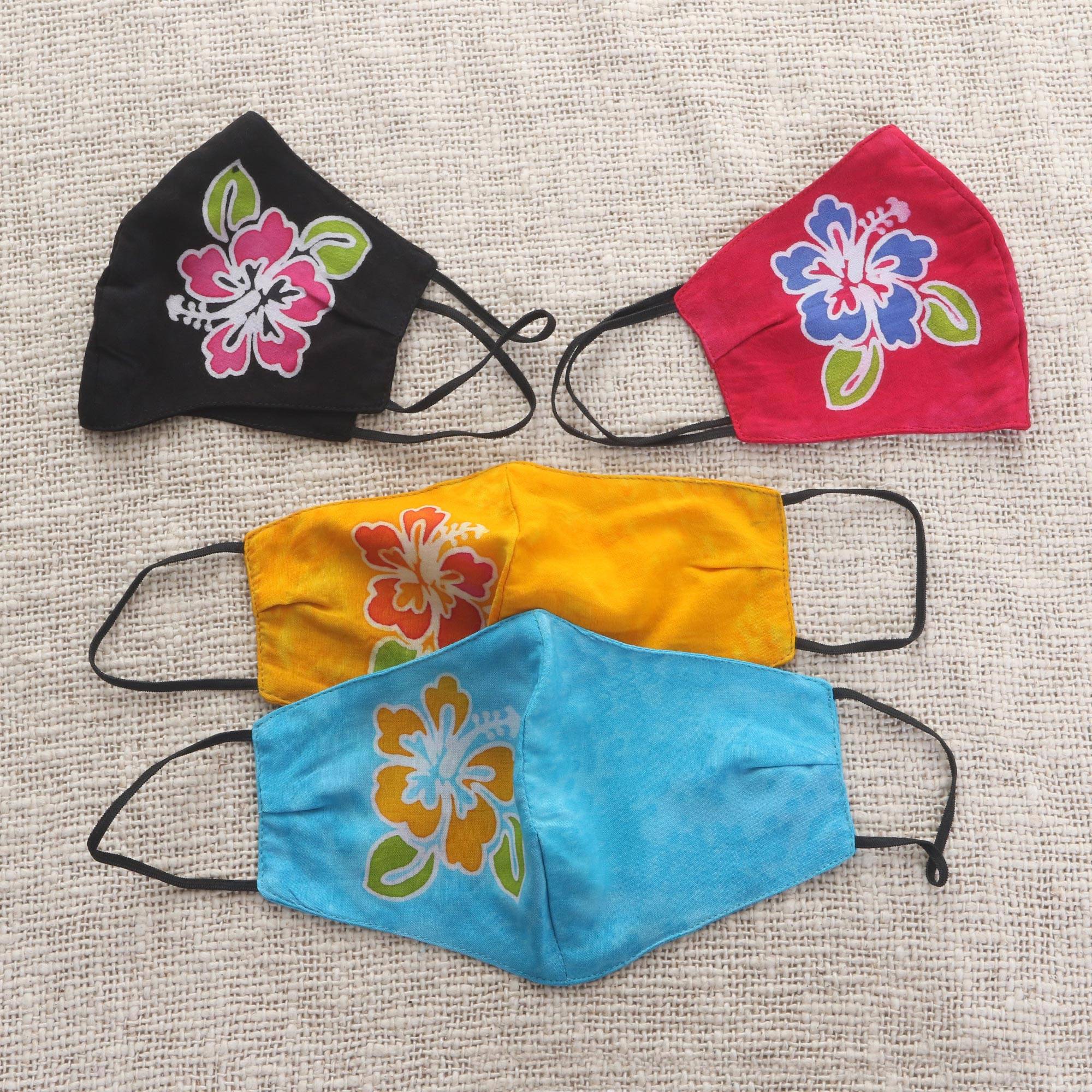 "At this moment, making face masks is very important to me," explains Balinese artisan, Desak Nyoman Parwati.
"Creating apparel is not our main focus right now, as sales are really slow. With face masks, I can still implement my ideas, and their sales help cover the needs of my family and of the people who work with me. If we hadn't turned to masks, our income would be very unstable. I also put my thoughts into them through traditional methods so the designs are different from others and will still have my signature. I thank everyone who wears my mask designs for this gesture of support. I will ensure their quality and won't let you down. Thanks again and stay safe."
SHOP DESAK NYOMAN PARWATI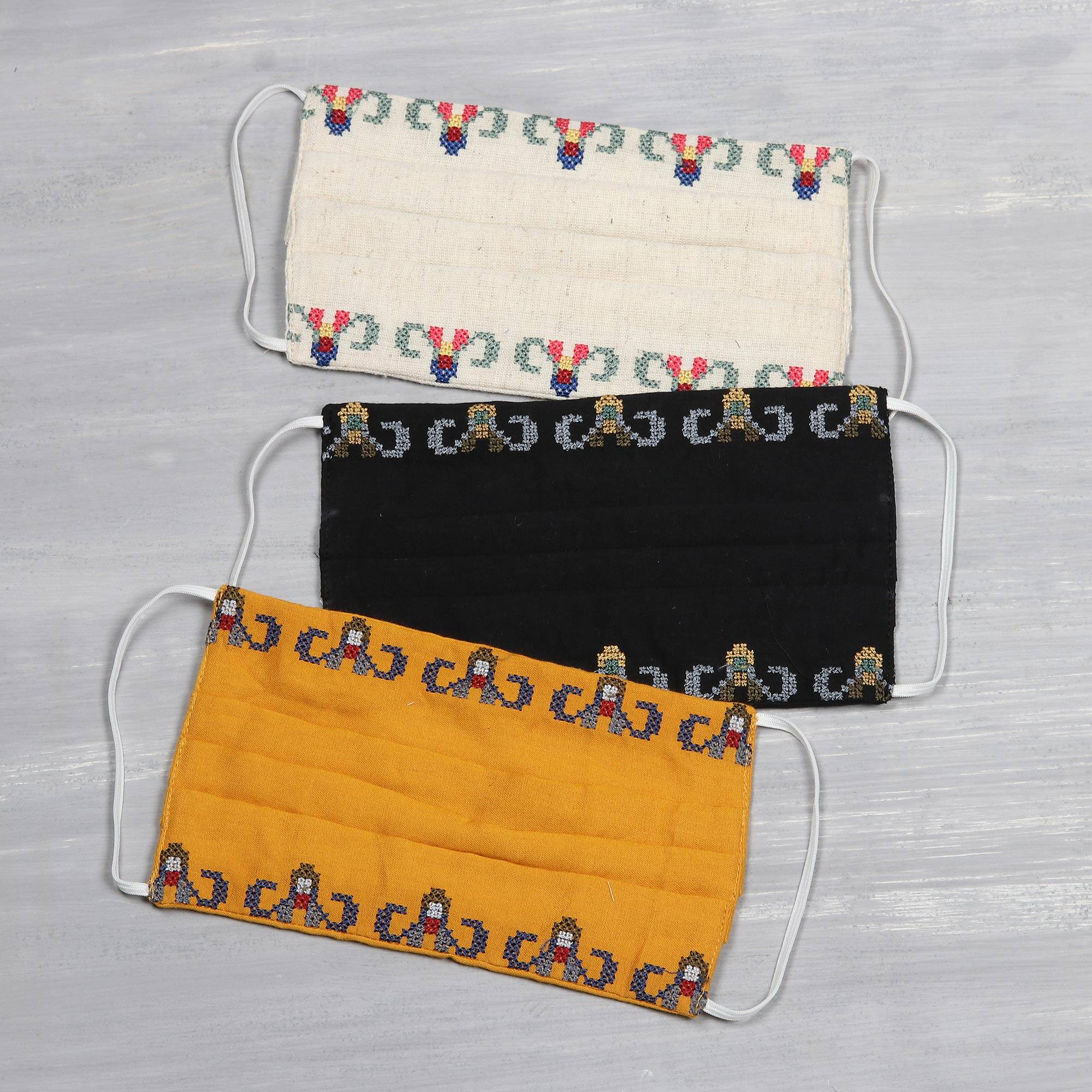 "COVID has truly been a difficult time for us all. We are limited to our homes and to go out for necessities. Face masks give me inspiration every day to serve my people with safety and beauty. Making these masks was unquestionably new but it wasn't troublesome. It doubtlessly helped me understand my latent capacity and flexibility toward unexpected change. I hope everyone embraces wearing them! Thanks to all of you for supporting me and my team. Please stay safe!"
"We were panicked when the pandemic broke and mask deficiency became a major headline, " says Indian artisans Rajnandinee and Srabonti. "As we've managed fabrics for quite a while, my family and I chose to do our part with carefully handmade masks. It was hard to source textures and elastics at the beginning but we were able to utilize fabric leftovers. We explored different shapes and sizes and came out with something functional.
"My daughter's hand-embroidery gave another definition to these sustainable masks that unmistakably said 'wear them like a fashion, not like an emergency.'
"My younger son inserted the elastic to give us a hand at work. This change of focus is bringing us sales now that our usual business is affected. We feel extraordinary that every one of you gets the chance to wear our handmade designs with beauty and no one goes maskless. We want to say a big thank you to everyone who buys our masks — this is a difficult moment for all of us and, by wearing a face mask, you are not only protecting yourself but also those around you."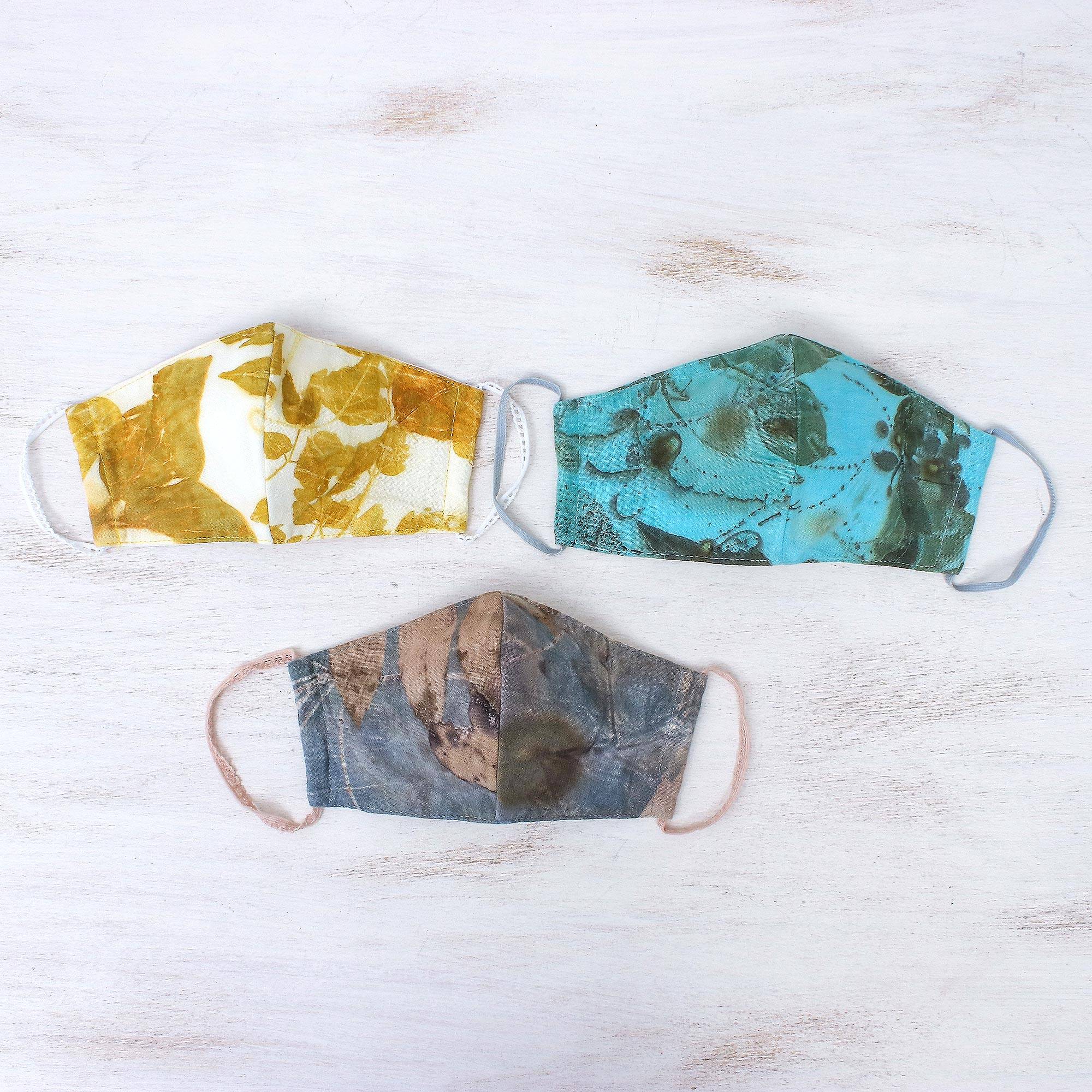 Wilai tells us, "In the early stages of the COVID-19 epidemic, Thailand began to suffer from a shortage of sanitary masks. People started using fabric to make their own. I had everything I needed to make cloth masks so I thought I should make them at an affordable price so everyone could buy them. I also wanted to keep the uniqueness of my eco-print fabrics. I use the same methods of dyeing and printing even though it takes longer to create them. I want people to be as close to nature as possible so the wearer can relax during this critical time. In Buddhism, giving is considered of great merit. Making affordable masks is considered great giving as well. This is permitting my workers to have a job so they continue to receive an income during this difficult time. I'm very happy to be able to help many lives. Thanks to all of you for choosing my face masks. May all of you be safe."
Maura Parra of Guatemala says, "Crafting face masks totally turned my workshop around. The pandemic helped us see life differently and the use of a mask became essential for our day-to-day. For me, it was a new challenge to create masks that filled people's needs — not only something nice but also safe and high-quality. This strengthened my work team.
"We are grateful because shoppers receive quality masks with materials researched to perfection and eight families of artisans continue to work and thrive because of those purchases."
We are grateful that our artisans are able to turn their talents and expertise to the creation of original, reusable masks during these uncertain times, and just as grateful for our customers who are working to keep themselves safe while supporting the livelihoods of so many others around the world.