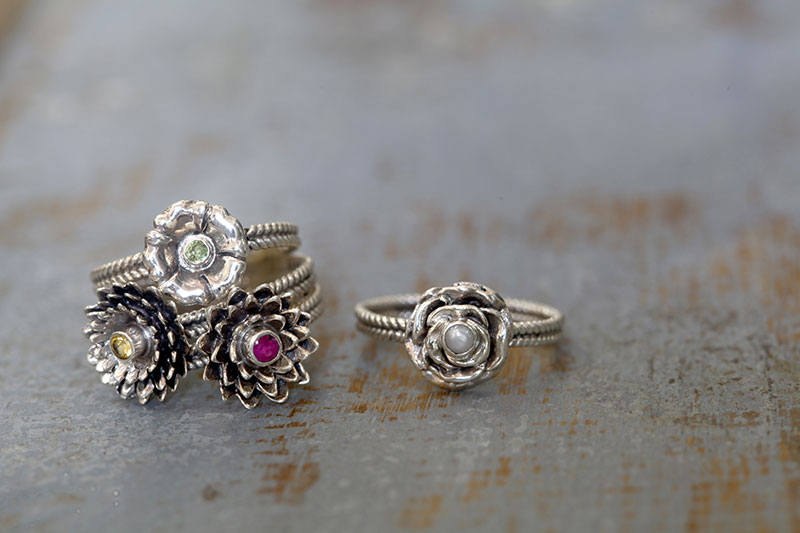 It's not hard to see why birthstones have been such a popular gift for generations. Besides being an incredibly thoughtful and meaningful way to commemorate special days and special people, they can be a timeless representation of treasured memories and moments.
These special keepsakes make perfect sentimental gifts for mothers, and your mom is sure to love birthstone jewelry that tells her story.  Read on to discover three heartwarming ideas for finding birthstone jewelry for mom that is as unique as she is.
1. Celebrate her birthday
Birthdays offer us a chance to celebrate a special person's presence in our lives. And who's more special than our mothers? Show her how much you treasure your relationship by giving her a necklace, ring, or pair of earrings that signifies the month she was born and commemorates her birthday.
2. Celebrate her kids' birthdays
If there's one thing that all moms have in common, it's how proud they are of their kids. Helping her keep all those precious memories close to her heart with birthstone jewelry for her children is a special way to celebrate the unique role she has as a mother, whatever the occasion.
Create a family necklace for Mom with birthstone pendants for you and your siblings, or give her birthstone rings that she can stack to show your birth order. And remember, it really doesn't matter how old her "kids" are — they'll always be babies to her.
You can also get birthstones for her grandchildren if she has them — she'll love to show off her family on a necklace. You can even get her a set of birthstones for both her kids and her grand kids and let her layer the necklaces to keep all of her loved ones close in her thoughts.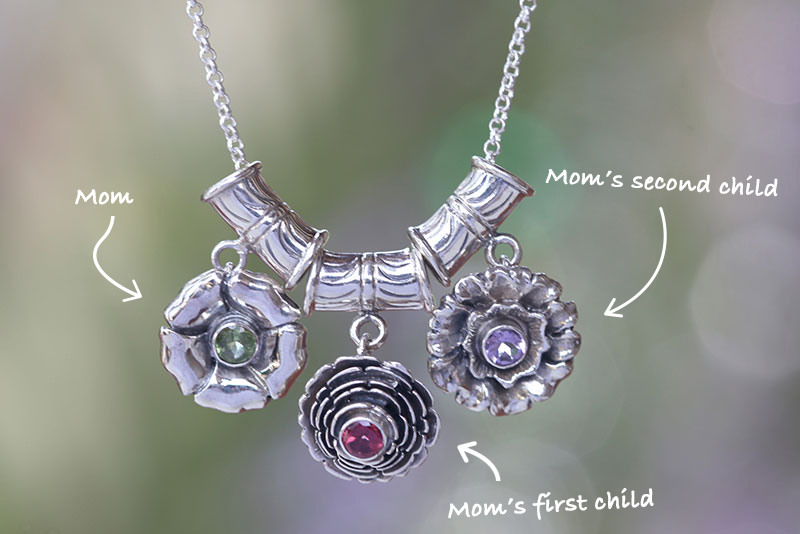 3. Celebrate her siblings
"Siblings are the only relatives, and perhaps the only people you'll ever know, who are with you through the entire arc of your life . . . Your parents leave you too soon and your kids and spouse come along late, but your siblings know you when you are in your most inchoate form." — Jeffrey Kluger, author of The Sibling Effect.
Anyone who has siblings can tell you what an important part of their lives they are. They may seem like only aunts and uncles to you, but to your mother, they might be the people who know her best in the whole world.
Select birthstone jewelry for mom with the birthstones of her siblings and warm her heart on any occasion. Celebrating her brothers and sisters is an incredibly personal and meaningful gift that she's sure to treasure more and more as the years go by.
Occasions to give her a birthstone
Nothing says "I care" like a gift out of the blue, but there are still some important occasions on which you can give Mom a birthstone . . .
Birthday — While a bit obvious, Mom will love a meaningful gift of birthstone jewelry on her special day.
Anniversary — Right after the birthdays of her children, Mom's wedding anniversary is probably the most special day in her life. Timeless and classic birthstone jewelry is a fitting gift for a day that commemorates her commitment.
Mother's Day — Mother's Day is a great opportunity to give Mom that family necklace with the birthstones of her kids or grand kids.
Any special milestone — Your mom has been helping you make life's great milestones extra-special your whole life, whether it was your sweet sixteen or the first job you landed. Pay it all back a little and surprise her with a birthstone gift to celebrate a promotion, housewarming, or even retirement.
If you're the type who doesn't like to spend a lot of time shopping for gifts, and you know a good thing when you see one, why not turn that one-time birthstone present into multiple gifts? Complete her collection by adding matching pieces throughout the year — on Mother's Day, on her birthday, and on Christmas — until she has a beautiful jewelry set with earrings, a ring, and a necklace.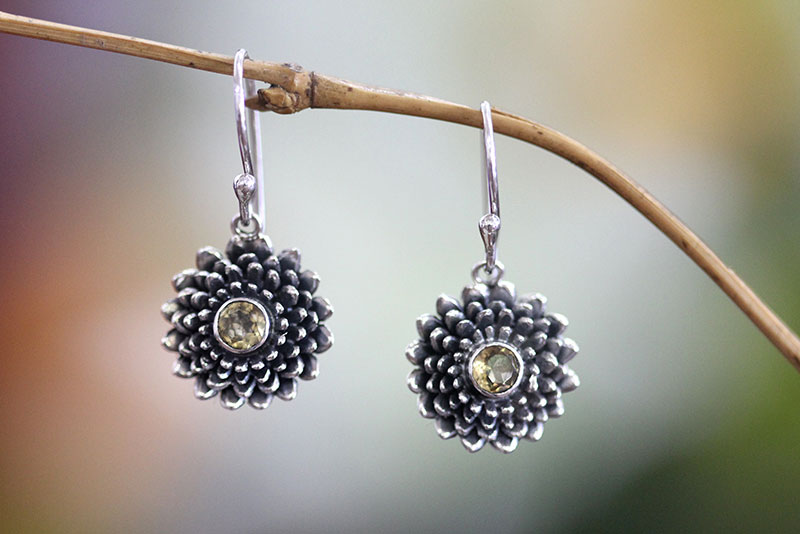 Birthstones and birth flowers by month
January — Garnet — Carnation
February — Amethyst — Violet
March — Aquamarine — Daffodil
April — Diamond/Quartz — Daisy
May — Emerald/Agate — Lily of the Valley
June — Pearl — Rose
July — Ruby/Carnelian — Water lily
August — Peridot — Poppy
September — Sapphire/Lapis Lazuli — Aster
October — Pink tourmaline — Marigold
November — Citrine — Chrysanthemum
December — Blue topaz — Narcissus
A timeless reminder of how much you care
Once the time for receiving gifts has passed and Mom goes back to her day-to-day work, she'll have her birthstone jewelry to remind her that all of her loving, caring, and nurturing doesn't go unnoticed. Give her the gift of birthstones and give her a timeless reminder of how much you love her.

Has a gift of birthstones been especially meaningful to you? Are there any birthstone gift ideas that we missed? Tell us about it in the comments!
Rate this post:
[Total:

0

Average:

0

]