As a busy mom of four kids, looking fashionable is not something that happens naturally. I definitely have to work at it. Busy schedules or plain lack of creativity often leads me to rely on the lookbooks and photos of others much more fashionable than I am. While flipping through Pinterest outfits, I was inspired by the tribal influence that is making a fresh comeback for fall. Happily, I have many pieces in my closet already that can be redesigned for a tribal feel, but I was really lacking the accessories, particularly a statement necklace  that would tie the look together.
While I had an idea of what I was looking for to complete my ensemble, I wanted to find something unique-a piece of jewelry that would not only look good, but have a story that told of a sense of place. Whenever possible, I love to eschew the typical cookie-cutter looks and find a piece that is exciting and invites conversation. If it reflects a specific culture and background, that is even better.
Cascade, a waterfall necklace, was the first piece I saw that really looked exciting. The shape had the alternating spikes that I was looking for, but it was the brilliant color of the beads that caught my eye. When I looked closer, I could hardly believe that the beads were actually rolled strips of magazine. I was loving the concept of recycled paper jewelry, but it was the story of the artist that completely stole my heart and convinced me that I had to have this necklace.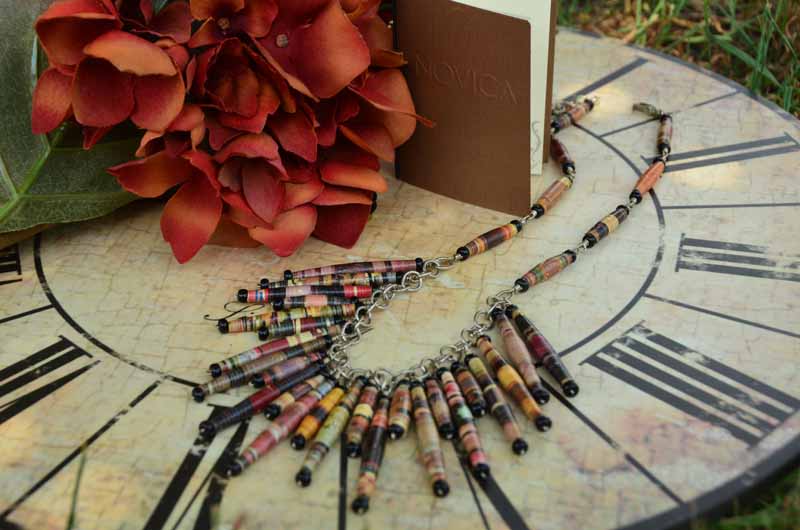 Self- taught Brazilian artist Francis Oliviera was serving as a social worker in a homeless shelter when she met a woman named Isabel. Troubled by poverty and mental illness, Isabel spent her days constantly rolling paper or any other substance that she could place between her fingers.  While watching this process, Francis was inspired to use rolled paper to create recycled jewelry and other items that could be sold to defray the costs of keeping the shelter in operation. In the process, she was also able to help the residents of the shelter to learn a trade that would help get them back on their feet. In the process, Francis was able to combine her passion to help the homeless with her desire to preserve nature by using recyclable materials.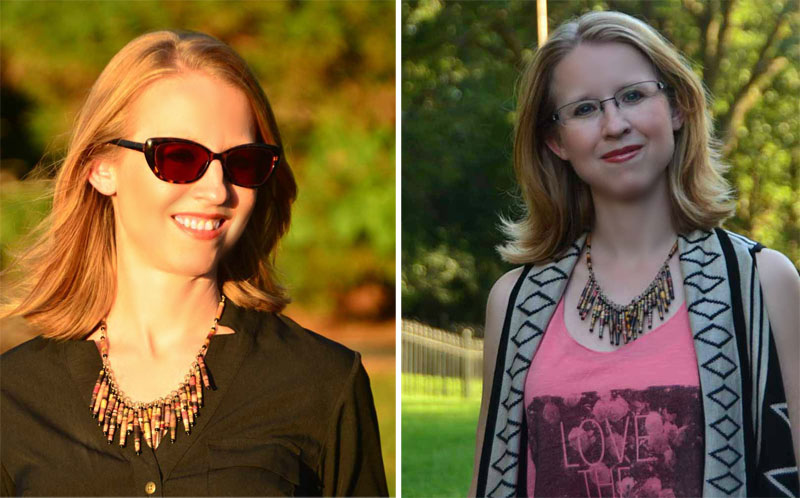 When the necklace arrived, I was thrilled! I ran my fingers over the tapered beads, marveling at the distinctive texture and warm colors. There was only one thing to do-find the perfect outfit to showcase the necklace. In the end, I chose a dressy and a casual outfit, and found that the necklace was versatile enough to be dressed up or down. The unique charm of the necklace inspired me to dig through my closet, creating even more outfits to showcase the statement piece. And the inspiration doesn't stop there.  I get compliments whenever I wear the necklace, and I am able to tell the inspiring story of Francis, and her use of something as simple as a magazine page to do something as magnificent as create jobs for the homeless.