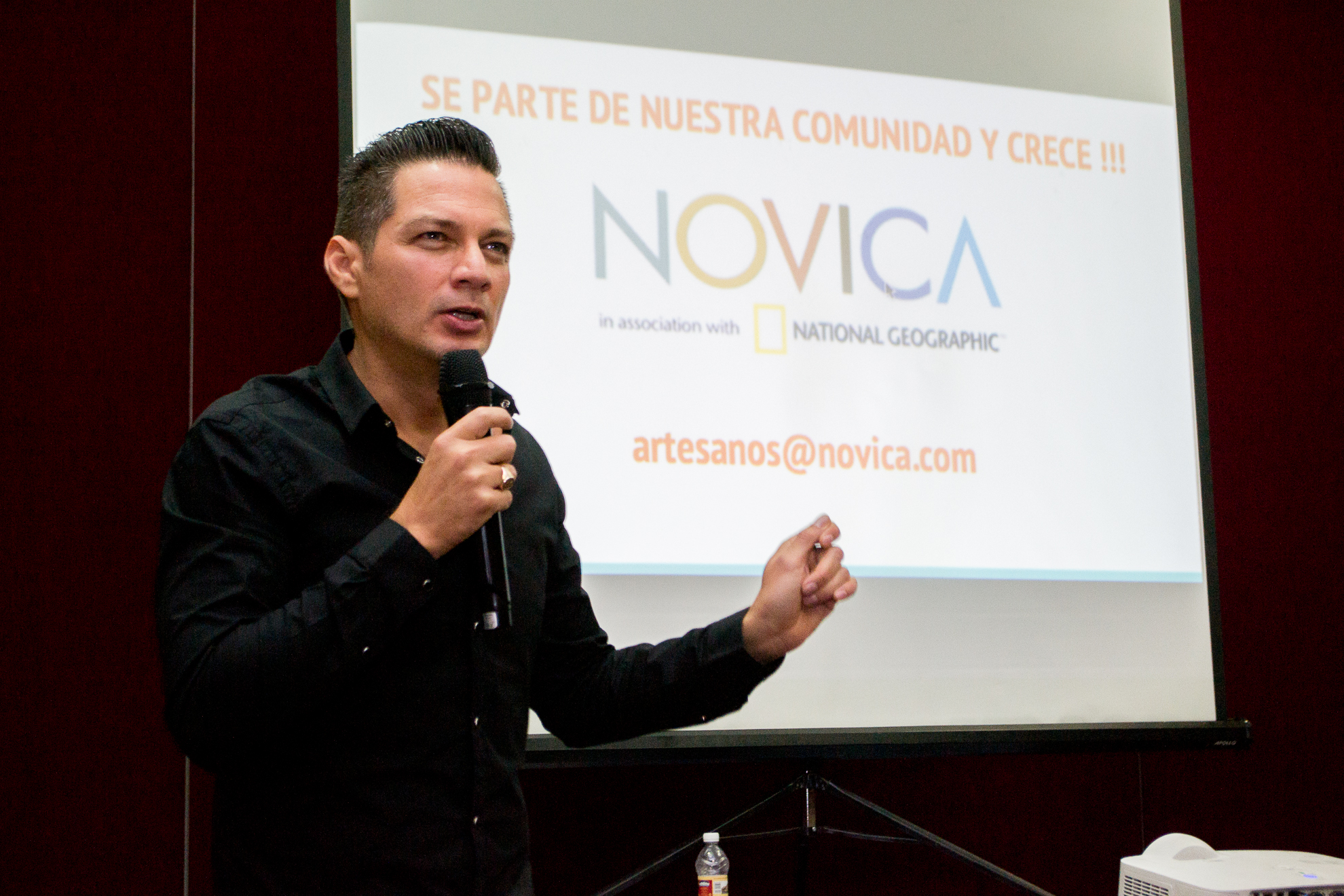 An interview with Jose Antonio Echeverría Espinosa, NOVICA's Vice President of International Operations and Finance
Q: Antonio, which of Novica's long-term goals most inspires you?
A:  I see Novica as a global icon of goodness, coherence, fairness and love, honoring lives and cultures. We dream of Novica expanding further to reach all artisans in need.
I believe that by loving what you do, what you do will love you back a thousand times more. Novica has already accomplished so much, and we continue evolving both externally and internally, training and growing our teams through our international human resources group, and through Novica University – training great leaders to lead complete lives, and to share their knowledge and experience with our regional teams and artisans, helping to take everyone to the next level.
Novica has also established various philanthropic projects that we call Happiness Projects around the world, as well as creating a successful program of interest-free microloans for artisans. We continue to expand these programs and look for new ways to benefit artisans, team members, and customers.
Q: What is it like to observe artisans' lives improving as a result of your work?
A: It is a blessing, a mission of love growing in front of your eyes. Sometimes we meet artisans arriving without shoes or resources, and yet they carry with them – they own – an ancestral skill that no university in the world could give, a degree called heritage.
My twenty-plus years with Novica continue to be amazing, and fulfilling in every way. What else can a person hope for? Life is abundant in all aspects. To embrace a gift, and convert it into a life mission – giving your best to cultivate it – for me this is a motivating purpose. I'm so grateful for the experience of seeing so many artisans – our VIPs – develop into successful entrepreneurs, able to provide their families with better lives while fulfilling their dreams. This is an amazing feeling.
Q: Antonio, can you please share with us a story about Novica's International team, and your role in it?
A: Okay get ready for ten more pages (lol). My thoughts overflow when someone asks me that question. The Novica international team is my family by choice. A very united family that I trust literally with my life. I recall a time when traveling to certain places was very dangerous. I literally trusted Novica with my family's future, were something to happen to me. For me, my word is all I really have, and what counts. The Novica team is the same, built on honor – and that makes us family.
We work as one, all decisions are made as a group. Novica gave me freedom in my work, trusting my judgment, and in return I've always delivered excellence. They have my back, and if I fall, I know they will catch me as they know I'll catch them. Novica's founders – Armenia, Mina, Rob, Andy, Joey and Charles. I respect and honor all of them, and am forever grateful to be part of such a family filled with love and respect. Their hearts are just too big to fit in their bodies. This is why Novica is successful.
Words are never enough to express my gratitude. I remember in the year 2000 when I first got invited to be part of Novica. This started as a favor to my cousin Joey. I am from Mexico, but I was living in Paris growing my own company. I went home to visit my family in Mexico, and to oversee my other companies. Then Novica knocked on my door (as do all the best things in my life). Joey asked me if I could help him move the office from Mexico City to Guadalajara where there were so many artisans. We traveled together to Guadalajara and set up the whole office in five days without money. Joey was concerned because we didn't have funding to move the office. I said to him, "Who told you that you need money to get something started? There is another way, by using creativity." 
After the office move from Mexico City to Guadalajara  was finished, Joey called Rob, Novica's cofounder and CEO (Joey's former roommate at Stanford), and told him what we did. Rob said, "That's incredible! But you had no budget for that?" And Joey replied, "Who said you need money? You need creativity." It was funny. Rob said to Joey, "Who is this guy?" Joey explained that I was his cousin, and then Rob invited me to Los Angeles, to learn more about the project. 
A week later I flew to Novica's Los Angeles headquarters, where I met Novica founders Rob, Mina, Armenia, Andy and Charles. I fell in love with them and Novica. Some souls just recognize each other. We connected instantly. They explained Novica's mission, and I told them my story, including the part about my young daughter who had been kidnapped in 1995.
Two days later I was on my way to Bali on my first international mission for Novica. This time, not knowing what to expect, I was nonetheless confident that I was at the right place at the right time. At the airport, departing for Bali, I said to Rob, "If something happens to me, you must take over the search for my daughter, and take care of her. Will you promise me that?" His answer was, "Yes I promise." No written contracts were necessary. For me Rob's soul is his binding contract. So I gave him my loyalty and commitment to Novica's mission, and at that moment Rob and the Novica team truly became my family. I've continued traveling to many countries for long periods to help with the ongoing opening and development of Novica's many international offices. 
In those early days, I also traveled to India, where I joined Novica's president, Armenia Nercessian, to assist her in establishing a Novica office there. After a week of working together, Armenia told me, "Antonio, you are no one's assistant, it is not in your nature. From now on you are going to be Novica's VP of International Operations." At that moment I became part of the international  team, and a Novica cofounder.
Q: Does one particular artisan story come to mind that especially inspires you?
A: There are so many. I have the fortune to travel to all Novica regions and witness these histories firsthand. Artisans who don't know me come to say thank you. They share their stories with me. In fact our in-country regional representatives and teams are the ones who really help the artisans directly. The positive stories we experience together are just overwhelming.
In Mexico, Armando Ramirez, Alejandro de Esesarte, Higinio Hernandez, and Teresita Gonzalez Marin all really stand out in my memory – artisans who overcame great adversities. There are so many compelling and inspiring, life-changing stories.
Another touching story came to light just before the pandemic, when I was at Novica's Guatemala office. Ruben and Gilda Perez, mask maker and jeweler, knew I was visiting and came to the office to meet with me. Gilda told me their story. As a child, she had grown up living in a house literally made of cardboard, always dreaming of having a home. She shared with me that years later, she and her husband Ruben had lost everything to a hurricane in 2005.
She described what an ongoing struggle life had been until 2012, when they found Novica. She said Novica was the positive turning point in their lives, and that they're now able to own a real home. While Gilda was explaining to me how they rebuilt their lives, she was really emotional. Her tears of gratitude were overwhelming. I could feel my own eyes watering and turning red – I was trying to keep it together. A huge hug at the end. As a surprise they'd brought lunch with them for the whole office to celebrate together. This experience was just amazing, and full of love and gratitude.
I empathize with them. I understand their story, their desperation and pain. There was a time where I lost everything trying to find my daughter, and reinvented myself. So I felt and understood their deep appreciation. And that is one of the reasons that I do what I do, and love it.
Q: Antonio, please share something with us about yourself – your own personal story.
A: I always wanted to live multiple life experiences, have a happy family, be a successful businessman, and travel the world. And that is what I did.
I was a kid with an entrepreneur's soul. At eight years old I had my own business selling fruits that I harvested from a small country place that my father owned, selling them to the neighbors. I invested those earnings in chickens that I kept at my father's ranch, in partnership with a son of the ranch manager. He took care of the chickens and sent 50% of the eggs home with my father. My young friend – my partner – kept the other 50%.
I was a fast learner. Maybe too fast to fit into a regular education, so I had to find my own way. I learned many things from my father, who was an expert cattleman specializing in genetics. He was called by presidents of different countries to start genetic programs to breed more productive cattle for meat and milk.
At the age of 15 I traveled to Adelaide, Australia, to study computer systems engineering in Macintosh. This was something very new at the time. I was a nerd, skinny and introverted. By working with horses there in my free time, as I'd learned to do at home on our ranch, I earned enough to pay for extra studies, and also managed to travel the whole continent of Australia, as well as Australasia, Melanesia, Micronesia, and Polynesia.
When I returned to my hometown (Merida, in Yucatan, Mexico) the fastest computer available was a Commodore 64 running in BASIC language. This was a big setback for me. So I decided to study chemistry too, and soon started a company selling pool and industrial chemicals for cleaning hotels and homes. I ran that company for 12 years. I always studied on my own terms and time frame, learning from the best universities and institutions (in Australia, France, Mexico, Spain among others)  subjects and languages that matched my objectives as a fast track to reach my goals. I wanted to grow professionally, and as a person, which I continue to focus on now.
I have always believed in abundance, and lived in that mode even when I had no money in my pockets. My mind has always been resourceful, and I've never let scarcity limit my creativity.
 I was successful at business at the age of 19, working 20 hours per day. My old way of thinking was that it had to be hard and painful to achieve success. When I got married at 21 I was running three companies – the chemical company, a home decor startup, and a restaurant.
When I was 25, on Dec 12, 1995 my daughter and wife went missing. I believed they had been kidnapped for ransom – very common there. I waited by the phone all the time. Eventually I learned it had been my wife's family who took them both. I had to comply with certain demands before I could see them. I complied, but still didn't see my daughter or wife again. It took me a year to realize the kidnapping had been planned to erase me from my daughter's life, as part of a divorce my wife wanted.
At the end of 1997, while I continued looking for my daughter everywhere, an aunt advised me not to look for her anymore. She said my daughter had been told I was dead. She said my daughter had been too young when she disappeared to remember me. She said my daughter would only be confused if I found her.
Meanwhile, I'd lost all I had trying to find her. I almost went crazy with pain. I surrendered myself to a higher self, gave her to my God and to his will, and promised Him that I would work on my inner self to become a better being. With a humble prayer I asked Him if he would bring my daughter back to me once I had something of value worth sharing – whenever he considered me ready. With the help of good friends and many strangers (whom I call angels), I began to recover my sanity. During that time I went to Vitória, Espírito Santo, in Brazil, where as a part of my own therapy I opened another restaurant. Then I returned to Mexico and further reinvented myself. I recovered my businesses, then grew and expanded them.
In my late 20s I decided to go live in Paris. There, with a friend, I opened a company called Novitech, for training executives from Europe, Russia, the Middle East and UAE to use Windows NT and MS Office. I traveled to various countries and learned new languages, and experienced some rough times before I gave that company away and decided to retire from the idea of money being the objective. Instead, I became determined to only do what I truly love. That became my way of life, focusing more on performance, excellency and working inside "the zone." Which means flowing fast within uncertainty towards a goal.
At the age of 30 I came back home from Paris after celebrating the year 2000 at the Eiffel tower. Back home in Mexico, someone knocked on my door, coming to visit. A dear uncle. I asked him about my little cousin Joey who was working at NASA at the time. He told me that Joey and his best friends had just launched a company that sold handcrafts online, which had just achieved $1,000 in sales for artisans. I called Joey to congratulate him, and he asked me to help him open a regional office in Guadalajara.
That company, of course, is Novica, and my cousin is a cofounder – Jose (Joe) Cervantes from our international team. Joey invited me to invest in the company, and to join the adventure. Novica involved all things I loved. Décor, languages, cultures, computers, traveling – but mostly helping people. That was the most interesting aspect for me. A way to give back all the love I got from those who helped me reinvent myself in my own time of need.
I always say that I do not have a job. I have a hobby that helps provide for my family. Because I do something that I believe in and love.
By the age of 33 I had helped open and establish many Novica offices, and also had a son conceived with a dear friend. After that, the love of my life found me. Literally, she knocked at my door. Now we travel together, living and working in different countries.
At the age of 38 I received a text saying, "Your house is on fire." I was in Guadalajara at that time. It was true, my home and everything in it burned to ashes. Luckily no one was home. All I had left was the contents of my travel bags. So, I realized it was time to marry the love of my life, and start a new life. We were engaged the following month, and married shortly thereafter. With my sweetheart I've had two more kids during my 40s.
When I turned 50 in 2019, I was invited to represent Novica in Guanajuato, Mexico at the Foro GO 3 summit in Guanajuato, where I spoke publicly about my story for the first time in my life – this story that I have just shared here with you. I found that doing so opened new doors to grow my inner self.
I continue studying, always upgrading my education in regards to finances, economics, marketing, quantum physics, bioneuroemocion and epigenetics. During the pandemic, this continuing education helped me create Novica's international human resources program, to improve our global communications and reinforce Novica's family bonds and to share – celebrations, cultural richness, our teams' regional and personal news, and to recognize achievements. All of this has already created tremendous benefits, opening more bonding channels.
And I worked to create Novica University, a place for company members to get training and be updated in our company procedures, expand their career possibilities within the company, with more options to grow, and mindfulness programs to expand their perspective towards wellness as an integral view and a fulfilling way of living, and to be better in what we do.
Since then Novica University has been expanded to include our artisans, showing artisans new ways to expand their business, and sourcing programs, certification training, cutting edge export methods, workshops about trends and seasonal color demands, international apparel fitting, among others courses taught by Novica's beloved national representatives and others who share their expertise with the intention to create the biggest artisan community in the world. Novica University is currently available to our Latin American teams and artisans, and we are working to soon expand these programs globally.
I've also founded a philanthropic organization called Abundance Mode, and a personal startup called Abundance SKooL (ASkool), to share life experiences, and to give support, hope, and trust, while providing examples of an easier way to grow from the inside out – which I believe is the organic and fastest way to wellbeing.
In April this year, 2022, more than twenty-six years after she was kidnapped, my daughter found me through my ASKooL project. It turns out my daughter is an artist. Imagine that. She is now 29 years old. As usual, the best things in my life knock on my door. I opened it with love, peace, respect and gratitude – with my heart full of joy that we are finally getting the chance to know each other.
Life is amazing when you let things happen, focus on the essentials, and follow your intuition. Success will find you. And I think that is something worth sharing.
Q: Antonio, what is your wish for the future?
A: I already have what I always wanted. I'm at peace with life. I love to learn, and look forward to creating and sharing more. I enjoy continuing to help fulfill Novica's mission and vision, and I love helping others by walking with them and sharing knowledge through ASKooL and philanthropy. I look forward to having more life experiences worth sharing, and to having grandchildren. To keep loving and living life in this fantastic world.
A: We would like to invite all artisans, designers and artists in the world to join Novica. We are always open to new ideas, new challenges, new visions. We are constantly upgrading ourselves to serve artisans and customers better. We continue working to build the largest artisans' community in the world, where fairness and experience will help us all to contribute to creating a better world – a world based on unity, tolerance, respect, diversity and peace through art, traditions and culture.
Q: Antonio, will you also please share with us your view of how Novica changes lives?
A: Novica impacts artisans' lives in many ways. Novica offers hope, equitable pricing, and individual recognition. Recognition is truly important. Novica artisans are experts whose skills have typically been handed down through generations. By naming and carefully profiling each artisan, we help customers learn about and further honor artisans' cultures, traditions and family heritages.
Novica's unique platform empowers and  encourages artisans to continue cultivating their legacies. Artisans tell us about the pride they feel as they achieve a better life, and how their improved economics further motivate them to rescue, preserve, and grow their family traditions.
Novica brings history and culture into the digital era in a fair, loving, and appreciative way. Novica helps artisans showcase the uniqueness of their creations. We interview each artisan about their personal history and the meaning of their crafts, and share these fascinating and important stories with the world. For artisans, becoming part of Novica motivates them further, because they receive global recognition and fair value. This is Novica's way – to serve as a global channel for art and love, expressed through culture and traditions.
For more than two decades now, we continue working efficiently to shape Novica as a disruptive company, breaking historic molds and inequitable international business standards. Starting from the way we established regional artisan empowerment hubs to work directly with artisans, interrupting historic supply chains dependent on multiple middlemen.
Novica's efforts especially benefit historically underpaid, underserved artisans, particularly in remote regions. It was challenging to establish Novica, working in countries entirely new to e-commerce. We have worked tremendously to create deep, long term partnerships with artisans. We've also practiced a different way of hiring Novica team members, based not on the limits of their curriculum vitae, but on their knowledge, common sense, intuition, potential, and passion. We've trained our team members with trust and support, providing room to learn by experience, always valuing above all each team member's respect, care, and  service to our artisans and customers. These are Novica's core values.
Rate this post:
[Total:

4

Average:

5

]