With Day of the Dead becoming more and more popular every year, it's no surprise that Day of the Dead decorations are popping up everywhere you look this time of year. But if you're interested in authentic Day of the Dead decor, you'll have to go directly to the source! Read on to explore the colorful world of Día de los Muertos through the eyes of the Mexican artists who bring this fascinating holiday to life through their handmade creations.
Aztec Origins
The roots of Día de los Muertos can be traced back hundreds of years to indigenous observances in Mesoamerica and to an Aztec festival dedicated to Mictecacihuatl, goddess of the underworld. These customs gradually synthesized with Catholic observances of All Saints' Day and All Souls' Day on November 1st and 2nd to become the modern holiday that honors the deceased and celebrates life and death.
Aztec influences can be seen in decor from Mexican artisan Angel Ceron, whose ceramic sculpture 'Story of Death' depicts Mictlantecuhtli, god of death and husband to Mictecacihuatl.
Ofrendas and Calaveras
Ofrendas, or offerings to the deceased on altars, are also central to the Day of the Dead experience. Built to honor those who have passed, they often include Mexican sweet bread (called pan dulce), favorite foods of the deceased, candles, ceramic skulls (called calaveras), and marigolds, which symbolize death.
The smiling expressions and famously vivid floral and geometric motifs of the calaveras convey the celebratory nature of the holiday — that death should not be feared, and that it should be seen as a natural part of the human experience. Rather than associating the icons of death with decay and sadness, artisans like Saul Montesinos, creator of the ceramic candleholder shown below, transform these symbols into celebrations of life. "I use vivid colors that make them attractive to the eye," he says.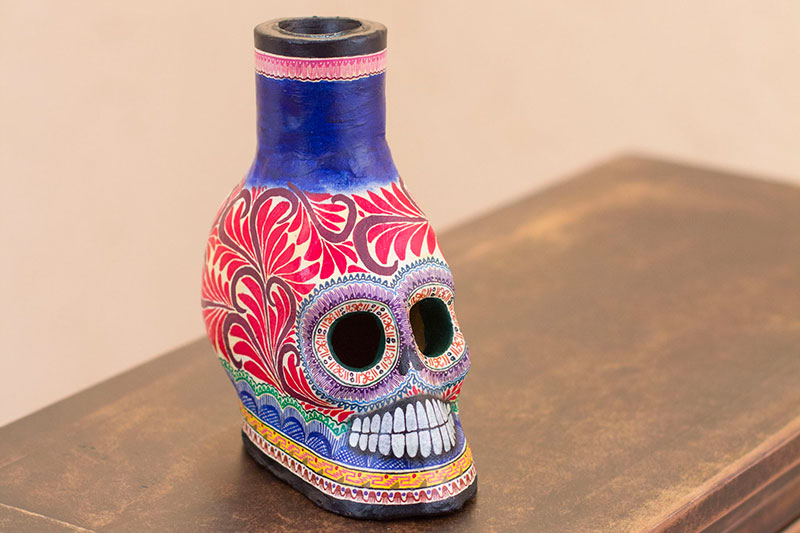 In addition to gracing private ofrendas, skulls appear everywhere during Day of the Dead: made of sugar, worn as masks during parades, and in decorations everywhere. The one constant? They are always shown to be enjoying life!
Catrinas and Catrines
Perhaps the most famous image associated with Day of the Dead is the well-dressed skeleton known as Catrina. Originated by lithographer Jose Guadalupe Posadas, Catrina was a satirical representation of the higher social class in Mexico prior to the 1914 revolution. Nowadays, smiling Catrinas and their male counterparts, Catrines, symbolize the humorous attitude toward death that is typical of Day of the Dead.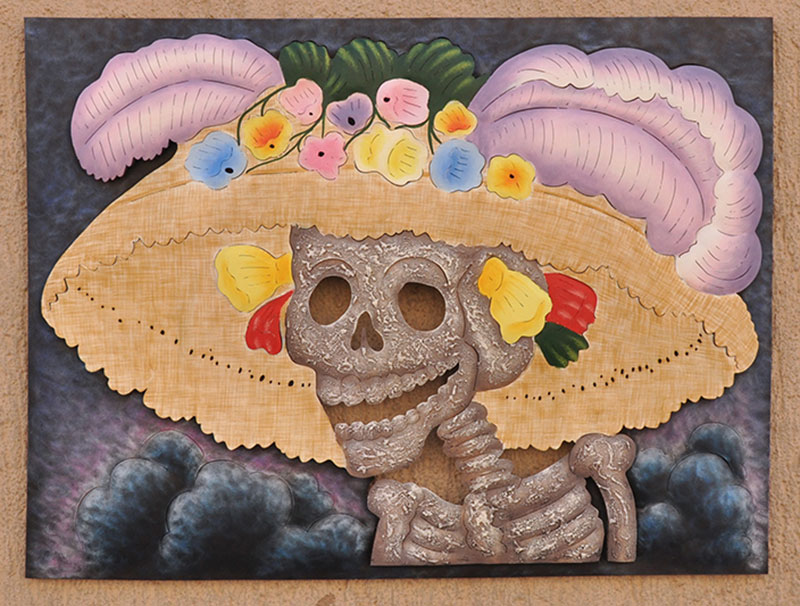 Artists like Cesar Garcia often craft these figures in papier mâché, carrying on the Mexican tradition of cartonería, or the making of three-dimensional paper sculptures.
"I began crafting papier mâché catrinas and catrines, which are figurines representing death as elegantly dressed people of the late 18th and early 19th centuries," says Garcia. "I began perfecting my technique to create and decorate them, which led me to share a part of life in every image."
Keeping tradition
Mexican artisans and their rich art legacies are an integral part of Day of the Dead, giving form, tangibility, and beauty to this important holiday. And although the traditions of Day of the Dead are as full of variety as they are colorful, the underlying message is the same: observing this holiday is a true celebration of life.
Rate this post:
[Total:

0

Average:

0

]