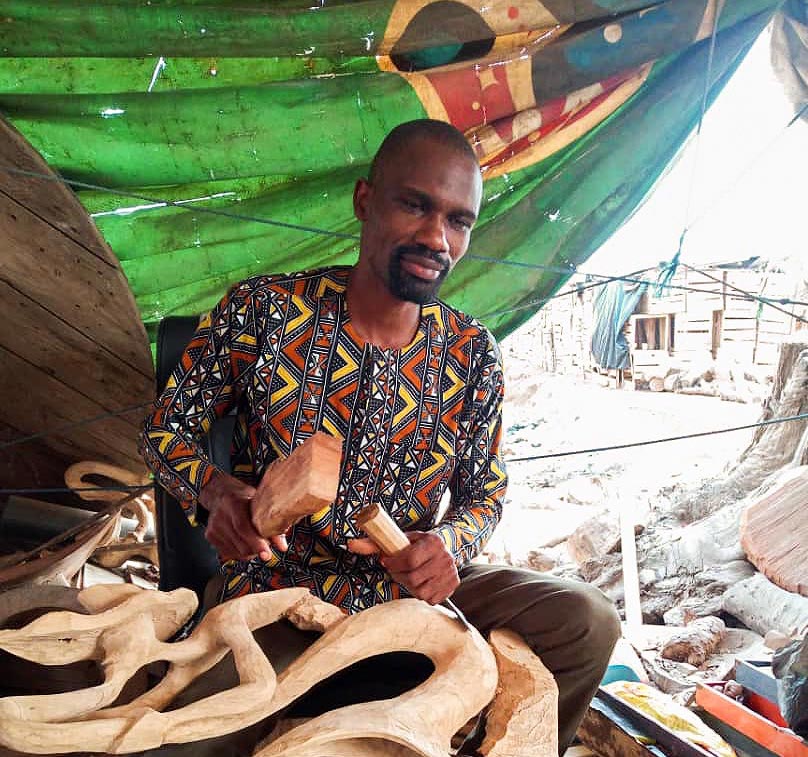 As the year draws to a close, we asked West African woodcarver, Erasmus Philip Ahorlu, how he celebrated his successes this year. He happily shared his thoughts with us, starting with an inspirational quote.
" 'It is literally true that you can succeed best and quickest by helping others to succeed.' Napoleon Hill.
"There can be lots of quotes and phrases that celebrate teamwork because indeed nothing beats teamwork. I am an exporter of arts and, to be specific, I deal in home décor accessories. I joined NOVICA three years ago."

NOVICA is detailed and quality-oriented, I must say. It is for this reason that NOVICA still stands tall amongst its peers. In the past few months my sales have shot up to a 70% increase and I owe it all to the team of artists, which comprises both men and women, that I have in my shop at the Accra Art Center. As their team leader, I am always at their service.
"We work tirelessly in the shop just to come up with very unique masks. In recent times, I celebrated one of my team members called James, a very serious worker, on his birthday. For a long time, we never celebrated birthdays in our workshop but since my sales increased with NOVICA, I decided to celebrate James's birthday.
"With some of the funds acquired from NOVICA, we purchased drinks and foodstuffs. Together as a team, we prepared "fufu," a local dish that is common amongst the Akan of Ghana and a delicacy that is eaten during festive seasons. Fufu is prepared with boiled cassava and plantain that is pounded in a wooden mortar using a pestle. In recent times, a mechanical machine is used to blend fufu, making the cooking procedure simple. Fufu is enjoyed with soup of any choice, but we decided to enjoy our fufu with goat and vegetable soup."
"We had never had such a celebration before, and we are grateful to NOVICA for such a wonderful day.
James was extremely happy that we celebrated him. After all, that is what teamwork is about – celebrating one another. All work and no play make Jack a dull boy. Therefore on the day of the celebration, we halted all forms of work and partied to good music."

"The motivation factor of the team shot high and that gave us the urge to have hope that, with NOVICA, even better things await us.
"The future is bright."
Rate this post:
[Total:

0

Average:

0

]