Featured Reviews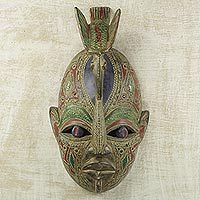 By REBECCA
Awesome Hand crafted Mask
This is a very nice sized mask that is gorgeous hand crafted work!! For sure a family heirloom to pass down.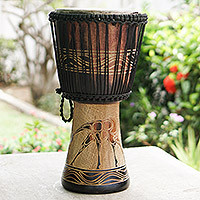 By Lana
Absolutely AMAZING!!!
This is art by every definition. I wasn't 100% sure what to expect (when ordering online) but was hoping for the best. My jaw dropped when I opened this. First, it is quite heavy and even bigger than I expected. It is absolutely magnificent. Everything about it is perfection. The carving and obvious hand crafted nature of the drum is a sight to behold. It is stunning and I feel lucky to own such a piece. But the SOUND!!!! Often that is overlooked in favor of appearance but this is about the best sound djembe drum I've ever heard. I love it, love it, love it!!!!! And after seeing other drums, and having purchased hand made djembe drums in Mexico I can say that this PRICE is incredible for what you are getting. Incredible. If you are on the fence, do it. You will be sooooo happy when this arrives, I promise.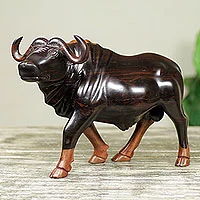 By Mark
Centerpiece of my collection going forward
My name is Mark and I live in The USA. I can not tell you how happy I am to have your carving. It is marvelous!! Your work is absolutely fabulous, In my collection of animals over the yoars this is one of the best works I have seen. I look forward to collecting more of your works in the future. Looking for an awesome Lepord, Mark
Featured Artist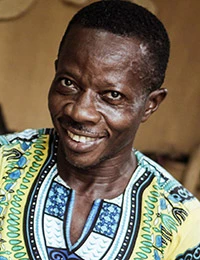 Video
Francis Agbete
Wood masks and leather desk sets
"I have always helped my father when he's needed me, so coming to assist my father at the workshop at this time of my educational career was not a new job for me."
"My name is Francis Agbete and I come from a family of traditional wood carvers. I was born December 28, 1976 in a suburb of Accra. I attended the Vakpo Secondary Technical Institute from 1994 to 1996, and upon graduation I enrolled at the Accra Poly-Technical Institute to read Mechanical Technician course grade two. While at school, funding was becoming a difficulty. So during weekends and vacations, I would visit my father's wood carving workshop and assist him by carving some products for sale. I have always helped my father when he's needed me, so coming to assist my father at the workshop at this time of my educational career was not a new job for me.

"The realization eventually dawned on me to stay on, work on my own designs, and display my own woodcarvings so that I could earn enough to support my education. I ventured and opened a workshop at the Craft Village near the Tetteh Quarshie Circle. Managing and controlling the operations of the shop was becoming a problem since, as a student, I needed more time for my studies than for my carving jobs. To solve this problem, I explained this idea both to my sister, Mary Agbete and my cousin, Stephen Agbete and asked them about the possibility of looking after the workshop and selling the items I carved while I was at school. They agreed.

"This arrangement has continued to work until now. We opened a new workshop, and not only do I exhibit my own work, but there's my father's work too. The workshop has become a family business that caters to diverse customers including expatriate staffs, tourists and hospitality companies.

"My family and I have showcased our designs at various wood fairs and international exhibitions such as the Ghana International Wood Product Fair, FESTAC and the International Festival for Arts and Culture, in Burkina Faso."
Popular African Animal Themed